RoadRunner Auto Transport Company Review
Overall Opinion of RoadRunner Auto Transport: RoadRunner is a broker in the automobile transport industry. Inherently, this poses challenges in operations because a broker has very little (if any) control over the carriers who actually handle the transport. RoadRunner's salespeople may exaggerate and make promises to customers to secure the sale, which involves obtaining a signed contract and typically a deposit. From that point forward, the shipping company (carrier) has to execute the transport and may or may not be aware of any promises or assertions made by the broker.

Compare RoadRunner Auto Transport to the car shippers on our list of best car shipping companies.

Jump to the RoadRunner Auto review section that you're looking for:
RoadRunner Auto Transport: Transport Services Available:
AM Freight Operations Inc. (DBA RoadRunner Auto Transport) is an auto transport broker based in Bethpage, New York, that boasts of having more than 30 years of industry experience.
For Individuals:
Open Carrier: The most economical and popular way that vehicles are shipped is in open carriers that are equipped to transport between 2 to 10 at a time. Although not a requirement, individuals are encouraged to schedule a pickup at least two weeks in advance. Expedited service is available for an additional cost for those needing fast transport.
Enclosed Carrier: For an additional cost, high-priced or specialty vehicles can be shipped in an enclosed carrier to protect them from the elements.
Cross Country: RoadRunner is now offering nationwide door-to-door transport of vehicles. Requests may be made for top load service where the vehicle is loaded in the upper section of the trailer to avoid leaks or debris falling from above.
Seasonal Relocation: People relocating can have their vehicle shipped safely to any location nationwide. This may be a more cost-effective option compared to renting a vehicle upon arrival at a destination.
Military Members or College Students: RoadRunner is a veteran-owned company that will handle transports for military members and manages out-of-state sales or purchases. College students appreciate having access to fast vehicle shipping services. Both of these groups of customers are encouraged to ask their representatives about eligibility for discounted rates.
For Businesses:
Dealer and Auction: New and used automobile dealers may have vehicles transported from auctions, to customers, or with other dealers. The dealer is assigned a central Shipping Coordinator and may remain organized by using the Centralized Dealer Dashboard.
Corporate Relocation: RoadRunner will effectively facilitate corporate vehicle transports nationwide including for those with multiple sites that will benefit from their logistical expertise.
Managing a Fleet: Volume vehicle shipping services are available for commercial customers nationwide, with a designated Shipping Coordinator who serves are a central point of contact and account manager.
Specialty Services:
Oversized:</b. They have the equipment and experience to safely transport oversized items including heavy equipment, boats, campers, vehicles with low ground clearance, and more.

<li
Motorcycle:
They are transported with an enclosed container after being strapped to a pallet.
Alaska, Hawaii, and Puerto Rico: Vehicles destined for Alaska, Hawaii, or Puerto Rico are loaded aboard a vessel that sails weekly. These transports can all be easily tracked online.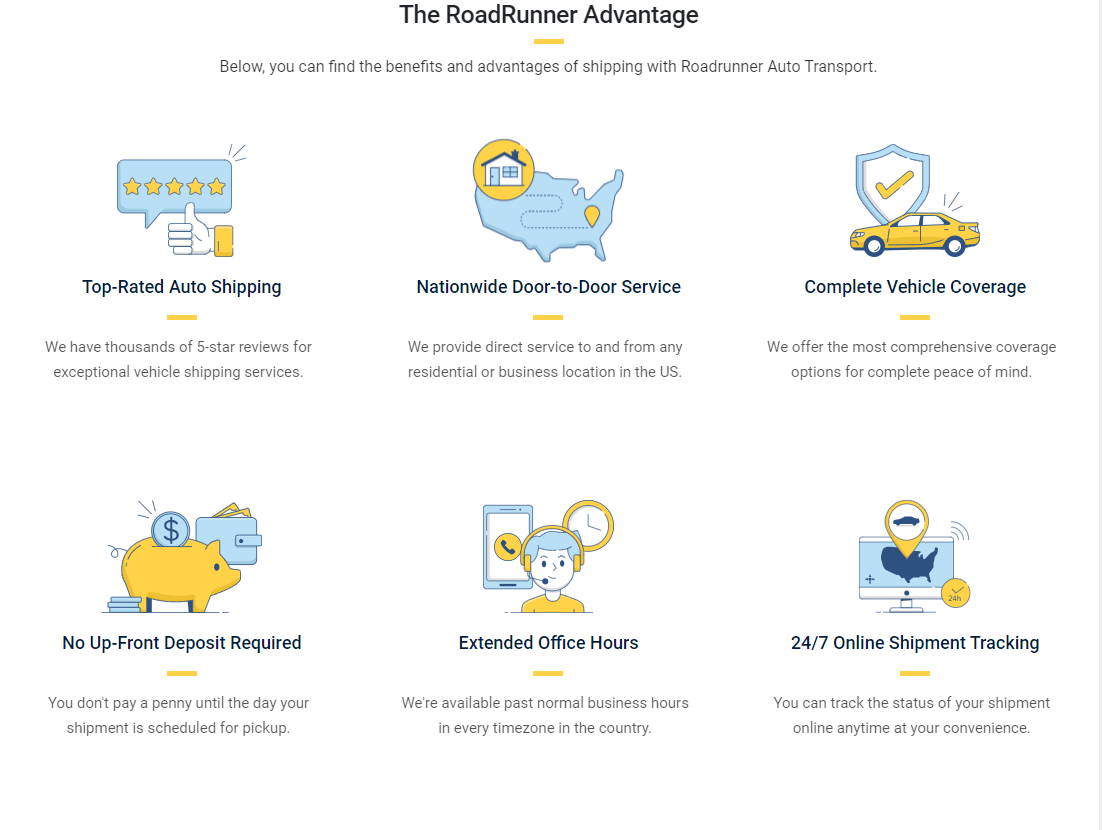 RoadRunner Auto Transport: Pros and Cons Summary:
The Good: They Offer Competitive Prices
Several customers that had shopped around mentioned that RoadRunner offered attractive pricing compared to the competition.
The Bad: Poor Customer Support and Communications
In looking at customer feedback, they often fail to have vehicles picked up within the window they provide. Once customers become uncertain of the status of their pickup or delivery, the representatives tend to "dodge" and fail to promptly return calls.
---
Pros:
Service is available to all 50 U.S. states and Puerto Rico
Customer service agents are available (EST) Monday through Friday from 9am to 10pm and Saturday from 10am to 5pm. (closed Sunday)
They are offering up to a $1,500 scholarship for students. Those seeking to qualify must submit a 1,200-word essay on a topic including college or military car shipping, types of auto transport, or preparing a car for transport.
They have a very simple website tool for tracking shipments (see image)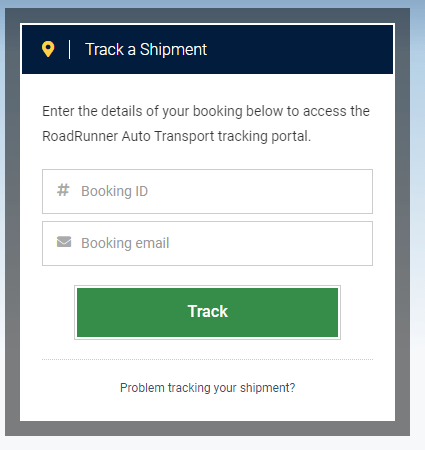 Cons:
Salespeople tend to initially confirm a pickup date and time with the customer, although the contract terms (agreement) indicate that the "window" for arrival is 48 hours.
Customer's personal items placed within a transport vehicle may not exceed 100 pounds.
The pickup window, or timeframe for vehicle pickup, is often three to four days
Cost, Discounts, and Affordability
Pricing Considerations (Factors)
Some of the factors that influence the cost of transport include distance (mileage), type of vehicle, and whether upgrades such as enclosed shipping or top-load service are included.
| Origin | Destination | Type of Vehicle | Estimated Price | Add-On Options |
| --- | --- | --- | --- | --- |
| San Francisco, CA | Denver, CO | Mid-Sized Sedan | $945 | Top Load: $99; Enclosed: $520 |
| Denver, CO | Phoenix, AZ | Mid-Sized Sedan | $685 | Top Load: $99; Enclosed: $377 |
| Denver, CO | Phoenix, AZ | Full-Sized SUV | $695 | Top Load: $99; Enclosed: $382 |
| Phoenix, AZ | Chicago, IL | Mid-Sized Sedan | $995 | Top Load: $99; Enclosed: $547 |
| Chicago, IL | Atlanta, GA | Mid-Sized Sedan | $695 | Top Load: $99; Enclosed: $382 |
| Atlanta, GA | Miami, FL | Mid-Sized Sedan | $595 | Top Load: $99; Enclosed: $327 |
Accepted Forms of Payment
Payments are accepted from a credit card, checking transfer, and certified check. Payments made directly to the driver must be made in cash, certified check, or postal money order. Some customers will pay the initial deposit at the time of booking with a credit card and pay the balance to the driver directly upon arrival using acceptable forms of payment.
Insurance Coverage
Basic liability coverage applies to all vehicles while in transit. Comprehensive coverage options are available by speaking with an agent. RoadRunner doesn't provide much detail regarding coverage.
Customer Reviews & Feedback
They have more than 2,800 posts on Google with an overall rating of 4 out of 5 stars. Many customer complaints involved delays in pickup dates, abrupt price increases, failing to return calls, and others. The salespeople operate in a way that is very likely to result in a poor outcome because they repeatedly "over-promise" and "under-deliver."
The company's Yelp page reflects very poorly with more than 500 reviews and an overall rating of only 1.5 stars out of 5. Most of the negative posts are similar and suggest that the salespeople aggressively pursue getting a signed agreement. Once that is complete, the actual carrier with responsibility for the transport will often take days (or weeks) to actually arrive to pick up the vehicle.
In the meanwhile, customers will generally attempt to contact RoadRunner for an update on arrival time and find their representative to be unresponsive or evasive. Why? After the order is secured, RoadRunner (the broker) has no control over the actual arrival time; therefore, the representative doesn't want to admit this fact. This regularly causes the customer to become angry.
Should You Consider RoadRunner Auto Transport for Shipping a Car?
No. RoadRunner Auto Transport has a good website and friendly sales staff–but that is the extent of it. This is simply an inherent reality for all brokers operating in the auto transport industry. It's not that RoadRunner is any worse than their competitors; unfortunately, they are about standard for the industry—with plenty of dissatisfied customers.
We would suggest going with one of the top auto shippers instead.
Not what you were looking for?
Check out other categories that can help you find the information you need!
See All
Hide All