Trucks and Boxes Moving Company Review
Overall Opinion
Trucks and Boxes is an international, interstate, and long-distance moving company with its headquarters in Miami, Florida.
This company impressively has 15 years of experience in the moving industry servicing those seeking national and international transportation solutions.
They offer an extensive range of moving services that suit the needs of those looking to make localized, cross country, long-distance moves or those looking to move overseas.
After completing an in-depth analysis of this company, we determined that they are not registered on any governmental databases and do not have any licensing and fleet information readily available.
Additionally, they don't have a robust online presence, which could be a precursor to some credibility issues.
For more long-distance moving companies, check out our list of the top interstate moving companies.
How does Trucks and Boxes compare to other professional movers?
Jump to the Trucks and Boxes review section that you're looking for:
About Trucks and Boxes
The Truck and Boxes moving company is a local and international company with its headquarters in Miami, Florida. According to this company's website, they have been operational for 15 years, but they state that they have been in the storage and moving industry for 85 years. According to the BBB website, Truck and Boxes only opened a file in February 2021.
It is unknown if this moving company is a broker or carrier as they don't have listings in any governmental moving databases. Additionally, since they have no profiles on the SAFER and FMCSA databases, it is unknown if they have more than one truck, how many miles they have completed, and if they have done more than 10,000 miles.
However, they did say that their trucks rack up enough miles to circle the globe 13 times on the company website. According to their website, they have 4,200 drivers who deliver more than 200,000 shipments annually. Additionally, they state that they move 1,000 families every day, 365 days a year.
Truck and Boxes specializes in full-service local, long-distance, cross country, interstate, and international moves. They offer residential and commercial moving solutions both in Florida and internationally. Additionally, they also have professional movers and packing and storage solutions. Moreover, unlike other moving companies, Trucks and boxes provide clients the choice to use special moving kits.
Free online quote system.
This moving company offers an extensive range of services.
85 years of industry experience with 15 years experience in moving services.
The company runs vetting and background checks on employees.
Clients can book when they want as there are no time windows.
Friendly 24/7 customer service.
Industry-leading logistics technology.
No free home quotations system.
They don't have listings on governmental moving databases.
The company does not belong to any trucking organizations or charities.
Cross country moves take between 2-5 days.
Trucks and Boxes offers a broad range of services
Truck and Boxes offer an incredibly extensive range of services which is why many consider them to be one of the best local and international moving companies in Florida.
Although it is unknown how many trucks they have, the company allegedly completes 1,000 moves every day. If you're curious about the services they have on offer, you can view a brief breakdown of them below.
Interstate Moving: Trucks and Boxes is a full-service interstate moving company that can help you move your piano and other cumbersome items. The company provides personalized moving programs to ensure your state-to-state move is hassle-free. In addition, they offer packers and unpackers and transportation you can trust.
Packing and Supply Services: This company offers specialty packaging services. They offer fragile packaging for delicate and breakable items and full-service packaging where a team of experts packs up residential belongings using the latest industry packing methods. Another packaging option they have is do-it-yourself packaging, where you can pack all your belongings yourself. Additionally, the company can supply customers with all the moving supplies they may need.
Loading and Unloading Services: This moving company offers clients unloading and loading services. Before loading, they make sure to perform a security check to ensure each box is packed correctly, on the inventory list, and bearing the correct labels. They also take inventory during the unloading process to ensure none of your items are missing or left behind.
Residential Moving: With residential moves, the company provides a personal moving plan that meets the needs and requirements of customers. They tailor their personal moving plan to your budget, available time, and moving needs. In addition, residential moves come with a team of professional movers that can assist with loading, unloading, packing, and unpacking.
International Moving: This company has extensive international moving experience within a worldwide network that includes many different types of resources for international moves. Some of these resources include a sophisticated tracking system, international moving representatives, customs clearance assistance, and international storage options.
Storage Facilities: The company offers 90-day storage solutions for household items in transit. They also provide permanent storage solutions for household possessions that need additional storage time.
Assembly and Disassembly Services: With household moves, the company offers an assembly and disassembly service for various household items and furniture both before and after a move.
Shuttle Services: This company offers a shuttle service for those who have homes and businesses that are difficult to navigate or that have narrow entrances. Their shuttle service will move all belongings directly from a residential or business address to the Trucks and Boxes moving van.
Crating: The company provides customers with customizable crating solutions that ensure optimum protection for all electronic equipment.
Unpacking: To provide the most convenient moving experience possible, the Trucks and Boxes moving company offers unpacking services. With the cross-country moving plans, clients can opt to have their packages unpacked.
Third-Party Services: Trucks and Boxes provide additional third-party services upon request. Some of the services include disconnection and reconnection, and cleaning services.
Car and Boat Transportation: The company conducts big and small moves frequently, and many of these moves include the transportation of vehicles and boats. They provide secure transportation to clients who need to relocate with their boats and cars.
How much does Trucks and Boxes charge?
The Trucks and Boxes moving company is well-known in the industry for its affordable local and international moving solutions. Those who wish to find out how much the company would charge them to move can fill out an easy online form to receive a free quote.
After filling out the four-step quote form that asks for particulars about your move, you can expect a prompt estimate. Some of the information you need on hand is how many rooms you want to move to, the location of where you are moving from and to, and your personal details. You will also need to state whether you are moving within the US or internationally.
Should you not want to fill out the online quotation form, you can contact the company via email, telephone, or in person at their head office.
Interestingly, the company has ballpark estimates on its website for interstate, cross country, and long-distance moves. According to their website, the cost of an average interstate, cross country, and long-distance move is $3,500. This estimate uses an average weight of 7,000 pounds and a distance of 1,000 miles.
If you want a much more accurate quote on your next move, you can discover the best and most affordable moving companies in your area with our moving cost calculator.
Overall, Trucks and Boxes has a good online presence
When deciding on a moving company, you need to evaluate all aspects. One of the most important factors you should consider is a moving company's reputation and online presence. When we did a Google search on the business, we noticed that they do not have a Google My Business listing. There are also no reviews for the company on Yelp, and the business is currently unclaimed, and they also don't have a social media presence.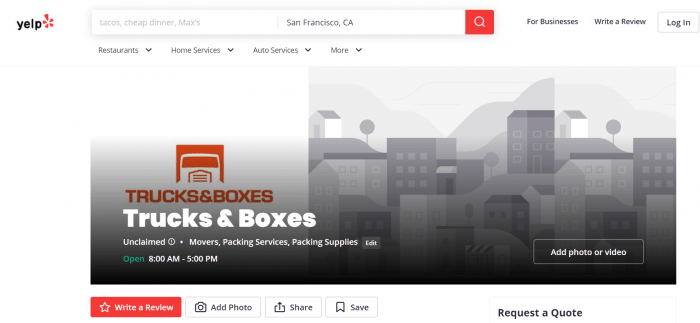 Trucks and Boxes are not BBB accredited, but they do have a B+ rating on the BBB website, as we mentioned previously. They have one actively closed complaint completed within the last three years, but the complaint details are unavailable. It is unknown if the company has received any complaints in the AI FMCSA database as they are not listed.
There isn't an "about us" page on this moving company's website, but their home page does provide some information about them. Additionally, there is no information about the business's founders. There also isn't much detail on the company's history besides that they have been in the moving industry for 85 years with 15 years experience in providing moving services.
However, the company does provide exhaustive details surrounding what they do and the services they offer.
The following is a summary of the categories (nature) of the complaints received.
| | |
| --- | --- |
| BBB Complaint Types | Number |
| Sales or Advertising | 1 |
| Collections or Billing | 0 |
| Deliver-Related Concerns | 0 |
| Warranty or Guarantee | 0 |
| Product or Service Problems | 1 |
How is Trucks and Boxes' customer experience?
The Truck and Boxes company has company employees who can contact Monday to Friday between 8 am and 6 pm EST. Additionally, they have customer service personnel who are available 24/7.
On the company website is their telephone number, physical address, and email address. You can either phone in or email the company with any queries that you may have regarding your move. Additionally, if you want to book an appointment with this company for a more personal approach, you can visit them in person, by phone, or by email.
At this point, it is unknown if Truck and boxes offer a pricing guarantee, and they do not say whether or not they provide an on-time delivery guarantee. However, according to reviews on Yelp, they are not hard to get in touch with, and most customers enjoy their friendly approach.
Is Trucks and Boxes licensed and insured?
In America, four primary governmental databases gather and store information about moving companies. Every time we review a moving company, we check these databases to see what important licensing and regulations information we can find. Additionally, we also check if a company has laid claim to its various profiles.
The purpose of these databases is to let people know how credible a moving company is. The information on the databases allows us to discern if a company is honest about details surrounding licensing, fleet numbers, and registrations that they have on their websites.
We couldn't find Trucks and Boxes DOT number publically available online, nor did we see the moving company not listed on any of the databases except for the BBB database.
| | |
| --- | --- |
| Database | Listed (Y/N) |
| AI FMCSA? | No |
| SAFER FMCSA? | No |
| Licensing Insurance FMCSA? | No |
| Better Business Bureau (BBB) | Listed (Not Accredited) |
According to the BBB database, they are not BBB accredited, but they have a B+ rating. Additionally, according to this database, the company has only had one official complaint in three years.

As we could not access credible information about the company on the governmental databases, it is unknown if they are a household goods carrier. There was also no way for us to verify the number of miles they have driven.
For more information on how moving company regulations and why we choose to look at these databases, check out our post on how moving companies are regulated. 
Should You Consider Trucks and Boxes for a Move?
According to the Truck and Boxes website, they are an established moving company with 85 years of experience that has its headquarters in Miami, Florida. Yet, there is no definitive proof on any moving government databases that back up what they claim.
There are also no reviews on Google or Yelp that provide potential clients with an idea of the type of company that they are. However, the company's website does include a few positive client reviews.
Although the company lacks governmental database information and extensive reviews, they do offer clients many diverse services. Therefore, they could be a reasonable choice for those looking for a local, interstate, cross country, long-distance, or international moving company.
Do you need some guidance when choosing a moving company, and would you like to attain free moving quotes? If so, you can have a look at our moving cost calculator to learn about your options.
Not what you were looking for?
Check out other categories that can help you find the information you need!
See All
Hide All