UNITS Moving and Portable Storage Company Review
Overall Opinion
UNITS Moving and Portable Storage is headquartered in Charleston, South Carolina, and has established dozens of franchises across the U.S. spanning more than 18 states.
They offer 12 and 16-foot portable (mobile) containers for moving and short or long-term storage.
The company has a somewhat limited variety of service offerings, but customer feedback suggests they execute them very well.
Jump to the UNITS review section that you're looking for:
UNITS: Moving Services Available:
The dimensions of the UNITS storage containers (in feet) are 8 x 8 x 12 or 8 x 8 x 16. They have a durable galvanized steel frame capable of handling harsh weather conditions and a semi-transparent roof to allow natural light in. No ramp is needed to load the containers because they are positioned on the ground and all units are secured with double doors.
Storage: Customers will receive the delivery of a storage container(s) shortly after ordering, which is conveniently placed for easy access. The containers remain at the site for the customer to load at their own pace.
UNITS Storage Facility Option: The company has its own secured and temperature-controlled warehouse and storage facilities to hold the containers until the customer requests them to be returned. During the interim, customers can access their storage containers to retrieve belongings when needed.
Storage and Moving: Those who are moving to a new location simply must notify UNITS when the container is ready for pick up. UNITS will transport the container to the destination and put it in place. The process of unpacking also may be done at your own pace. Storage containers may remain at a residence or business on monthly rental or be stored in a UNITS secured storage facility.
Local Moving: The organization has a local presence in nearly 500 U.S. cities and will transport containers locally or across the country. Homeowners that are performing renovations or other remodeling projects can order a storage container as a temporary storage solution while the work is being completed. Homeowners or their realtors may consider renting a storage container for holding home furnishings when staging a house that is for sale such as to take photos, host open-house events, or other marketing activity.
Long-Distance Moving: With an expanding national presence, the company has established a good transportation and storage facility network. If the new home or business location is not immediately available, UNITS can store your container in its secured and temperature-controlled storage facilities.
Portable Storage Containers for Business: Companies both large and small can use their short or long-term storage or moving services. Contractors may consider using a storage container for tools, materials, and equipment at a job or project site. Small businesses might need storage for seasonal items or excess inventory. Corporate employees that are relocating are also potential customers.
Storage for Young Adults Moving Home "Pandemic Nesters": The organization has been active in promoting services to younger adults, such as college students, who are moving home because of the pandemic and others in transition.
U.S. Locations by State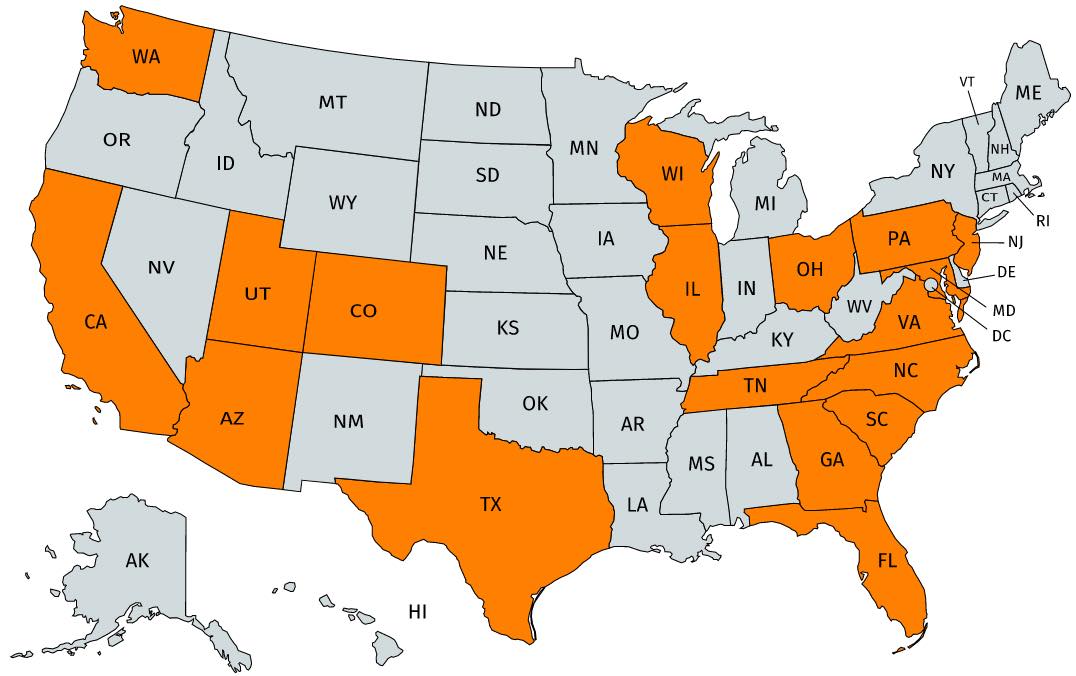 New locations are opening soon in Las Vegas, Ventura County, California, New Orleans, Delaware, and more.
UNITS has implemented a detailed program in response to COVID-19 that is compliant with the Centers for Disease Control (CDC) guidelines for cleaning and sanitation and allows for customers to sign documents electronically to avoid direct contact.
They have developed a ROBO-UNIT system for delivering and retrieving the storage units that allow for passing through and positioning them in tight spaces.
The storage units are equipped with an internal ETRACK strap and restraint system that was developed specifically to prevent damaging items in the containers from any "shifting" during transport.
Unlike many competitors that require entering multi-month commitments, customers can simply remain month-to-month.
The company has been very active in charitable causes such as Habitat for Humanity and Toys for Tots.
Locations are independently owned and operated, which may result in pricing and service inconsistencies between locations.
They make brief references to having insurance or protection plans; however, they are not forthcoming with any details or pricing.
Does not offer assistance with packing or loading (labor) that some of their competitors have as an optional service.
The Good: Has Developed an Effective Robotic System for Loading and Positioning Their Containers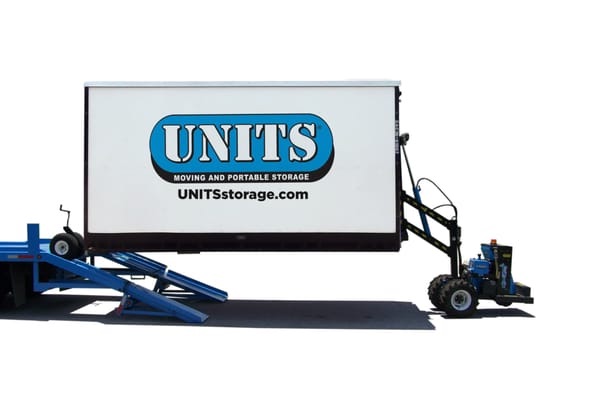 UNITS created a ROBO-Lift® system that is robotic and allows the containers to be easily maneuvered and positioned into spaces where space is tight. As pictured below, multiple containers can be transported efficiently on their specialized trailer units.
The Bad: Does Not Currently Offer Optional Labor Services
Many of their competitors are more of a "full-service" option. Labor services for packing belongings and loading containers are not currently offered.
The management team places an emphasis on its commitment to be competitively priced. They compete against companies including SMARTBOX, PODS, and U-Haul's U-Box service. Some of the locations offer different promotional incentive offers on their websites.
The following chart shows sample pricing obtained from the company website. The prices were the same for both the 12-foot and 16-foot container options. Delivery service beyond 35 miles may be subject to a $2.50 per mile surcharge.
| Location: Atlanta, GA | Monthly Rental | Initial Delivery | Final (Pickup) | Total |
| --- | --- | --- | --- | --- |
| 16-Foot Unit | $219.99 | $69.99 | $69.99 | $359.97 |
| 12-Foot Unit | $219.99 | $69.99 | $69.99 | $359.97 |
| Location: Los Angeles, CA | | | | |
| 16-Foot Unit | $229.99 | $89.99 | $89.99 | $407.00 |
| 12-Foot Unit | $229.99 | $89.99 | $89.99 | $407.00 |
Insurance and Protection Plans
The UNITS corporate site doesn't actively promote any insurance or protection plans; however, many local franchise sites do. The UNITS PROtection Bundle includes a "damage waiver" that applies while the container is at your residence. Many of these sites also reference "Cost-Effective Insurance Options" but no further explanation is provided.
Customer Reviews & Feedback
The corporate location in Charleston has a rating of 4.8 of 5 on Google. Many customers praised them for being punctual and professional. Several explained that the driver was able to position the storage container into space where those from competitors hadn't been able to.
The location is Phoenix, Arizona had a rating of 4.9 of 5 on Google based on roughly 100 reviews. The majority of customers were satisfied, particularly with the ability to receive a container on short notice. One dissatisfied customer claimed that the monthly storage rate was increased without being notified.
The location in Livermore, California (Bay Area) has a Yelp page with more than 90 mostly positive reviews. Customers praised their price transparency and excellent local support and service.
The Livermore, California location is accredited with the Better Business Bureau (BBB) and maintains an A rating. Feedback from customers was limited–yet extremely positive.
Should You Consider UNITS Moving and Storage for a Move?
UNITS Moving and Portable Storage provides mobile storage containers for those who are moving or need short or long-term storage. Customer feedback is overwhelmingly positive regarding affordability and the quality and cleanliness of their containers. The primary drawback is that no labor services are offered; however, customers can likely find local movers to load the storage containers if needed.
Not what you were looking for?
Check out other categories that can help you find the information you need!