Moving Experience: Shannon's Move with Safeway
In the spring of 2023, Shannon needed to relocate from Boston, Massachusetts, to Richmond, Virginia. She received a promotion at work and relocated from a cramped two-bedroom, one-bathroom condo to a four-bedroom home with over three times the space.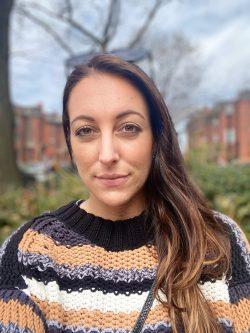 Shannon relied heavily on moveBuddha's moving guides and reviews to choose the right interstate mover for the job. In the past, she had a great experience with JK Moving, but wanted to try a different service this time.
Not only did she need help with loading and unloading, but she also wanted to save time—and better protect her stuff—by finding a full-service mover for packing, too. Shannon ultimately chose to work with Safeway because of its solid reviews and affordability.
Curious to hear about her experience? Shannon participated in moveBuddha's Better Moves Project, which provided Shannon with a $500 stipend in exchange for documenting and sharing her experience with Safeway.
In this guide, we'll look at Shannon's experience moving to a new state with Safeway, noting what went well and what she learned along the way.
89% of users select this mover
Move day takeaways for Safeway customers
Communication: Safeway's proactive communication impressed Shannon, but she did have a hard time getting through to them when she had a question
Pricing accuracy and transparency: Shannon's estimate was more than quoted because she added more belongings during the process (which weren't included in the initial quote) and these required more labor and packing materials
Professionalism: Safeway's drivers were professional and took great care of Shannon's belongings
Timeliness: Shannon's packing team showed up on time. Safeway stored Shannon's belongings until she provided a move-in date, and promptly delivered her belongings
Loss and damage: Safeway took great care of Shannon's belongings. The only issue was two damaged mugs, which was no big deal to Shannon
Would Shannon use Safeway again? If she moves again in the future, Shannon would use JK Moving instead of Safeway
Shannon needed help moving from Boston, MA to Richmond, VA
With over 30 boxes at an estimated 5,817 pounds, Shannon needed help moving 548 miles to her new home in Richmond. She planned her move sixty days beforehand, which gave her plenty of time to collect quotes and plan the finer details of her move.
Shannon's biggest concern with moving was potential hiccups and delays, as well as the potential for hidden costs. Because nobody likes surprises, right?
Shannon wanted to find a mover that offered clear, consistent communication and that could deliver on its promises. As a busy professional, she decided it would be best for her moving company to handle packing, too.
Shannon's move at a glance
| | |
| --- | --- |
| Move date | May 5, 2023 |
| Moved from | Boston, Massachusetts |
| Moved to | Richmond, Virginia |
| Distance | 548 miles |
| Move size | Two-bedroom, one-bathroom condo (820 square feet) |
| Moving company | Safeway |
| Moving quote | $6,528.58 |
| Actual cost | $7,773.61, plus $600 in tips |
Shannon got just one full-service moving quote
In addition to loading and unloading, Shannon also needed full-pack service, plus special shipping for an important piece of art.
With sixty days to go until her move, Shannon consulted moveBuddha to gather an estimate for her interstate move. She found the site quick, thorough, and easy to understand, so she requested a quote from Safeway immediately.
While she previously moved with JK Moving, Shannon found Safeway's proactive communication impressive. She moved across state lines in the past and knew how expensive it was, so it didn't hurt that Safeway's estimate was pretty cheap, too. They contacted her three times before she ultimately selected them as her mover.
Here's the quote Shannon received for full-pack service from Safeway:
| | | |
| --- | --- | --- |
| Company | Estimated volume/weight | Estimated cost |
| Safeway | 831 cubic feet/5,698 pounds | $6,528.58 |
Shannon chose Safeway for its good reviews

Licensed
Insured
Price
rating
4.5 / 5
Get A Quote
(855) 650-0657
93% of users select this mover
At A Glance
30 days of free storage on all interstate moves
Veteran owned
Long distance and cross country moves only
A portion of every move is donated to charity
read our full review
Get A Quote
(855) 650-0657
93% of users select this mover
Shannon opted for Safeway because its moveBuddha reviews said the company had the best customer service—and it didn't hurt that Safeway's estimate was affordable, too.
For her quote, Shannon did an on-camera Zoom call with a Safeway representative, showing them the furniture and belongings she needed to transport. Based on the call, Safeway took inventory of Shannon's belongings to generate an estimate.
Safeway quoted Shannon $6,528.58 for 5,698 pounds of stuff (or 831 cubic feet). The price was right in line with what Shannon was expecting, and she felt excited to have help not only with moving, but also with the big task of packing her stuff.
A few days before moving, Safeway reached out to Shannon to verify her inventory list. She added eight items to her existing list of 84 items, which added 40 cubic feet to the move, bringing the estimate to $6,876.65.
Moving day was efficient and uneventful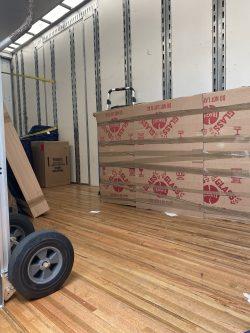 Before the move, Safeway provided Shannon with a detailed list of how to prep for the move, plus an overview of the timeline, moving process, and payment information. They frequently followed up with Shannon via email and text with reminders about moving day, as well as helpful checklists.
From there, Shannon paid a 50% deposit, completed Safeway's checklists, and got rid of perishable food items. She received a confirmation call three days before the pick-up date, as well as two days prior. Safeway also sent emails documenting every single call, too.
The movers arrived on April 25, 2023, at 8:20 AM—right on schedule. The team texted her 30 minutes before arriving and called her once they arrived at her condo.
Shannon thought the moving team was great at communicating and that they packed her belongings very thoroughly. She would only change one thing: she wishes the movers labeled her boxes while packing. That would have made the unpacking process much easier. Safeway does have plans in the works to start labeling full-pack boxes with barcodes to streamline future moves.
As the movers packed her stuff and put it in the truck, Shannon ran pre-move errands. While she was out, the movers continued to pack her stuff. She paid extra to protect a piece of art, but later found that the piece wasn't wrapped as well as she would have liked.
During packing, Shannon added 100 cubic feet of items to the order. In addition to the items, Safeway used more boxes to pack clothes, kitchen items, and small household goods. This brought the final cost to $7,773.61 for 970 cubic feet of full-pack service.
She returned every hour to check on the movers, offer food and drinks, and answer questions. Shannon admits she mostly tried to stay out of their way and allow them to pack. All in all, the packing and loading process took just over 11 hours.
Delivery wasn't as simple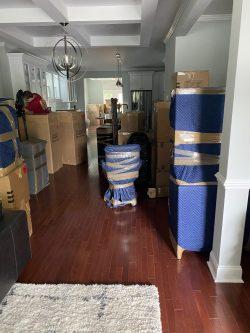 Shannon wasn't ready for delivery when Safeway picked up her items, so they stored her belongings in a warehouse in New Jersey. Most moving companies charge you fees for storing and moving goods from a warehouse, but Safeway offers storage in transit for up to 30 days for free. After notifying Safeway of her first available delivery date, they scheduled time to deliver her belongings.
During transit, Shannon didn't have a lot of communication with Safeway. She reached out a few times but spoke to three different people multiple times about her estimated delivery date.
Shannon says that, if Safeway didn't initiate the communication, it was difficult to get a hold of someone for verification or confirmation. She felt like she had to hound them for information.
Keep in mind that May is the start of peak moving season. Most moving companies can barely manage 50 moves a week, and Safeway manages well over 200 moves a week. The company is adding more customer service reps to boost its response rate during peak season, but if you have the choice, try to move outside peak season if possible.
When her belongings arrived at her new home in Richmond, Shannon found the unloading process frustrating. Safeway asked for full payment before unloading. While Safeway said Shannon could pay via Zelle, she didn't realize some banks don't allow Zelle transactions because of fraud concerns.
Safeway doesn't accept credit card or check payments, so Shannon had to pay with money orders from several banks. In the meantime, Safeway waited for the final payment to unload her belongings. During this time, she says Safeway provided a new quote that increased the total amount beyond what she already paid, which she found frustrating.
After settling the payment, the movers transported Shannon's boxes inside. Unfortunately, the movers forgot to label the boxes, so it wasn't clear where the boxes should go. Safeway left the boxes downstairs, although Shannon soon realized the boxes should have been upstairs. She and her family shuffled the boxes around after the movers left, but everything ended up in the right place.
Our take on the move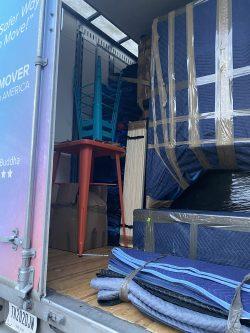 Shannon's move went smoothly, albeit with a few hiccups.
For Shannon, the biggest sticking point was the payment issue, which is a common concern we hear about from our Better Moves Project participants. Movers usually won't accept checks, cash, or card payments because of fears of fraud, which is why they ask for payment via Zelle or money orders.
If your mover asks you to make a payment via an app like Zelle, check with your bank to see if it allows these types of transactions. If it doesn't, work with your mover ahead of time to agree on a payment method. This way, you don't need to scramble to find money orders when it's time to settle the check.
Safeway offered great, proactive communication with Shannon, although she felt frustrated with the difficulty of reaching a representative on her own. This is a common challenge with contacting national moving companies during peak season, but don't be afraid to contact your mover whenever you need clarification.
Shannon also felt surprised by the difference between the booking price ($6,528.58) and the final price ($7,773.61), which was a $1,200 difference. Nobody likes surprises, but it's important to remember that estimates are just that — an estimation. It's normal for estimates to come in 10% over or under. In this case, the difference was greater than 10%, which was likely because Shannon added more items to the move, which meant the movers also needed more materials than they budgeted for.
Finally, Shannon wishes her movers labeled her boxes to simplify the unloading process. If you're hiring movers to pack your belongings, it's best to stick around while they pack everything. It's tempting to leave to run errands, but being there every step of the way gives you more control over how, exactly, your stuff is packed, labeled, and stacked.
The verdict
89% of users select this mover
In total, Shannon's move took 20 days from start to finish. Minus two damaged mugs, everything arrived safely in her new home.
The move mostly went as Shannon planned, although certain hiccups made the process more challenging. The payment issues on delivery day, lack of labeling, and the difference between the estimate and the final cost made her wary of working with Safeway in the future.
Looking back at her move, Shannon would choose instead to work with JK Moving. She used them in the past and had a great experience with them, but chose Safeway to save money on this move.
Even so, she says Safeway took great care of her stuff. Everything arrived packed well and 99% undamaged, but she was looking for more communication and consistency.
Here's how Shannon rated Safeway on a scale of 1 to 5:
Communication – 3
Timeliness – 5
Quote accuracy – 3
Overall experience – 3
Shannon's advice to anyone planning a move
Shannon was so eager to move that she jumped headfirst with the first company that quoted her. In hindsight, she would have taken the time to collect at least three different quotes, so she would have had a better idea of her options. Shannon regrets taking the most affordable option because, after the added fees, Safeway cost her more.
Shannon also recommends being more involved in the packing and loading process. Don't feel embarrassed about micromanaging—it's your stuff, after all! Don't be afraid to take charge, make requests, or push back on anything that doesn't work for you.
Do you have an upcoming move? Share your moving story with the Better Moves Project to earn a $500 stipend. Sign up now.
Check out these helpful resources before signing off:
Not what you were looking for?
Check out other categories that can help you find the information you need!
See All
Hide All