Moving Experience: Ryan's Move with Safeway
After graduating from medical school, Ryan moved from Glendale, Arizona to Wilmington, Delaware to start a new job.
He spent nearly two weeks researching movers and getting quotes before deciding to use Safeway Moving.
To help those planning a move like his, Ryan agreed to participate in our Better Moves Project by documenting and sharing his experiences with Safeway.
Ryan's biggest concerns were the movers not being able to meet his tight timeline and that the movers would damage or lose his items.
Safeway was able to meet Ryan's timeline with minimal damage or loss. But Ryan was unhappy with the overall experience due to poor communication and issues with the final cost. Ryan would not hire Safeway again for future moves.
While we always want people to have amazing moving experiences, some moves don't go well, and that's just a part of moving. Ultimately, both Ryan and Safeway could have done things differently to make for a smoother move experience.
We invested a ton of time reviewing call recordings, paperwork, and text communications to better understand where Ryan's move went wrong. We highly recommend reading this entire post. You'll walk away with a better idea of how to avoid potential issues when working with a professional moving company.
Important takeaways for anyone considering Safeway Moving
Communication: Safeway communicated well from the initial quote to pick-up day. After pick-up, Ryan felt communication fell off, and he had trouble getting a response on when his items would be delivered (delivery ended up being pretty fast)
Pricing accuracy and transparency: Ryan's move cost increased by 65% from quote to final cost. Both Ryan and Safeway share blame for the increase in final expenses. Continue reading for a full explanation of exactly what happened and tips on how to avoid cost increases
Timeliness: Safeway picked up and delivered Ryan's household goods on time
Loss and damage: Nothing was damaged, and only one item was unaccounted for at the time of delivery
Would Ryan use Safeway again? No. Ryan felt Safeway didn't provide accurate cost expectations and could have communicated better during delivery
Ryan's move details at a glance
| | |
| --- | --- |
| Moving from | Glendale, Arizona |
| Moving to | Wilmington, Delaware |
| Distance | 2,367 miles |
| Moving company | Safeway Moving |
| Moving quote | $16,864 |
| Actual cost | $27,995 |
Ryan got two quotes before choosing Safeway
Despite a chaotic schedule, Ryan found time to research movers by:
Doing Google searches
Checking online review sites
Comparing companies on moveBuddha
Ryan contacted four moving companies, but he was only able to get two responses. Safeway and Atlas Van Lines provided the following estimates:
| Company | Size Estimate | Cost Estimate |
| --- | --- | --- |
| Safeway Moving | 12,222 lbs/1,746 cubic feet | $16,864 |
| Atlas Van Lines | 13,526 lbs | $19,739 |
Comparing moving company estimates isn't as simple as just comparing pricing. You need to consider the weight or cubic footage each company is estimating, insurance levels, packing add-ons, and any other accessorial costs to ensure you're comparing apples-to-apples.
Both companies' quotes were similar enough for Ryan, and Safeway offered substantially better pricing, so he chose to book with Safeway. After booking his move, Ryan made a deposit and confirmed services and dates with his coordinator.
Everything seemed to be falling into place. Ryan prepared by packing, decluttering, and getting his car inspected in preparation for the cross-country drive.
Two days prior to his scheduled pick-up date, Ryan received a call from Safeway to go back over the details of his move and make sure nothing major had changed. Ryan made some minor changes to his move inventory and confirmed they had packed up about 100 boxes to be moved.
Moving day had some major issues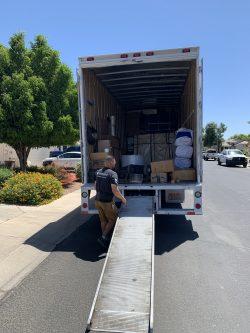 Ryan's move took place a week after Memorial Day, one of the busiest times of the year for moving.
His pick-up was scheduled for Thursday, but the truck and crew didn't arrive until Friday morning, the designated backup day. Ryan was irritated by the delay but understood it was a busy time of year.
We always recommend having some flexibility around your move date, especially if you're moving close to a summer holiday when delays are common.
Upon arrival, the foreman did a walk-through of Ryan's residence and immediately noticed Ryan had significantly more than the 100 medium boxes listed on his estimate paperwork.
The foreman determined there were 147 additional boxes, many of which were large or extra large. The additional boxes added over 1,000 cubic feet to the size of the move and resulted in an additional cost of over $11,000. Needless to say, Ryan was less than thrilled.
What happens when a moving estimate is wrong?
We've seen many situations like this over the years, and it can be tricky to figure out where things went wrong. Lazy or inexperienced move estimators can miscalculate. But customers overwhelmed with moving can also fail to describe the full needs of their move.
We normally just throw up our hands and say we'll never have enough information to know what happened. But with the Better Moves Project, we collect surveys, call recordings, pictures, and more so we have enough data to draw conclusions.
Now, for some detective work:
Ryan felt Safeway's over-the-phone estimate was inaccurate. The company should have performed a video or in-home estimate to correctly assess his move's requirements. While he admits some blame for the inaccurate box count, Ryan also believes the $11,000 extra was excessive.
Ryan makes some good points. Generally, over-the-phone estimates are less accurate than video or in-home surveys. However, during the initial quoting process, Ryan got a video survey quote from Atlas Van Lines. Atlas's size estimate was 10% more than Safeway's. A little closer but still far off from the actual move size.
How did two separate companies get Ryan's estimate so wrong?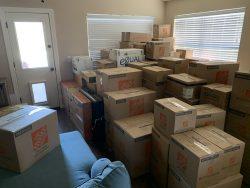 The box count is the number one culprit for inaccurate estimates. The typical process for estimating box count is to guess 7 – 10 boxes per room. Larger rooms like the kitchen or living room are closer to 15 – 20 boxes. Good estimators will then adjust the box count based on additional questions like, "how many people are moving?" and "how cluttered are the closets and cabinets?"
This box guessing game is error-prone, so a few days before the move, a move coordinator will call to ensure the box count is still accurate. In the case of Ryan's move, Safeway did call a few days before to confirm.
We reviewed the call recording. The Safeway rep instructed Ryan to count his boxes and then waited for several minutes while Ryan walked through his house. Ryan confirmed that 100 boxes were still accurate.
To some extent, moving companies rely on the customer to keep them informed about any changes to the move. Ryan could have done a better job updating Safeway with his final box count.
But Safeway should have relied less on Ryan to self-report his box count and taken the time to review Ryan's move via video. Safeway should have also worked with Ryan to reduce the $11,000 overage and meet him somewhere in the middle.
Bottom line: both Ryan and Safeway share responsibility for the increase in final costs.
With the box count issue behind them, the crew wrapped Ryan's musical instruments, packed a few large pieces of artwork, and began loading the truck.
Ryan occasionally checked on their progress and answered questions, but he generally tried to stay out of the movers' way. His partner ran a few last-minute errands to avoid the stress of watching everything get loaded.
All told, the four-man crew loaded everything in about six hours.
Delivery 2,300 miles to Delaware
A few days after his items left Arizona, Ryan got an email describing the payment process and letting him know that his household goods were in a warehouse. Ryan called Safeway multiple times to find out when his items would be shipped, but nobody he spoke with seemed to know.
Ryan's items were delivered just ten days later. Given the time of year and distance, this was an excellent turnaround time on Safeway's part.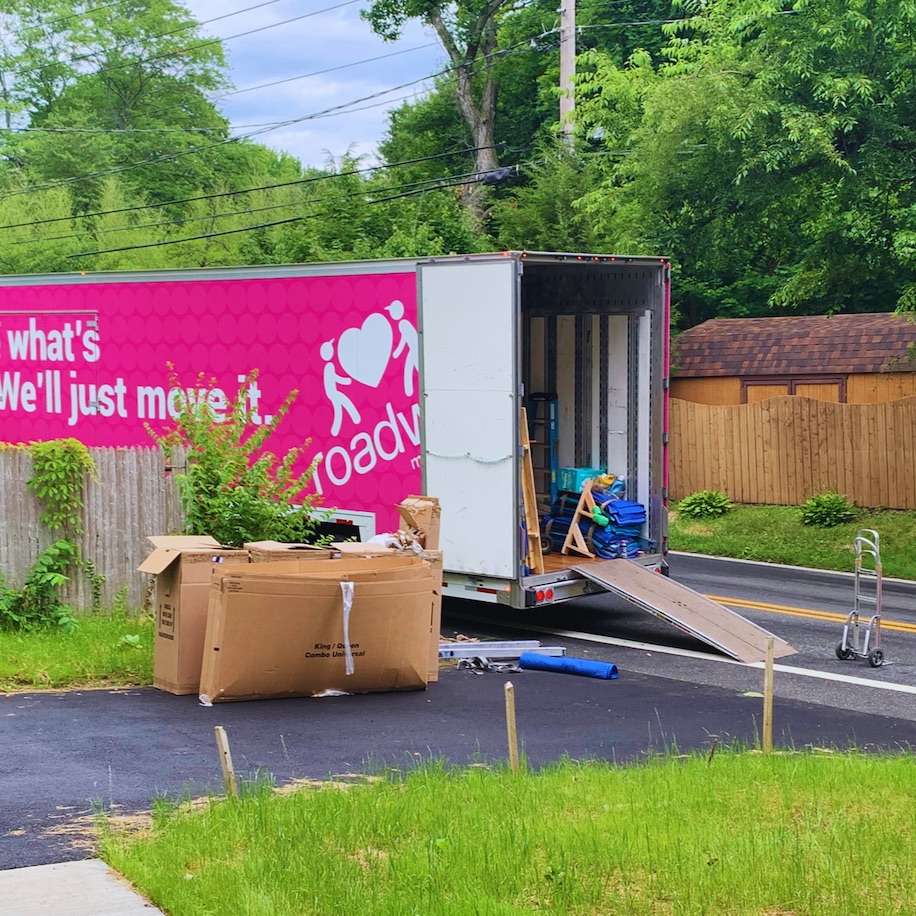 When the truck arrived, it was a large tractor trailer that barely fit in front of the house. Ryan was very dissatisfied that he was not made aware his move would be transferred to a different truck.
In the moving industry, it's normal for items to be transferred once or twice during a move. The same truck rarely does both pick-up and delivery, especially for cross-country moves.
Ryan also noticed there were only two movers instead of four. The crew seemed ill-prepared for the job.
Typically, a crew of three to four men would be used for a move of Ryan's size. Unfortunately, Safeway had two crew members call out the day of the move. Rather than delay the delivery, they decided to deliver with just two men, which took seven hours.
Before leaving, the driver asked Ryan to note any damage and sign off on the inventory even though he hadn't had time to inspect everything.
Thankfully:
Everything was accounted for (except for a moving dolly that mysteriously vanished between Arizona and Delaware)
Nothing appeared to be damaged
Would Ryan use Safeway to move again?
Ryan wouldn't use Safeway again. His main complaints were:
Poor communication about delivery
Excessive handling (his items were put into storage and loaded onto a different truck)
Inadequate crew size at destination
An inaccurate phone estimate
But was Ryan's move actually that bad?
Ryan's items were delivered relatively quickly and with little loss or damage. That's a major win. Delivery delays are one of the most frequent complaints we receive.
The miscommunications and staff issues were unfortunate, but given the busy time of year and country-wide staff shortages, those problems were pretty minor.
The primary issue with Ryan's move was the cost increase from the initial quote to the final cost by over 60%. This is unacceptable, regardless of the situation. Safeway should have done a better job with the initial estimate, and the company should have done more to reduce the additional costs.
However, Ryan's move does seem to be an isolated incident. We don't see a pattern of inaccurate estimates with Safeway. Since Ryan's move, the company has implemented a video survey requirement on all moves. They've also changed some of their training to help improve box count accuracy.
While we're bummed Ryan's move didn't go as well as he hoped, we are happy the move provided some great lessons for what to expect for people moving in the future.
Oh, before you go. Here's this adorable picture of Ryan's dogs making the cross-country road trip.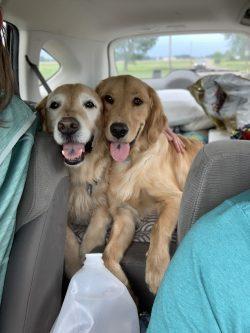 Not what you were looking for?
Check out other categories that can help you find the information you need!