A Great Summer For Moving Scams
Here are three reasons why:
First, interstate quotes for May to August from some of the largest van lines are already coming in higher than last year's pricing.
Second, capacity is particularly tight this season. We're seeing blackout dates earlier and more often than last year. I'm sure the recent demise of Graebel Van Lines isn't helping much.
And lastly, moving scams are still alive and well despite continued efforts to police them (ah, some things never change).
All of this is creating a perfect environment for moving scammers.
Here's what's happening.
We help people find moving companies, so we typically send our customers to get quotes from three to four reputable moving companies.
We do this for two reasons:
One, to make sure the customer receives enough quotes to get a fair price on their move.
And two, to make sure they have a sufficient number of quotes in their hand so they don't go onto Google looking for more moving companies.
Quotes from three to four movers seems to be the magic number where customers feel satisfied with their price hunting.
But because rates are already very high this summer and many companies just simply don't have any capacity, customers are scrambling to find a mover.
They head straight to good ole' Google where scammers and shady brokers are patiently waiting.
And that's when we get colorful postmove reviews like this one…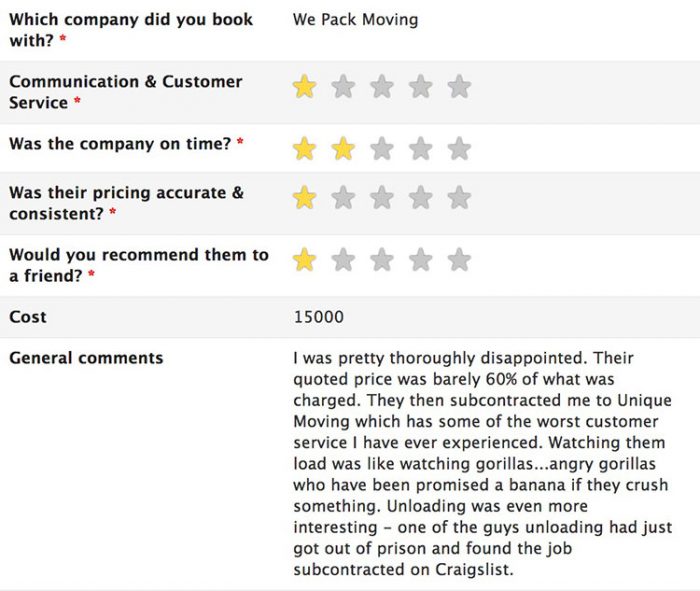 We follow-up with all our customers after their move regardless of if they booked with one of our partners or not.
And unfortunately, we're seeing more and more people getting sucked in by horrible moving companies lately.
Even if they've been educated on common moving scams.
There's a higher than usual level of desperation amongst folks this summer which is playing right into the hands of scammers.
But, some of this can be avoided.
Customer experiences like these put a black eye on the industry and make people less likely to ever consider using a professional mover again.
That's bad.
Capacity and pricing issues aside (those aren't easy problems to fix) here are a few things we're doing to combat this.
Making it easy for customers to do their own research
It turns out, just a simple licensure check and the terrible moving experience above would have been avoided.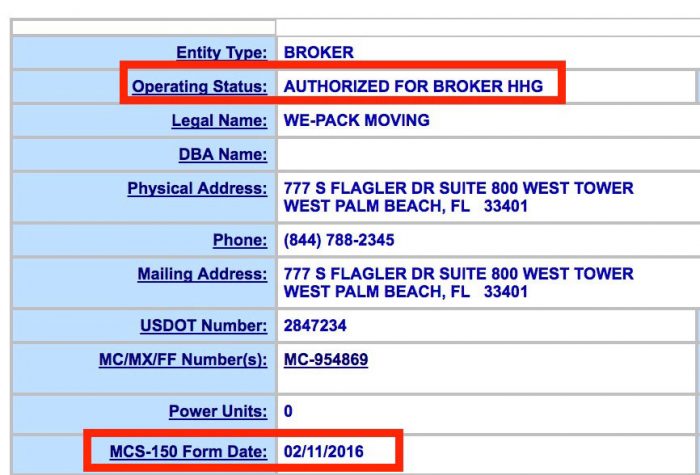 The company, We-Pack Moving, is a moving broker with a license only a little over a year old.
Had the customer known how to check licensure info, it's unlikely he would have booked.
So, we put together a step-by-step guide (with pictures) to help people qualify moving companies.
Following up with every customer
A guide is great and all but researching every mover is a lot of work and some people just don't have the time.
So we're making sure to follow-up with every customer to learn who they've booked with before their move happens.
This way we can help them avoid rogues.
Suggesting alternative capacity
Lastly, if someone can't afford a mover or has a minimal shipment out of Montana, we're recommending alternative options like rental trucks or freight trailers.
Are you seeing increased issues or complaints already this summer?
Let us know in the comments.
Not what you were looking for?
Check out other categories that can help you find the information you need!