Moving Experience: Kylie's Move with Trinity Relocation Group
Due to her partner's new job, Kylie recently relocated from Chicago to Dallas.
Her biggest concerns were avoiding damage and ensuring that her items got delivered on time.
After a thorough three-week search, Kylie hired Florida-based moving broker Trinity Relocation Group.
Trinity claims to offer top-notch local and long-distance relocation services by working with experienced, licensed motor carriers.
So did Trinity deliver the goods, or was Kylie underwhelmed with the company's performance?
Throughout her move, Kylie participated in our Better Moves Project by documenting and sharing her experiences with Trinity Relocation Group.
In this post we'll look at what went well, what didn't go so well, and whether Kylie would use Trinity again in the future.
Takeaways Trinity Relocation Group customers should know on moving day
Communication: Communication with Trinity deteriorated after Kylie's household goods were loaded
Pricing accuracy and transparency: Kylie's original estimate was accurate, but she paid extra for a long-carry at her new apartment in Dallas
Timeliness: Kylie's movers didn't load or deliver her items on the appointed dates
Overall value: Her move wasn't perfect, but Kylie felt like she got her money's worth
Would Kylie use Trinity again? Kylie probably wouldn't use Trinity Relocation Group again
Kylie's move at a glance
| | |
| --- | --- |
| Moving from | Chicago, Illinois |
| Moving to | Dallas, Texas |
| Distance | 950 miles |
| Moving company (broker) | Trinity Relocation Group |
| Moving quote | $2,500 |
| Actual cost | $3,800 |
How Kylie found Trinity
Before her move, Kylie weighed the pros and cons of renting a U-Haul versus hiring a full-service moving company.
The latter made the most sense, but after requesting multiple quotes, she was bombarded with calls and emails from companies eager to get her business.
Before deciding on a service provider, she used moveBuddha to compare the companies she was considering.
A Trinity representative prepared an estimate after doing a virtual tour of Kylie's apartment.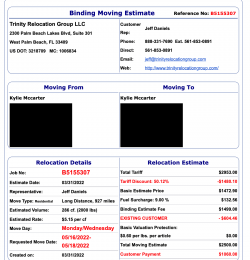 The quote was higher than Kylie expected, but lower than the estimates she already had.
After a little friendly negotiation, Trinity gave Kylie an additional discount.
Her quote included:
Packing a few fragile items
Loading labor
Transportation from Chicago to Dallas
Unloading labor and setup in Kylie's new apartment
The quote process was easy, but Trinity couldn't answer Kylie's insurance-related questions or give her firm loading or delivery dates.
After booking her move, Kylie prepared by packing and wrapping her furniture in blankets.
How Much do Movers Cost?
Get instant ballpark pricing. No email or phone required. It's fast, free, and easy.
Moving day was a day later than expected
Communication with Trinity became more spotty in the days leading up to Kylie's move.
The truck and crew were scheduled to arrive on May 29, but that afternoon Trinity informed her that loading was being postponed until the following day.
Kylie found this frustrating, but she had little choice but to rearrange her schedule and make it work.
The movers arrived the next day as promised, and the loading process was fast and efficient.
Kylie paid half of her estimated cost via Zelle on moving day.
There were a few issues before and during delivery
A Trinity representative called shortly after Kylie's items were loaded and asked if she could take delivery early. Kylie agreed and made the necessary arrangements, but the truck never showed up.
Trinity never acknowledged the botched delivery, and Kylie had a hard time finding anybody who could tell her when to expect her household goods in Texas.
She did get a final confirmation shortly after that, but Kylie had to push her move-in time forward to 5:00 PM because another moving company had already reserved the elevator.
The truck arrived at 6:30 in the evening and the crew began moving everything into Kylie's apartment.
She unpacked boxes and told the crew where to put everything while they were working.
Kylie was charged an additional long-carry fee because her unit was at the end of a long hallway. This increased her move cost, but she thought the charges were reasonable because the extra distance increased move time significantly.
Kylie didn't like that the movers checked her items off the inventory instead of asking her to do it.
Thankfully she confirmed that everything was accounted for. A few boxes were damaged but nothing inside was broken.
Kylie paid the rest of her move charges on delivery day, but Trinity never followed up to see how everything went.
What didn't go so well on Kylie's move
To recap:
Communication with Trinity Moving Group broke down as Kylie's move progressed
The company couldn't (or wouldn't) answer her questions about moving insurance
Trinity wasn't able to give Kylie firm pick-up or delivery dates
The movers checked items off the inventory themselves
What Kylie would do differently next time
Kylie doesn't plan on moving again any time soon.
In the future, she'd probably:
Hire a full-service mover (not a broker)
Let the crew handle most or all of the packing (she found it tedious and time-consuming)
Kylie recommends working with a broker only if poor communication and constantly changing service dates aren't deal breakers.
It's also worth noting that Kylie only realized Trinity Relocation Group was a broker (not a traditional mover) after she booked her move.
It may not have changed her mind, but it would have been nice to know before she signed on the dotted line.
Our Take
Thanks to poor communication and an inability to live up to agreed-upon service dates, Kylie was not very happy with her experience.
But is Kylie's experience typical?
Since the beginning of the pandemic, delivery delays have been the number one complaint industry-wide. There is a massive increase in the number of people online ordering moves. That, combined with a shortage of truck drivers has caused chaos in the trucking industry.
On average, 71% of long-distance moves report some kind of delay.
Summer is also by far the busiest time of year to move. Nearly 45% of annual U.S. moves take place between May and August. So the timing of the move could also have played a part.
In hindsight, the entire move process was far more stressful than it needed to be.
On the other hand:
The company did move her things inexpensively
Kylie felt like she got her money's worth
Nothing was lost or damaged
Trinity's service didn't meet Kylie's expectations, but all things considered, her move was a success.
Check out these helpful moving resources before you go:
Not what you were looking for?
Check out other categories that can help you find the information you need!
See All
Hide All