Bekins Van Lines Company Review
Overall Opinion
Bekins is a national van line with an extensive network of agents across the country
The company has 125 years of experience in the moving and storage industry
Bekins provides a wide range of services including interstate, international and military moves
The carrier is accredited by the Better Business Bureau and has an A+ rating
Some customers have had issues with damages and claims
Best for: Customers looking for high-quality service and attention to detail
Not recommended for: Cost-conscious consumers who need guaranteed move dates
For even more long-distance moving companies, check out our list of the top interstate moving companies of 2021
How does Bekins Van Lines compare to other professional movers?
Jump to the Bekins Van Lines review section that you're looking for:
About Bekins Van Lines
Bekins (U.S. DOT# 2256609) is a national moving carrier headquartered in Indianapolis, Indiana. The company has a vast network of independently owned and operated moving agents that work on behalf of Bekins. So while they are not a broker, they do work with other carriers to complete moves across the country.
Bekins was founded in 1891 in Sioux City, Iowa. Wheaton Van Lines bought the company in 2012 and moved its headquarters to Indianapolis. As one of the oldest moving companies in the country, Bekins has extensive experience in nearly all moving and storage industry segments.
Due to the company's extensive agency network, it can handle local, interstate, and international residential relocations. 
Other move types include senior living, commercial and military. Those planning a military move should confirm that the carrier you are working with has the proper permissions from the General Services Administration (GSA).
The carrier partners with the National Association of Senior Move Managers to offer special services to seniors. Many Bekins agents hold Silver Certification, which signifies training specifically in moving the elderly. The company also offers significant discounts on most senior moves.
Bekins is an active participant in its community. The carrier sponsors Give Kids the World, a non-profit organization that supports families of children battling critical illnesses. They also help deliver non-perishables to local food banks. The company has taken it upon itself to incorporate green practices into its business, and the Indianapolis Chamber of Commerce recognizes Bekins as a Green Business.
Bekins is an official member of The American Moving and Storage Association and an active participant in the Indianapolis Chamber of Commerce. They work with Loyalty360 to keep true to the company's mission. They're also a contributor to the Association for Advancing Physician and Provider Recruitment, an organization that trains leaders in recruitment, onboarding, and retention.
Network of 350 nationwide agents that provide a wide variety of services
Handle international shipments, government moves, and specialty items such as medical equipment and pianos
125 years of experience in the moving industry
BBB accredited with an A+ rating
Difficult to navigate website
Some customers have issues with damages and claims
Bekins Van Lines offers a broad range of services
Bekins uses its 350+ agents to provide its customers with many services.
Local moves: Not only can Bekins provide local residential services to the city of Indianapolis, but its vast network of agents allows it to assist communities across the country
Long-distance moves: The company can handle moves from state to state. They work with carriers that have the proper knowledge of the paperwork and procedures required to ship household goods long distances, including to Hawaii and Alaska
International moves: Bekins partners with Crown Relocations to coordinate moves anywhere in the world. This company is well known for handling international shipping. Crown Relocations offers an extensive list of international services, including immigration, intercultural and language training, and more
Commercial moves: The carrier has experience moving large corporations. Not only can they handle the transportation of belongings, but they can help with the logistics of keeping business running smoothly. In addition, Bekins provides relocation services to transferees moving with an employer
Packing and unpacking: Bekins offers full-service and customized packing options for residential and commercial moves. They can pack kitchen supplies, wardrobes, and fragile and unique items. Bekins also sells packing supplies such as boxes and packing tape for do-it-yourselfers
Short and long-term storage: The company offers a variety of storage solutions for any move, including international shipping. They can even store on short notice up to 24 hours before
Vehicle transportation: Bekins works with special carriers that can transport personal and fleet vehicles. These carriers can deliver your vehicle right to your door. In cases when they can't, they'll organize a suitable dropoff location nearby
Government and military relocation: The company has carriers in its network with the proper permission from the GSA to move government and military personnel. They are qualified under the Centralized Household Goods Traffic Management Program to provide federal agencies a framework for how their moves are handled. For those planning a military move, take time to confirm that your carrier has proper GSA permissions
Specialty services: The carrier has specialized movers in its network that can handle unique items such as medical equipment, pool tables, and pianos
How much does Bekins Van Lines charge?
Since each move is unique, those considering working with Bekins should contact the company directly for a customized estimate.
The carrier offers free quotes on its website. First, customers must provide their pick-up and drop-off locations, the type and size of their move, and their contact information. The estimating tool also provides a "ballpark" estimate to help customers know what they can expect to pay for their move.
Customers can also receive a free quote using the phone number, email, or contact form listed on the company's Contact page.
Bekins goes into detail explaining the types of estimates their agents use.
Non-binding estimates are based on the estimated weight of the shipment. The final cost is based on the shipment's actual weight plus extras like packing, crating, and optional valuation.
Binding estimates lock in the amount due as long as move conditions haven't changed. Adding items or requesting extra services will increase the cost of the move.
Not-to-exceed estimates are agreed-upon move costs that will not exceed a specific dollar amount. If the actual weight of the load is less than estimated, the price will go down. However, adding additional items or services could increase the cost.
Factors that affect move cost include:
Date and seasonality
Distance
Size of the home or apartment
Weight of belongings
Moving add-ons like custom crating and appliance services
Packing and unpacking
Storage
Moving valuation
Bekins requires payment in full prior to unloading your belongings. The carrier accepts cash, money order, traveler's check, certified check, or cashier's checks. They accept all major debit cards including MasterCard, Visa, Discover, and American Express.
To get a quote on your move and to find out about the best movers in your area, check out our moving cost calculator.
How is Bekins Van Lines' customer service?
Bekins makes it easy for customers to stay in touch with company representatives. The company has regular business hours from 9:00 a.m. to 6:00 p.m. on Monday through Friday. They are closed on weekends.
Customers can receive a free estimate or book an appointment with a customer service representative using the phone number, email, or contact form provided on the company's Contact page.
Bekins offers both virtual and in-home estimates. For time and safety purposes, the company offers alternatives to in-home estimates, including telephone surveys, video surveys, and artificial intelligence (AI) surveys. You can contact a customer service representative to set up your virtual estimate.
The carrier may not offer pricing guarantees, but customers can inquire about binding and not-to-exceed estimates to keep the price of their quote from changing. There is no mention of on-time delivery guarantees.
Customers seem to appreciate Bekins' customer service. While some people have issues with damages, many are happy with the company's professionalism, attention to detail, and communication. For those experiencing damages, the carrier offers an in-depth guide on filing a claim.
Does Bekins Van Lines have a good online reputation?
The company has made a name for itself in its 125 years of moving experience. When searched on Google Business, Bekins holds a 4.7 out of 5-star rating with over 500 reviews. Customers are unanimously impressed with the company's responsiveness and quality of service. Bekins responds to nearly every review.
The shipping carrier is in relatively good standing with its government database files. Bekins is accredited by the Better Business Bureau and holds an A+ rating.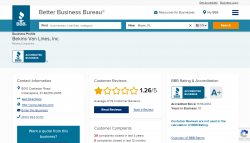 The carrier has a 1.26 out of 5-star rating with 19 reviews. Customers tend to share frustrations with damage claims and final charges associated with their move. One customer claimed the company was guilty of theft.
The company has received 28 complaints in the last three years, 8 of them received during the previous 12 months. Customers have issues with the company's delivery and customer service.
Below is a breakdown of the complaints Bekins has received in the last three years.
| | |
| --- | --- |
| BBB Complaint Types | Number |
| Sales or Advertising | 1 |
| Collections or Billing | 2 |
| Deliver-Related Concerns | 11 |
| Warranty or Guarantee | 0 |
| Product or Service Problems | 14 |
Bekins has received 26 official complaints on the National Consumer complaint Database in the last three years. According to the AI FMCSA, Bekins has issues with losses and damages of belongings.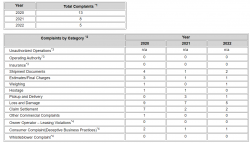 The carrier performs average on public review sites. Bekins holds a 2.5 out of 5-star rating on Yelp with 44 reviews. Customers follow the pattern of stating issues with damages and claims. The company has claimed its Yelp profile but does not respond to customer reviews.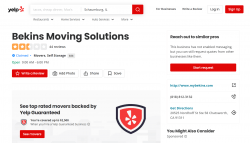 Is Bekins Van Lines licensed and insured?
The moving industry uses databases to collect information about moving companies. When assessing a moving business, we check four databases to see what information is registered and whether the company has claimed its profile.
These databases are compared alongside company websites, social media pages, and review sites (such as Yelp) to determine the moving business's credibility and transparency.
| | |
| --- | --- |
| Database | Listed (Y/N) |
| AI FMCSA? | Yes |
| SAFER FMCSA? | Yes |
| Licensing Insurance FMCSA? | Yes |
| Better Business Bureau (BBB) | Listed and Accredited |
The services and information stated on Bekins' website are consistent with the information on these government databases. The company directly states its carrier status and explains its agent network. They explicitly mention that they are not a broker.
For more information on moving company regulations and why we choose to look at these databases, check out our post on how moving companies are regulated.
How are Bekins Van Lines' website and social media presence?
The carrier provides a substantial amount of information on its website, but customers may have difficulty sifting through it all. Their dropdown menus are stuffed with pages that are a little distracting. Still, customers have access to the company's list of services, frequently asked questions, and contact information.
Bekins provides information about their long history in great detail. They also introduce their executive staff. It is comforting to read that such a historic company has a face.
The company is highly active on social media. Bekins manages Facebook, Twitter, and Instagram, in which they share move victories and personal customer reviews. They have nearly 3,000 followers across the accounts.
The carrier also manages a Youtube account. They periodically post content that answers frequently asked questions and company processes behind the scenes.
Should you consider Bekins Van Lines for a move?
Bekins is a national carrier that works with a vast network of agents across the country. With these partner carriers, the company manages all types of moves, including international shipments and military moves.
The company has 125 years of experience in the moving industry and is active in its community. It works closely with seniors, providing great discounts and expertly trained movers. It's also affiliated with several professional moving associations and has an accreditation with the Better Business Bureau.
The company provides excellent customer service. The vast majority of its customer appreciate their responsiveness, professionalism, and attention to detail. Some customers have issues with damages, and Bekins provides a detailed guide to damage claims on its website.
Overall, we would recommend Bekins for your next move. The company has more than ample experience in local and long-distance moves, which means that you can generally trust them with your belongings.
For more help choosing the right moving company and getting free moving quotes, check our picks of the top-rated interstate moving companies.
Not what you were looking for?
Check out other categories that can help you find the information you need!
See All
Hide All