Bekins Van Lines Company Review
Overall Opinion of Bekins Van Lines: Bekins has an impressive national network of local agents and fully customizable service options. They are an above-average option for long-distance and international moves.
Compare Bekins to the moving companies on our list of best interstate moving companies and the best international movers.
Jump to the Bekins Van Lines review section that you're looking for:
Bekins Van Lines: Moving Services Available:
Originally founded in 1891, what today is known as Bekins Van Lines, was purchased by Wheaton Van Lines in 2012 and is headquartered in Indianapolis, Indiana. The company has a national network of approximately 350 local agents. The organization explains that they are not a broker; rather, they have established a network of independently owned service providers that function according to quality standards.
Residential Moves: Their local agents provide local, regional, and intrastate moving services for households throughout the U.S. In-home estimates are provided by a local representative that will visit to provide an accurate quote. Cars, motorcycles, and other types of vehicles can be transported safely. Customers are advised to have appliances disconnected by a local service provider, as they are not permitted to do so. When a standard trailer is unable to access the origin or destination due to local restrictions, it may be necessary to use a smaller shuttle for an additional cost to the customer.
Commercial Moves: Businesses of any size can use Bekins for relocations that are coordinated according to budget, time frame, and with or without storage.
Packing Services: Part of a full-service move includes professional packing of all items.
Employee Relocation: Corporate employees can have fully-customized moves performed by Bekins. The company routinely works with human resource departments or other administrators to make the process easy.
International Moves: The company uses its expertise in logistics and global mobility to execute moves overseas.
Government and Military Relocation: Special attention is provided for successfully moving government agencies, federal employees, and active military members both domestically and abroad.
Specialized Services: Bekins has both customer support and management personnel that facilitates customized services for various types of moving projects. They will move sensitive medical equipment, large industrial supplies and equipment, and pianos.
Storage Services: Secure storage options are available including short-term, long-term, and in-transit. Storage that is in-transit involves loading a storage container and holding it for a maximum of 180 days before being moved to the destination. In-transit storage is used by those who may have remodeling projects or other activity that is being completed at the destination.
Packing Supplies: Customers can purchase the supplies needed for completing a move from their local Bekins agent. Specialty supplies include mirror and mattress boxes, cartons for dishware, and colored labels for identifying what is contained inside.
The Good: Excellent Virtual Estimate Options and Discount Opportunities
They offer a variety of options for receiving an estimate including by phone, video, and artificial intelligence. Prospective customers should look at current discounts available.
The Bad: Some Movers Are Not Cautious When Loading and Unloading
The majority of problems involved items being damaged.
---
Pros:
Bekins has a variety of ongoing and seasonal discounts for customers who qualify. Many are based on membership in business, trade, or fraternal organizations such as the National Retired Federal Employees. The Bekins Difference Program now offers discounts for off-season moves, which are those occurring between September 1 and April 30 each year.
Since the onset of the COVID-19 pandemic, the organization has established a means of doing "virtual" estimates, using personal protective equipment, and adhering to CDC and WHO best practices. (see the Alternative Survey information in cost and affordability below)
Cons:
The organization goes into tremendous detail regarding the various types of estimates available including ballpark, non-binding, firm-binding, option-binding, alternative, etc. Many of these have overlapping characteristics, optional provisions, and tends to simply create confusion.
Some customers expressed dissatisfaction with the inventory process and said items were missing from the list.
Several customers made accusations regarding the theft of their belongings.
Types of Estimates Available
Bekins goes into great detail on the types of estimates available.
Ballpark Estimates: A general price range is provided that is based on some information entered using their website tool. (see the sample image below)
Non-binding estimate: Is based on the estimated weight of the shipment and is changed once the actual weight is determined.
Firm-binding estimate: Is based on the estimated weight; however, a specific amount for the move is agreed upon by both parties and will not change.
Option-binding estimate: This is a "not-to-exceed" estimate that sets a maximum or cap that will be charged for the move.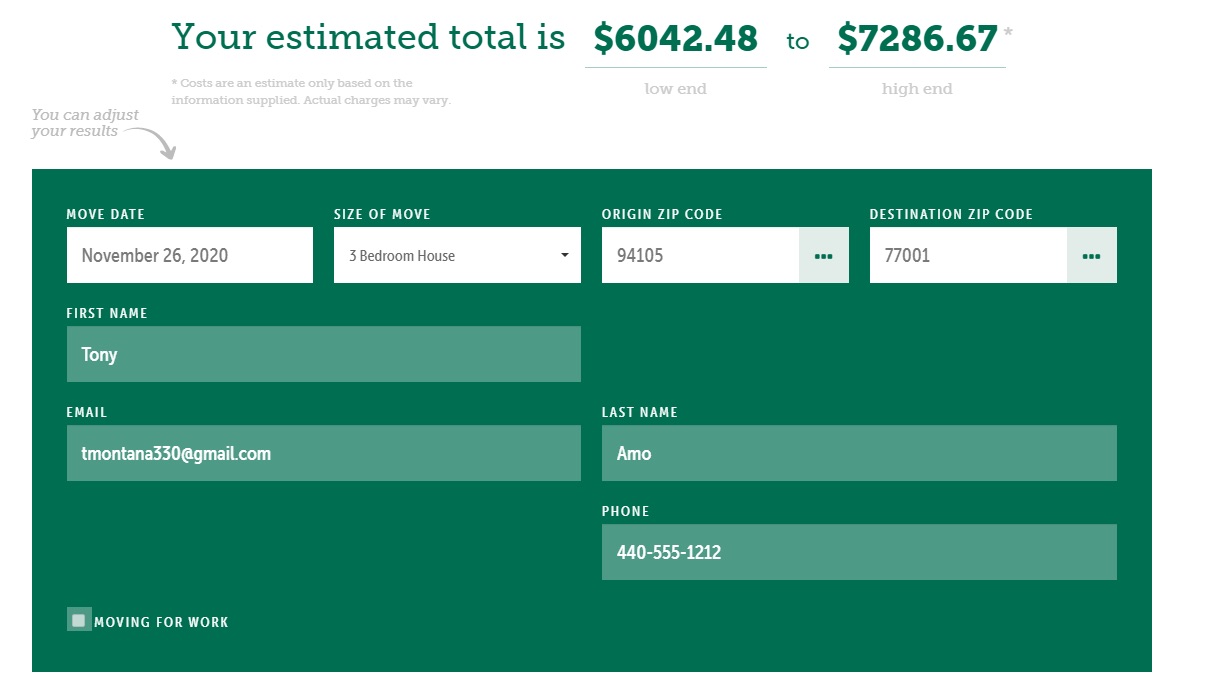 Ballpark Estimate Pricing (based on a three-bedroom house without assistance with packing or unpacking)
| Origin Location | Destination | Amount |
| --- | --- | --- |
| San Francisco, CA | Houston, TX | $6,042 to $7,286 |
| Houston, TX | Atlanta, GA | $4,605 to $5,543 |
| Atlanta, GA | Albany, NY | $4,622 to $5,567 |
| Albany, NY | Chicago, IL | $4,327 to $5,209 |
Alternative Survey Program
The Alternative Survey Program allows for remote "contactless" estimates in three different ways:
Via Telephone: The Bekins representative walks the customer through the process over the phone.
Via Video: Here, the customer is asked to designate one hour and have a tape measure and smartphone.
Using Artificial Intelligence (AI): Bekins has an AI platform that involves using a camera to document all belongings.
Moving Protection and Valuation
Limited Liability Protection is the basic coverage included on all moves. It is calculated at sixty cents (.60) per pound for each item. It is important to note that boxes that customers pack may be subject to exemption from coverage.
Full Replacement Value Protection (FRVP) is an add-on form of coverage that increases the compensation to six dollars (6.00) per pound for each item. The prices are impacted based on the level of deductible selected and the company has an option of repairing damaged items or potentially replacing it with a comparable article.
Items of Extraordinary Value are those that exceed $100 per pound. They are inventoried separately and commonly is used for expensive collections of art, antiques, or other unique items.
Filing a Claim is a process that must be completed in writing no later than nine months after the move. The customer may be required to obtain repair estimates for certain items.
Customer Reviews & Feedback
The Indianapolis headquarters listing on Google has nearly 400 reviews and an overall rating of 4.7 out of 5. The majority of the negative feedback was the result of items being lost, stolen, or damaged along the way.
The company's Yelp page has slightly more than 50 reviews and an average rating of 2.5 of 5. Many of the customers felt that the initial estimate (sales) process was good; however, things went downhill from there in many cases. Items being damaged is the largest complaint.
The Better Business Bureau (BBB) has a rating of A+ and has received eight complaints over the last year. Again, the majority of those who were dissatisfied experienced damage to their belongings. A company representative responds to each of the negative postings and in many cases proved that customers were exaggerating the extent of the problem.
Should You Consider Bekins Van Lines for a Move?
Bekins does a good job of completing straightforward interstate moves with reliable customer support. Those with bulky furniture items or many fragile belongings should be cautious, as sometimes damage does occur. They are a viable option, particularly if you purchase additional protection/valuation coverage.