Moving Experience: Priscilla's Move with Piece of Cake Moving & Storage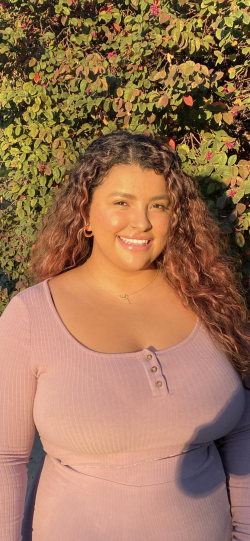 As a fourth-year medical student, Priscilla moved from Brooklyn, New York to Miami, Florida in late July 2022 to complete her clinical rotations.
After considering their options, Priscilla and her partner hired Piece of Cake Moving & Storage to move the contents of their 1-bedroom apartment. Priscilla had seen Piece of Cake trucks and crews moving residents into and out of her building, and she liked the company's low quote and the professionalism of her customer service representative Vuk.
New York City-based Piece of Cake Moving & Storage offers easy online quotes, convenient flat-free pricing, and has an A+ rating with the Better Business Bureau. So did Piece of Cake deliver a top-notch moving experience, or did Priscilla feel like she paid too much for what she got?
To take advantage of a $500 relocation stipend and help anyone planning a move like hers, Priscilla participated in our Better Moves Project by documenting and sharing her experiences with Piece of Cake.
In this post, we'll look at what went well, what didn't go so well, and what Priscilla learned on her move from New York to Miami.
Move-day takeaways for Piece of Cake customers
Communication: Priscilla gave Piece of Cake high marks for communication before and during her move
Pricing accuracy and transparency: Priscilla's final moving cost was about $200 less than what she'd been quoted because she sold a couch before moving day
Timeliness: Piece of Cake delivered Priscilla's household goods on time, a few days before the end of the agreed-upon delivery window
Professionalism: The office staff and movers Priscilla dealt with were friendly, helpful, and professional, but she wasn't thrilled with the outcome of the claims process (more on this shortly)
Loss and damage: A few large pieces of furniture were damaged on Priscilla's move. The company made a good-faith effort to settle her claims, but Priscilla felt like the payout was lower than it should have been
Would Priscilla use Piece of Cake again? Priscilla had a good move by most measures, but she wouldn't use Piece of Cake again mainly due to damage and the claims process
Priscilla's move at a glance
| | |
| --- | --- |
| Moved from | Brooklyn, New York |
| Moved to | Miami, Florida |
| Move date | July 29, 2022 |
| Distance | About 1,300 miles |
| Move size | 1 bedroom apartment with combined living room/kitchen (755 square feet) |
| Moving company | Piece of Cake Moving & Storage |
| Moving quote | $2,400 (for 372 cubic feet of truck space) |
| Actual cost | $2,181.60 |
Priscilla needed help moving from New York City to Miami
Making the most of her modest relocation budget (by the way, our moving cost calculator is a great budgeting tool) was important, but Priscilla refused to work with a low-budget mover that didn't communicate effectively.
Luckily she found Piece of Cake Moving & Storage after using Yelp, Google, and moveBuddha. Along the way, Priscilla learned that online impressions can be deceiving and that verifying an interstate mover's USDOT number is a great way to determine if the company is experienced, licensed, and insured.
Priscilla did most of the packing herself to save money, but she had a bulky storage bed and an 8-foot-tall IKEA PAX wardrobe that needed to be disassembled, moved, and reassembled by the movers.
Priscilla chose Piece of Cake for price, reputation, and brand recognition
Before getting a quote from Piece of Cake, Priscilla prepared a detailed inventory including furniture, loose items, and an estimated box count. Her customer service representative Vuk also asked about specialty items like antiques, glass table tops, and IKEA furniture. Once he had all the necessary information, Vuk worked up an estimate and sent it via email, and he and Priscilla went over it together on the phone.
Piece of Cake's $2,400 quote included the following:
Disassembling and reassembling standard furniture
A $150 service charge for taking apart Priscilla's storage bed
Padding and protecting non-boxed items with moving blankets and plastic wrap
Loading and unloading
Transportation from New York to Miami
Two weeks of free storage (Priscilla didn't need to take advantage of this offer)
Basic released-value coverage of .60 cents per pound per item (due to cost, Priscilla chose not to purchase additional coverage)
Here's how Priscilla's other quotes looked:
| Moving company | Estimated weight/volume | Estimated cost |
| --- | --- | --- |
| American Van Lines | 2,352 pounds | $5,050 |
| AEY Logistics | 300 cubic feet | $2,298 |
| Expo Movers | 394 cubic feet | $2,959 |
| Premier Global Van Lines | 350 cubic feet | $1,873 |
Other than the one from American Van Lines (one of our best interstate movers), the quotes were about what Priscilla was expecting.
Pre-move communication with Piece of Cake was great
Piece of Cake confirmed Priscilla's move details shortly after she signed the contract and paid a 10% deposit, and she loved how responsive Vuk was when she emailed or called with questions.
About two weeks before her move, Priscilla got another email asking her to update her inventory (if she added or got rid of anything) and to reconfirm her service dates, addresses, and contact information. The email also contained a comprehensive moving checklist, an overview of her insurance options, and contact information for a third-party insurance company.
Multiple confirmation emails may seem tedious and unnecessary, but they can nip potential problems in the bud, so kudos to Piece of Cake for their thoroughness and proactive communication.
Priscilla prepared for her move by sourcing packing materials and packing loose items, starting with the things she used least.
For more quotes from top movers, check out our moving cost calculator.
Moving day was quick and easy
Priscilla was impressed that her movers arrived promptly at 9 AM on Friday, July 29th.
The friendly and professional crew took a quick look around and reviewed her original inventory before getting down to business. While they worked, Priscilla answered their questions, tidied up, and packed last-minute items.
Things were going well, but shortly into the moving process, the crew leader informed Priscilla that disassembling her IKEA PAX wardrobe would be too complicated and time-consuming and that it would be easier to move in one piece. Priscilla agreed tentatively, but this ended up leading to damage and claims that may have been avoided if the unit had disassembled as planned.
There were a few issues on delivery day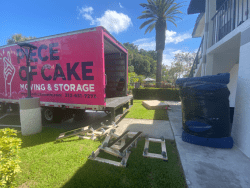 Four days after moving out of her apartment in Brooklyn, Piece of Cake sent Priscilla an email letting her know that her household goods were on a truck bound for Miami. A few days later she got another email proposing a final delivery date of August 12th, between 3 and 6 PM. Though her new apartment wasn't quite ready for move-in, Priscilla agreed to accept delivery on the 12th.
In the end, her things arrived in Miami on time just 14 days after leaving New York. This is a surprisingly quick turnaround time on a small move going more than 1,300 miles during the peak summer season, especially since the original delivery window ended on the 17th.
To avoid moving during peak season, check out our post on the best times of year to move.
The crew called that morning to let Priscilla know they'd arrive at about 3 PM and unloading went relatively smoothly, but Priscilla's storage bed and IKEA PAX wardrobe had seen better days. Both were wrapped in moving blankets when they came off the truck, but the bed frame was broken and unusable, and the wardrobe's frame, stabilizer, and back wall were damaged.
Priscilla suspected that the wardrobe was damaged because it hadn't been disassembled, and because her items were handled roughly when they were offloaded into storage and then reloaded onto the long-haul truck for final delivery.
To expedite the process, the movers asked Priscilla to take pictures of the damage to submit with her claim. Damage is always frustrating, but Priscilla was particularly disappointed because she paid $150 to have the storage bed disassembled and reassembled.
When everything was unloaded, Priscilla did a quick post-move survey by phone before being transferred to the claims department.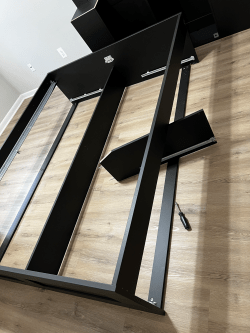 The claims process did go as well as Priscilla would have liked
Priscilla's claims representative apologized for the damage and explained how the reimbursement process worked.
She had 90 days from move-in to file a claim, and 48 hours after that to file any additional claims. With three months of leeway, it made sense to wait and initiate the claim after everything was unpacked to ensure that nothing got overlooked. The day after Priscilla filed her claim, the customer service team let her know that they'd review it and get back to her within 96 hours.
Within a few days, Piece of Cake sent a proposed settlement totaling $482, but the weight they'd used to calculate reimbursement was inaccurate. This was important because Priscilla opted for the free released-value coverage of .60 cents per pound per item instead of purchasing additional coverage. Because this coverage is based on the weight of each damaged item, Priscilla emailed the claims department back with a screenshot including the actual weight taken directly from a product description page on IKEA's website.
Priscilla also requested a full refund for the $150 storage bed disassembly/assembly fee because the bed was damaged beyond repair and wasn't reassembled in her new apartment. Piece of Cake's claims representative upped the payout to $520.10 but politely refused to refund the $150 fee. It was less than she was expecting, but Priscilla accepted the offer.
The verdict – did Piece of Cake Moving & Storage make the grade?
In the end, the damage to her two most valuable items and the unsatisfactory claims payout tainted Priscilla's otherwise positive experience with Piece of Cake Moving & Storage.
Here's how she ranked Piece of Cake on a scale of 1 to 5:
Communication – 4
Timeliness – 5
Pricing accuracy – 5
Though her move went well by most measures, Priscilla wouldn't use Piece of Cake again, mainly because the company wouldn't refund her the $150 storage bed disassembly/reassembly fee.
We definitely see Priscilla's point of view, but Piece of Cake made a good-faith effort to resolve her claim quickly and equitably.
Priscilla also feels that she spent more than she should have, but for a long-distance move during the peak summer moving season, $2,000 is a darn good price.
Priscilla's advice for anyone planning a move like hers
Priscilla learned the hard way that moving from one state to another on a limited budget isn't easy.
For anyone considering a long-distance relocation like hers, she suggests:
Researching and vetting movers as early as possible
Getting multiple quotes to get the best deal
Getting rid of things you no longer need or use before moving
Purchasing full-value replacement coverage from your mover or a supplemental policy from a third-party insurer
Moving out of state? check out these helpful resources:
Not what you were looking for?
Check out other categories that can help you find the information you need!
See All
Hide All