Storage Units vs. Moving Containers
One of the final hassles of moving that you have to figure out is storage.Should you use self-storage or get a portable storage container?

We'll get into all of the things you should consider for each of these options but just to give you an idea, here's a quick answer:

In most circumstances, the length of time you need to store your items will determine the right option. Self-storage makes the most sense for temporary storage, especially if you need regular access to your items.

When storage is needed for a longer amount of time and you don't need regular access, a storage container makes sense. It's also important to remember, storage containers can be transported, while a self-storage unit cannot.

If you're hiring a moving company, you only need short term storage and you don't need to access your stored items, consider storing with your moving company.
Storage Container
A large metal box delivered to your home for storing your items is known as a storage container. You will have the option to load the container yourself or hire movers to load it for you.
Many storage container companies, like U-Pack, will allow you to keep the container on your property, have it moved to your new address or have the container transported to a storage or warehouse facility.
Portable storage containers are built to last with excellent durability and weatherproofing. Often, these containers are also referred to as moving pods or pod storage, since they can serve as moving containers.
---
Self-Storage or Traditional Storage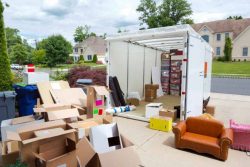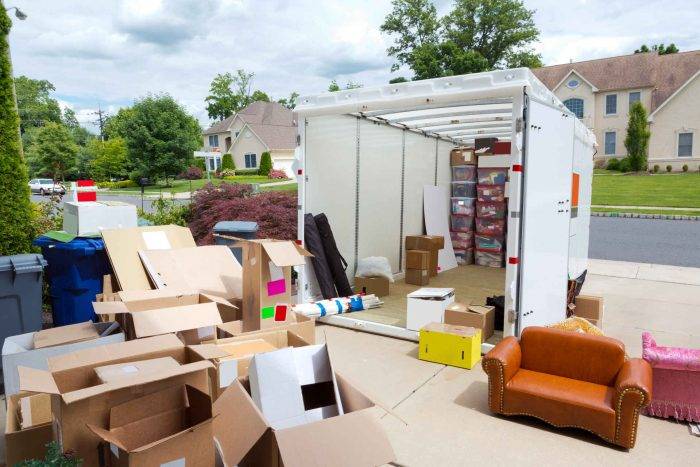 The most common type of storage used when moving, self-storage involves renting a unit at a storage facility. Units range in size and may provide climate-controlled options for more sensitive items.
Usually, self-storage is a temporary solution during a move. Items will need to be transported from your home to the storage unit. Then, when you're ready to move those items to your new home, they will need to be transported, again.
---
How Much Does a Storage Container Cost?
Pod storage costs start at around $149 per month. However, the monthly fee isn't the only cost involved with a storage container.
Delivery and pick-up fees also apply with an average of about $75 per delivery or pick-up.
In some cases, the delivery and pick-up fees may be waived, if you will be using the storage container for long-term storage.
The total cost of a storage container will also depend on the geographic location, the size of the container needed, and the amount of time you need the container for.
If you plan to use a portable storage unit for moving your items from one location to another, you will also pay for transportation.
Using a moving pod (storage container) for a local move will cost between $475 and $800. The cost ranges from $800 to $5,000 for a long-distance move.
For a better idea of how much this would cost, use our moving container cost calculator.
---
How Much Does Self-Storage Cost?
The cost of traditional storage or a self-storage unit varies from $20 per month up to about $300 per month.
Three major factors will determine the price: the size of the unit, the location of the unit, and whether it's a climate-controlled unit.
A 10×10 storage unit found in a smaller city will run between $80 and $100 per month. The same unit in a larger city will cost about twice as much each month.
Choosing a climate-controlled unit will cost about 15% more compared to a non-climate-controlled storage unit.
Self-storage comes with other fees, as well.
You may pay an up-front fee to get started and some storage facilities make you purchase their special lock. In addition, you will likely need to purchase storage unit insurance to protect your items. The cost is usually minimal, depending on the level of coverage, and will be added to your monthly storage unit fee.
---
Do I have access to my items?
One of the biggest differences between self-storage and storage containers is the level of access you have to your things. For some, having the right level of access will make a big difference when choosing between these two storage options.
Traditional storage provides more access than a storage container. While a self-storage facility may have specific hours for the office, many facilities offer 24/7 access to your unit or at least extended access hours.
With a pod storage facility, the storage containers are stacked on top of each other. If you need access, you will likely need to schedule a time and pay for delivery to your home or pay to have your storage container removed from the stack.
Access may only be possible during certain hours of the day and specific days of the week.
Pros and Cons of Self-Storage and Storage Containers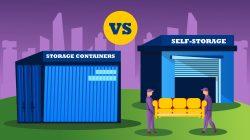 Understanding the pros and cons of both options will help with your final storage decision. Whether traditional storage or pod storage is the right option may depend on your specific situation.
Pros of a Storage Container
Delivered to your home and picked up from your home
Choose from a variety of sizes
Store the container on your property or at a facility
Ability to use as a moving pod
Only necessary to load and unload once
Cons of a Storage Container
Pay a fee for every delivery and pickup
The monthly fee is higher compared to traditional storage, especially during peak moving season
Access to pod storage is limited once transported to a facility or warehouse
You may not be able to legally or practically have a storage container on your property
Pros of Self-Storage
Choose from a variety of unit sizes
Ability to store your belongings in a climate-controlled environment
Easy access to your items, often 24/7
Lower monthly cost compared to pod storage
Cons of Self-Storage
You will need to move your items or hire movers to move your items to the unit
Your things will need to be loaded and unloaded twice
You will be leaving things behind if moving to a new location
---
Which Storage Option is Right For You?
After looking at what each option is, how much it will cost, and the pros and cons, maybe you don't have an answer.
Every situation is different and the right type of storage for you may be difficult to figure out. Let's look at a few common situations and which option fits best.
Storing items long-term while traveling or moving overseas – Storage Container
Storing items long-term, but needing regular access – Self-Storage
Storing items with the intent of moving those items to a new home out-of-state – Storage Container
Moving items to a new home in the same city – Storage Container or Self-Storage
Temporarily storing items locally – Self-Storage
For Moves requiring a lot of loading and unloading – Storage Container
Not what you were looking for?
Check out other categories that can help you find the information you need!
See All
Hide All