Shiply Review: Cost, Services & Customer Experience
Overall Opinion: Shiply is an online shipping marketplace for people looking to ship goods like furniture, cars, boats, and more, long distances. The site application is straightforward to use making it an accessible option for shipping items. Although they have a presence in the USA, their main operation is in Europe.

If you need to ship items, or are moving, here are some other links that might help: 
Pros

Cons

The company's credentials and recognition suggest their commitment to the environment, such as the Postcode Lottery Green Challenge, National eWell-Being Award, and others.
Quotes are free, and the company state that roughly 98% of requests receive three or more quotes.
Deposits are refundable if transporters cancel

The U.S. Postal Service or the Royal Mail in the United Kingdom are generally better options for small parcel transport.
No real-time (interactive) customer support is available in the U.S.
Customers must complete a form that generates an online support ticket.
Quotes may take hours or days for arrival; therefore, next-day service availability may be a challenge.
The quality and credibility of newer transport companies are initially unknown.
Jump to the Shiply review section that you're looking for:
About Shiply
Shiply Inc. (often misspelled as Shipley) is a privately-held company based in the UK that began in 2008 and serves as an online marketplace that strives for maximum shipping efficiency and reduces harmful CO2 emissions. Customers in need of transport services can post items and receive bids in a reverse competitive auction-style structure. The company offers services in the U.S., Germany, Italy, Spain, Canada, and others.
Shiply offers a broad range of auto transport services.
Motorbike Transport: Motorcycles can either driven to the destination by a service provider or transported on a moving company trailer that is either open or enclosed.
Car Transport: Automobiles generally may be either transported door-to-door or terminal-to-terminal. The vehicle is either driven by a service provider to the destination or transported on a trailer. Vehicles are either loaded and shipped in an open or enclosed trailer.
Boat and RV transport: Boats moving to international destinations are generally rolled on (pick up) and rolled off a trailer for transport. In some cases, they tightly secure boats to a transport boat on a flat rack. Recreational vehicle (RV) transportation options include flatbed, tow-away (tow behind), or driven.
"Man and Van": The company no longer promotes their "man with a van" program that was a theme similar to "two men and a truck."
eBay Deliveries: Shiply maintains compatibility with eBay's application, and their buyers and sellers represent a large portion of the site's customers.
Fragile item transport: Shiply advises shippers of fragile items about the importance of using correctly sized packaging, using protective material such as bubble wrap or tissue, and clearly labeling the package as fragile.
Truckload freight shipping/Pallet shipping: Before pick up, items are often placed on pallets or in crates and then transported by various transportation methods via land, sea, or air. The two primary options include less-than-truckload (LTL) or full truckload. They put the contents of LTL shipments in pallets for easier movement during the more frequent pick-up and drop-off activities.
Heavy equipment transport: This includes equipment commonly used in industrial or construction activity. The vehicles used include lowboy trucks, flatbed trailers, step deck trailers, and removable gooseneck trailers. This type of shipping is inherently challenging and dangerous and typically involves obtaining permits are more substantial liability insurance coverage.
International shipping: Shiply fits well into this sector, as finding goods for backload transportation remains important within the international market.
Auto parts shipping: They offer transportation services for new or used auto parts and components.
Pet shipping: Pets require placement in a suitable carrier.
Moving/household goods shipping: The services available range from self-service moves with minimal service provider assistance to "white-glove" moving services, which are all-inclusive and hassle-free that include packing, unpacking, etc.
Furniture Delivery: They can deliver new and used furniture with optional assembly, disassembly, upper or lower floor placement, and more.
How much does Shiply charge?
After posting a service request, customers will begin receiving pricing estimates from various providers via email.
Automobile shipping rates vary based on the vehicle size, condition, location, distance, and other factors. The prices in the U.S. market range from .78 cents to $2.92 per mile.
Auto parts shipping rates range from .26 cents to $1.36 per mile.
Furniture transportation based on standard rates ranges from $75 to $250 locally or $300 to $600 long distance.
Moving services (household) ranges from $300 to $500 locally and $1,500 to $3,000 for interstate or long distances.
Pet transportation services range from $300 to $500 locally and $350 to $600 for long-distance U.S-based destinations.
Upon acceptance of a quote, a required deposit payment applies using a credit or debit card. Payment of the balance occurs upon completion of the transport, and the acceptable payment methods vary by service provider.
What's Shiply's customer experience like?
The service requester seeking moving, shipping, or courier quotes may stipulate a maximum amount they would pay and specify a date or choose flexible date options. Uploading photos of the items needing transporting is generally encouraged. Transaction fees may range from roughly 3% to 10%.
Shiply explains they have already completed a vetting process for each delivery company, shipping company, or other service provider to prevent any scams. Additionally, customer service contact is only via email, with no phone number or chat feature available.
Customers can rate their experience with the transporter as positive, negative, or neutral.
The site contains an excellent search and tracking tool for all active transports (see image)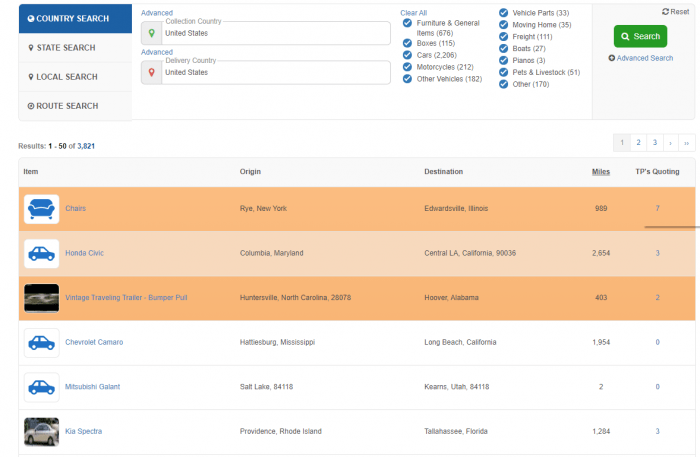 Customers can go online and obtain quotes from more than 100,000 shippers, transport providers, delivery services, and courier companies. The application allows the customer to compare rates easily, and the Shiply reviews contain information from others customers. Many buyers and sellers on eBay use Shiply as the preferred transport company provider.
How is Shiply's Online Presence?
The Better Business Bureau (BBB) lists the home of Shiply's U.S. operations as being Orem, Utah, and classifies them as an online retailer. However, Shiply doesn't currently have accreditation by the BBB and has a rating of C+.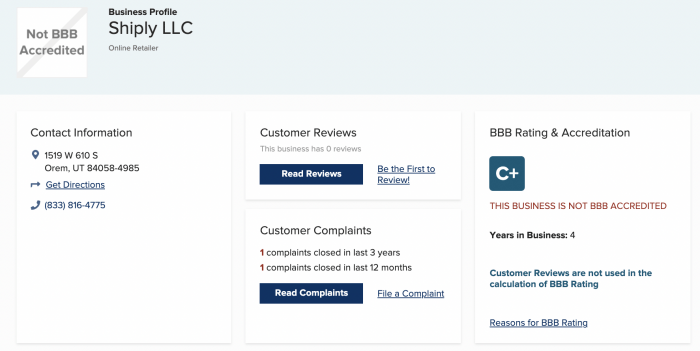 The BBB received only one complaint over the last three years—a rather impressive feat (see summary below).
The following is a summary of the categories (nature) of the complaints received.
| | |
| --- | --- |
| BBB Complaint Types | Number |
| Sales or Advertising | 0 |
| Collections or Billing | 0 |
| Deliver-Related Concerns | 0 |
| Warranty or Guarantee | 0 |
| Product or Service Problems | 1 |
Shiply maintains an active company Facebook page and robust overall web presence.
The organization's Yelp page currently contains only four customer reviews, with an overall 2.5 out of 5.
Shiply has multiple business profiles on Google with very substantial customer feedback, which appear overwhelmingly positive reviews.
Is Shiply licensed and insured?
The Federal Motor Carrier Safety Administration (FMCSA) has no active listing for Shiply. This is because the nature of their business likely excludes them from any registration requirement, such as what applies to carriers and brokers.
| | |
| --- | --- |
| Database | Listed (Y/N) |
| AI FMCSA? | No |
| SAFER FMCSA? | No |
| Licensing Insurance FMCSA? | No |
| Better Business Bureau (BBB) | Listed, Not Accredited |
Should You Consider Shiply for Auto Shipping?
Shiply represents yet another online marketplace that brings customers and service providers together. The platform has proven its merit for many years now, most notably among buyers and sellers on eBay. The competitive structure using a "reverse-auction" style bidding process encourages favorable pricing for customers; however, quotes are far from instantaneous and often take several hours for arrival.
Shiply is a viable option for transporting most types of items; however, it does not represent a suitable alternative to the U.S. Postal Service or Royal Mail system for items they traditionally handle.
Check out some other reviews of car shipping companies:
Not what you were looking for?
Check out other categories that can help you find the information you need!