Moving Experience: Esmé's Move with Clutter
Eager for a fresh start and to live closer to her family, Esmé made the big decision to move from Brooklyn to Detroit.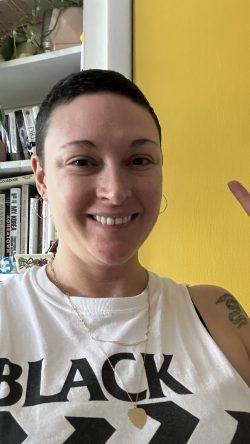 Esmé planned the move two months in advance and spent nearly a month looking for the right full-service mover. She ultimately chose to work with Clutter for the 600-plus-mile move.
Curious to see how Clutter handled her big relocation? In exchange for a $500 stipend through the moveBuddha Better Moves Project, Esmé shared what it was like working with Clutter —both the good and the not-so-good.
In this post, Esmé shares how she found a mover, what she wished she knew going into the cross-country move process, and her advice for anyone planning a big move.
Move day takeaways for Clutter customers
Communication: Clutter's on-the-ground movers provided excellent communication but the sales reps and office staff were inconsistent.
Pricing accuracy and transparency: Esmé struggled with Clutter over an unexpected transportation fee but, in the end, she paid exactly what Clutter quoted her.
Professionalism: Clutter's moving crew impressed Esmé with their professionalism, although she had a hard time working with the customer support staff.
Timeliness: Clutter's moving team showed up on time and delivered Esmé's belongings on time.
Loss and damage: Esmé paid Clutter to pack her belongings for the long move. She found a broken ceramic bowl while unpacking, but that was the only damage.
Would Esmé use Clutter again? Esmé would use a different moving company.
Esmé needed help moving from Brooklyn to Detroit
Esmé needed a fresh start and a life with less stress. In August 2023, she planned to escape her cramped one-bedroom apartment in Brooklyn for a two-bedroom apartment in Detroit.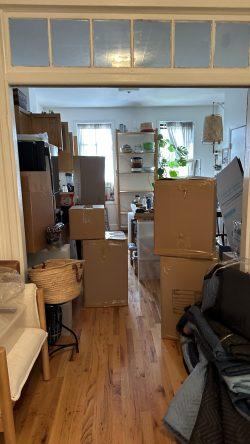 Esmé needed to move four rooms' worth of stuff, or about 70 boxes total. But that wasn't all — the Brooklynite also needed to move a water rower workout machine, a bike, and art pieces. She also had to move antiques like her vintage chaise lounger.
Esmé is also a part-time dinner party cook, so she needed to move specialty plates, ceramics, pans, and platters without a scratch.
Going into the move, Esmé cared the most about the safety of her items and getting her things to Detroit on time. Of course, she also wanted to keep costs as low as possible without compromising on quality.
Esmé's move at a glance
| | |
| --- | --- |
| Move date | August 19, 2023 |
| Moved from | Brooklyn |
| Moved to | Detroit |
| Distance | 632 miles |
| Move size | One-bedroom apartment (900 square feet) |
| Moving company | Clutter |
| Moving quote | $5,275 |
| Actual cost | $5,275 (plus $840 in cash tips) |
Esmé got quotes from four full-service movers
Esmé knew two months ahead that she wanted to relocate to Detroit. She spent about a month Googling and checking Instagram to find the right moving company.
Eventually, Esmé stumbled onto moveBuddha, which she thought was a great starting point — especially since she was clueless about long-distance moves and had no idea where to begin.
Esmé got four quotes from full-service moving companies, which gave her a good idea of fair pricing for her move. We always recommend requesting at least three quotes (particularly from our list of the best moving companies), so bravo, Esmé!
Be like Esme and be sure to get at least three moving quotes. Our moving cost calculator makes it easy to get quotes from multiple companies in one place.
Learn More
Esmé soon realized that moving quotes have expiration dates, which spurred her to book sooner rather than later. This is important to note if you've never requested mover quotes before.
Quotes have a shelf life, so they likely won't be accurate if you wait. Only request quotes when you're ready to take the plunge and hire a mover somewhat quickly.
89% of users select this mover
Esmé chose Clutter for its affordability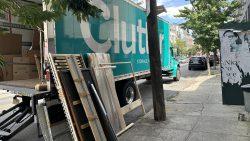 Esmé chose Clutter because it offered the cheapest pricing. It helped that one of Esmé's co-workers previously hired Clutter and had a great experience.
Esmé enjoyed how easy it was to request a quote from Clutter. Its website has a digital quote form where you enter where you're moving, how many rooms' worth of stuff you have, and the level of service you want to pay for.
Esmé hired Clutter to handle:
A full-service move, which included a truck, transportation, and tolls
Floor and corner protection
Furniture wrapping and blankets
TV dismounting
Disassembly and reassembly of furniture
Packing and unpacking help
Boxes and packing materials
She also upgraded to get more experienced movers and concierge service.
Instead of paying extra for insurance, Esmé checked with her renter's insurance and found that her policy already covered moving damages.
However, Esmé said she had several confusing conversations with Clutter sales reps before the move. According to Esmé, reps gave her incorrect information about Clutter's moving protection policies — and they also mixed up her move date.
Communication issues are the number-one complaint we hear from Better Moves Project participants. If you want more hands-on service and better communication, plan a move outside of the summer peak season.
Clutter also had some tech issues. Esmé logged into her Clutter account to manage her move, but nothing popped up. This is a common issue with moving companies during the busy season — the tech doesn't always update or reflect accurate details.
Loading went well, but there were a few misunderstandings
Before the moving crew arrived, Clutter sent Esmé a map and an approximate ETA half an hour before her appointment window. She liked seeing the movers' location on the map before they even arrived.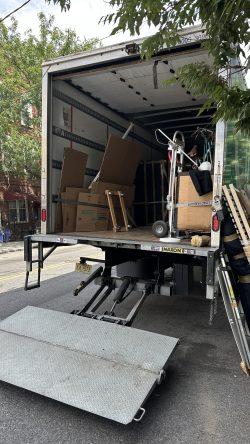 The crew arrived right on time at 8 a.m. Clutter's on-the-ground team was gracious, efficient, and kind. They asked plenty of clarifying questions and even offered assurance to Esmé when she worried about packing everything in time.
Esmé packed a little alongside the movers, but it soon became cramped and she felt like she was in the way. She went upstairs and chatted with her neighbor.
It feels awkward to hang around while movers pack, but it's best to oversee your move instead of separating yourself from the packing process. If she had been more involved in the packing and loading process, Esmé could have spotted issues and potentially prevented damages.
After loading her things, Clutter's portal said she owed an additional $3,900 "transportation fee" separate from her "all-inclusive flat rate."
This skyrocketed the cost of her move, so Esmé called Clutter customer service in a panic. They had the wrong information and transferred her around a bit. After insisting she actually needed to pay an additional $4,200 — plus $199/hour for unpacking help —Clutter told her to file a claim with the Trust and Safety Team.
After many phone calls, Esmé finally got things sorted out with Clutter, which eventually agreed to the original estimate of $5,275.
Delivery went quickly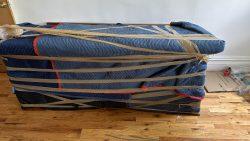 Clutter didn't communicate with Esmé while her stuff was in transit, which isn't unusual. Movers typically don't contact you until it's time to drop off your stuff.
It took just one week for Esmé's belongings to arrive in Detroit — right on time. The two-person crew was kind, careful, and communicative.
Esmé noted some small damages, like a broken pottery bowl, but that was the most significant. Some of her stuff had black smudges, likely due to not using enough furniture pads during loading.
All in, Esmé paid $5,275, plus $840 in cash tips, to transport her stuff from Brooklyn to Detroit relatively damage-free and on time.
Our take on the move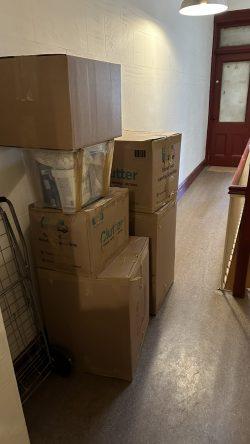 We understand Esmé's frustration over the inconsistencies and pricing troubles. The surprise transportation fee from Clutter wasn't great, but they resolved the issue and stuck to their original quote.
This is likely a symptom of moving during a high-traffic time of year. If you can, try to schedule a move during the fall or winter for better communication. Always read the fine print of your moving contract, too, to make sure you aren't taken off guard by unexpected charges.
Esmé did the right thing by requesting four quotes before deciding on a mover. This gave her a range of pricing and options, making it easier to find the best-quality choice for the money.
It was also clever of Esmé to check to see if her renters insurance covers moving damage. Many renters insurance policies offer relocation coverage, so there's usually no need to buy up on moving insurance.
It feels awkward, but it's not a good idea to leave movers on their own when they're packing your stuff. You need to oversee everything.
Esmé had some minor damages and scrapes that she could have avoided with more furniture pads. If she stuck around for packing and loading, she would have seen these issues and had the chance to correct them.
While the customer service team experienced communication issues, Clutter's moving crew did a bang-up job! The movers arrived on time and transported Esmé's belongings with minimal damage, which is a fantastic outcome for a long-distance move.
The verdict
Esmé's main gripe about her move is more with Clutter's customer service team than with the actual movers. The logistics happened flawlessly, with everything arriving on time and in solid condition.
Esmé concedes that the process overall went according to plan, but the inconsistent customer service caused her a lot of extra stress.
Tracking information is sparse when you move in the summer, so Esmé recommends buying a few Apple AirTags and placing them in your belongings. Esmé could see the real-time location of her stuff without consulting the Clutter portal, which was slow to update.
While Esmé had a tough time with Clutter's customer service team, she believes the movers themselves were worth every penny. All in all, Clutter pulled off her move and got her from point A to point B with her belongings intact —and at a low rate of just $5,275.
Here's how Esmé rated Clutter's performance on a scale of 1 to 5:
Communication – 2
Timeliness – 5
Quote accuracy – 2
Overall experience – 3
Do you have an upcoming move? Share your moving story with the Better Moves Project to earn a $500 stipend. Sign up now.
Check out these helpful resources before signing off:
Not what you were looking for?
Check out other categories that can help you find the information you need!
See All
Hide All