Sakaem Logistics Auto Transport Review
Key Takeaways: 
Sakaem Logistics is a broker in the auto-shipping industry and helps customers ship cars across the country.
Obtaining a pricing estimate online is quick and easy using the form on their website, with the option of booking a reservation.
They mainly provide service throughout the contiguous United States–all 48, except Alaska and Hawaii.
Most online customer feedback suggests that Sakaem Logistics represents a viable option.
For even more car shippers, check out our list of the top auto shipping companies.
Jump to the Sakaem Logistics Auto Transport review section that you're looking for:
About Sakaem Logistics
Sakaem Logistics LLC (USDOT# 2985098) is a moving broker operating in the automobile transportation industry; specifically, they market their services to those needing vehicles moved, which they facilitate using a network of carriers (car haulers). Based just outside of Atlanta in Tucker, Georgia, Sakaem Logistics has been operating since 2018.
They provide nationwide services throughout the continental U.S. states and specialize in providing services to rental car companies, i.e., Avis, Enterprise, and Budget. The company website lacks any information regarding the organization's management team, industry affiliations, or participation in professional associations.
Pros & Cons
We have identified some of the company's apparent strengths and weaknesses.
Pros
Offers services throughout the continental U.S. and has actively developed an extensive network of "preferred carriers."
Despite having been in business for less than five years, they boast of transporting more than 130,000 vehicles for hundreds of customers.
Customers appreciate their cancellation policy, which imposes no penalties if reported with a minimum of 48 hours of advanced notice.
The organization offers excellent pricing transparency and very competitive prices.
As a broker, the company will compare rates from multiple registered and insured carrier partners (when possible) to find the most competitive rate.
The organization offers its customers a designated shipping advisor that will act as a single, centralized point of contact, which allows for avoiding confusion and a more personalized customer experience.
Cons
Pricing estimates lack any guarantees, and change commonly occurs; however, this loosely represents the industry standard for third-party auto transport.
The hours of operation are currently limited to Monday through Friday from 8:00 a.m. to 5:00 p.m. with no Saturday or Sunday hours.
Founded in 2018, Sakaem Logistics remains a relatively new company that will likely experience some "growing pains."
Sakaem Logistics Offers a Wide Range of Services
In national vehicle transportation services, Sakaem Logistics offers open or enclosed trailers for transporting cars, trucks, motorcycles, RVs, and more. Enclosed trailers are generally recommended for classic, luxury, or more valuable vehicles.
They promote "full-service" and door-to-door transportation services to and from homes, businesses, auto dealerships, auction sites, ports, and more.
The company has recently begun working with international carriers for customers that need to transport vehicles overseas.
Sakaem Logistics actively promotes its services to relocating employees, snowbirds, military members, buyers of vehicles online, automobile dealers, and rental companies.
They also require that all carriers provide proof of insurance coverage that complies with federal guidelines. Requirements include automobile liability coverage of $1,000,000 designated for bodily injury and property damage, general commercial liability coverage of $1,000,000, and Workers' Compensation of $500,000. An additional minimum of $100,000 in coverage must exist specifically for truck cargo.
Customers are also actively encouraged to secure their own insurance coverage if transporting very "high-end" vehicles.
How Much Does Sakaem Logistics Charge?
Prospective customers may obtain a free quote by submitting their information through the website form or using the 800 # to speak with a representative. The rates will largely reflect the vehicle's year, make, and model; however, other variables that influence the estimates include the distance of the transport, seasonal rate fluctuations in the market, choice of open or enclosed trailer, customer timeline, and more.
The following chart outlines pricing obtained using the website quote form. Note: The rates involve transporting a sedan with door-to-door service and insurance coverage.
| | | | |
| --- | --- | --- | --- |
| Trailer Type | Origin | Destination | Price |
| Open | Chicago, IL 60602 | Los Angeles, CA 90002 | $ 1,035 |
| Enclosed | Chicago, IL 60602 | Los Angeles, CA 90002 | $ 1,485 |
| Open | Los Angeles, CA 90002 | Dallas, TX 75001 | $ 1,095 |
| Enclosed | Los Angeles, CA 90002 | Dallas, TX 75001 | $ 1,645 |
| Open | Atlanta, GA 30302 | Miami, FL 33109 | $ 465 |
| Open | Miami, FL 33109 | Dallas, TX 75001 | $ 795 |
| Open | Dallas, TX 75001 | Seattle, WA 98101 | $ 1,125 |
| Open | Seattle, WA 98101 | Chicago, IL 60602 | $ 1,205 |
For some general moving company pricing estimates use this moving calculator.
How is Sakaem Logistics' Customer Service?
The customer service hours are currently Monday through Friday from 8:00 a.m. to 5:00 p.m. by contacting (844) 742-9041 (EDT) or via email at [email protected] Estimate and/or reservations may be made online using the quote form.
Based on the inherent nature of the operation, pricing estimates and delivery timeframes are fluid and subject to change.
Is Sakaem Logistics Licensed?
According to the FMCSA, the organization is licensed under DOT# 2985098 as a broker for the transportation of property. Sakaem Logistics LLC also has MC# 16237 and maintains a liability bond as required.
| | |
| --- | --- |
| Database | Listed (Y/N) |
| AI FMCSA? | YES |
| SAFER FMCSA? | YES |
| Licensing Insurance FMCSA? | YES |
| Better Business Bureau (BBB) | YES (not accredited) |
How is Sakaem Logistics' Online Reputation?
The company's Google business page contains only a few (8) customers reviews, and their overall rating is 4.3 out of 5, which appears relatively sparse based on having transported 130,000+ vehicles.
The organization maintains an active and updated presence on Facebook; however, the page lacks visitors, reviews, or followers.
Sakaem Logistics maintains a claimed Yelp page with just one review thus far. The page further expands on the details of their service offerings, including RV transport, inoperable vehicle transport, and specialized services for boats and other watercraft.
They've received recognition since 2018 by the Better Business Bureau (BBB) page, but lack BBB accreditation and currently have zero complaints.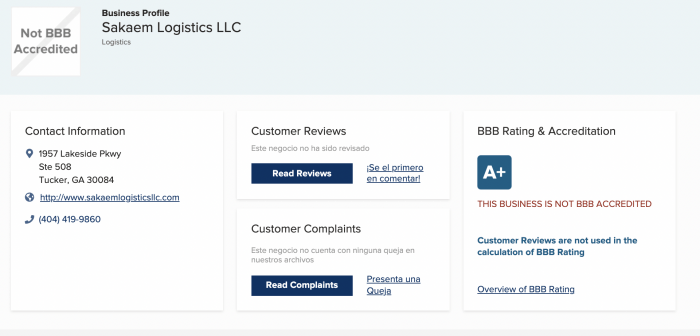 The company's website maintains an "about us" page but reveals no information associated with the founders, history, etc.
Final Thoughts
Despite only being in business for less than five years, Sakaem Logistics appears as a viable option for national vehicle transportation services. Very little online customer feedback is currently available; however, that which exists is mainly positive.
Not what you were looking for?
Check out other categories that can help you find the information you need!
See All
Hide All