Atlas Van Lines vs Mayflower Transit: Which Moving Company is Better?
Overall Opinion: Atlas Van Lines and Mayflower Transit are two of the most well-established moving companies in the U.S. We give Atlas Van Lines a slight edge due to their extensive investment in establishing international moving networks and capabilities for facilitating corporate moving projects.
Mayflower does offer more unique services such as cleaning, debris removal, and home network and theater installation. Neither company currently offers instant online quotes or estimates. Customers must submit their contact information and await a call from a sales representative unless they make contact directly by phone.
Both companies have extensive networks of local agents across the U.S. Although this is a benefit, these agents are independently owned and some are better at preventing items from being damaged and handling customer service concerns than others.
Compare Atlas and Mayflower to the moving companies on our list of best interstate moving companies and the best international movers.
Atlas Van Lines vs Mayflower: Pros and Cons
Atlas Van Lines Pros and Cons
What we love: Excellent corporate relocation and international moving services
Atlas has a division known as Avail Move Management that is responsible for large corporate accounts. Avail is developing some excellent platforms for reporting and tracking complex corporate moving projects that are driven by analytics. Corporate administrators have access to their accounts 24/7 and the data is updated in real-time.
Since 1960, Atlas Van Lines has been facilitating international moving services for residential and commercial customers. Each customer is assigned an International Relocation Coordinator that is experienced in executing door-to-door overseas moves via ocean or air freight. They have 17 countries that they are formally certified in and have had their Atlas Canada agent network in place for more than 50 years.
What we don't love: Local agents sometimes employ poor quality workers
Based on customer feedback, some of the local Atlas agents seem to either poorly screen, train, or supervise their staff during moves. For example, All Points of Texas is a local agent with multiple locations. Some of the most common types of complaints received included items being lost, stolen, and damaged. Atlas and its agents do make considerable efforts to correct problems and compensate customers in these cases.
Pros
Atlas now has a SimpliCity program that is specifically for smaller moving projects that are no larger than a two-bedroom apartment. This program allows the customer to specify a pickup and delivery date, which avoids the uncertainty that is common for most other types of moves.
They have established an extensive network of agents in the U.S. that seems to cover most major markets
Atlas appears committed to the development of many advancements in moving-related technology, such as their TEAM (Titan Electronic Account Management) logistical platform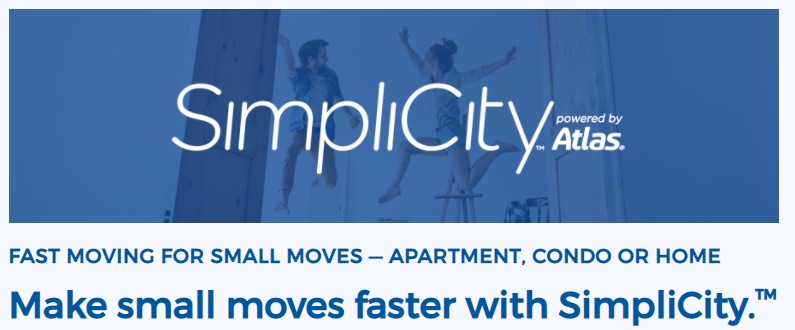 Cons
Some customers complained of having difficulty reaching a live person over the phone when contacting the local agent office
Storage capabilities differ between agents with some having vast warehouse capabilities and others that don't promote their storage services
Doesn't offer online ordering of moving boxes and supplies through the corporate site or most agent sites
Mayflower Pros and Cons
What we love: Wide variety of services and customizable options
Mayflower offers among the widest scope of moving and storage-related services in the industry. Aside from local, long-distance, and international moving services, they offer many unique options. Some of these include in-home PC and network installation, home theater setup, removal of debris, and cleaning services.
They have a host of Full-Service Add-on Packages (pictured below) with bundled pricing.
What we don't love: Some agents deliver inconsistent customer service
On some interstate (state-to-state) moves, customers were unable to obtain information regarding the status of the delivery. This suggests that the corporate customer service department either doesn't have a central location to access local agent activity or that some agents fail to enter this information promptly.
Pros
After all the belongings are loaded for transport from the origin location, Mayflower will perform professional cleaning services.
The Snapmoves by Mayflower program is a quick quote option for those who are only moving one room of items or less. The service is available regardless of whether the destination is local or long-distance. The pricing includes Full-Value Protection coverage.
They have an online shipment tracking platform that allows customers to obtain the location of their shipment that is very easy to use.
Customized crates may be constructed to transport oversized or specialty items as needed

Cons
Some customers reported that service or support calls weren't returned promptly
It appears that the "ballpark" quote (estimating) tool is no longer available
The company handles a high volume of interstate moves and some customers had their belongings intermingled with those of others (and visa versa)
Atlas Van Lines vs Mayflower: Service Offering Comparison
| | Atlas | Mayflower |
| --- | --- | --- |
| Local Moves | Yes | Yes |
| Long Distance / Cross Country Moves | Yes | Yes |
| International Moves | Yes | Yes |
| Commercial / Corporate Moves | Yes | Yes |
| Military / Government Moves | Yes | Yes |
| Packing / Unpacking Services | Yes | Yes |
| Storage Services | Limited | Yes |
| Vehicle Transport | Yes | Yes |
| Moving / Packaging Supplies | Yes | No |
Atlas Van Lines vs Mayflower: Service (Coverage) Area Comparison
Both of these organizations have hundreds of local agents across the U.S. covering most states. Both of them also have a wealth of experience in international moves. Atlas seems to have a relatively more extensive network in Canada.
Our opinion: U.S. coverage is comparable (even)
Small Moves Comparison
The Atlas SimpliCity Program vs Mayflower's Snapmoves Program
Unfortunately, neither company's small residential moving programs generate instant online quotes and do require interaction with a representative.
The Atlas Simplicity Program doesn't include Full Value Protection as Mayflower's does.
Mayflower allowed for selecting the dates of pick up and delivery; however, on the date selected (a Friday) the time in transit from Los Angeles to Chicago was 16 days—not good. Atlas' program boasts of arriving at the destination "in days not weeks" and also allowed for the estimate to be completed using a video survey.
Our opinion: The Atlas SimpliCity Program seems to have the advantage. Mayflower's transit time was more than two weeks and the online form for obtaining a quote was very clunky.
Atlas Van Lines vs Mayflower: Available Discounts Comparison
AAA members are eligible for a complimentary upgrade in protection coverage.
Our opinion: Neither company offers any worthwhile discounts at this time.
Summary: Atlas Van Lines vs Mayflower
These companies have many more similarities than they have differences. For example, they both have a similar business model that features a national network of local agents that are independently owned and operated. They also both offer full-service moving at the local, long-distance, and international levels.
Based on many online reviews, both companies also struggle with the same types of problems. These include concerns with items being improperly loaded or handled, which leads to disgruntled customers when items arrive that are damaged. The quality of the local independently-owned moving company agents is sometimes inconsistent. This applies to movers that are sometimes careless and various customer service-related concerns.
Atlas Van Lines seems to have a better network and more extensive resources dedicated to corporate relocation and international markets compared to Mayflower.
Overall, these companies are both well-established and have shown to make an effort to resolve customer complaints. Both Atlas Van Lines and Mayflower are viable options.
Not what you were looking for?
Check out other categories that can help you find the information you need!