Moving Timeline: Schedule Every Day of Your Move for Minimal Stress
Anyone who's tried to pack an entire move into a weekend knows one thing: They're never doing that again. Moving requires advanced planning, preparation like creating a moving checklist and a moving budget, and research.
By sticking to a moving timeline, you'll execute things well in advance, and moving day will be a breeze. Moving doesn't have to be a stressful experience if you give yourself plenty of time leading up to moving day to get yourself prepared.
With the right planning and time management, you can keep the stress to a minimum on moving day as you head to your new home. If you're planning an upcoming move, the earlier you get started the better. You don't want to be cramming everything in at the last-minute on moving day.
Our moving timeline will help you find the sweet spot for when to finish each task to keep making progress as moving day draws nearer — with as little stress as possible.
If you're doing a long-distance move to a different state, be sure to check out our list of the best interstate movers. You'll also want to use our moving cost calculator as a way to estimate the cost of your move, so you can prepare your budget for moving day!
When to Start Planning Your Move
Every move is different, and we understand this isn't possible for everyone in every circumstance.
But if possible, you should start planning your move at least two months ahead of the date you would like to actually move. A moving timeline is going to help you stay organized. Plan to begin your first moving-related tasks eight weeks prior to your move date; this will make the moving process out of your old home and into your new one much more seamless. By having a packing process, a to-do list, and –critically –ample time to get everything done, you will set yourself up for success throughout the moving process.
8 Weeks Before You Move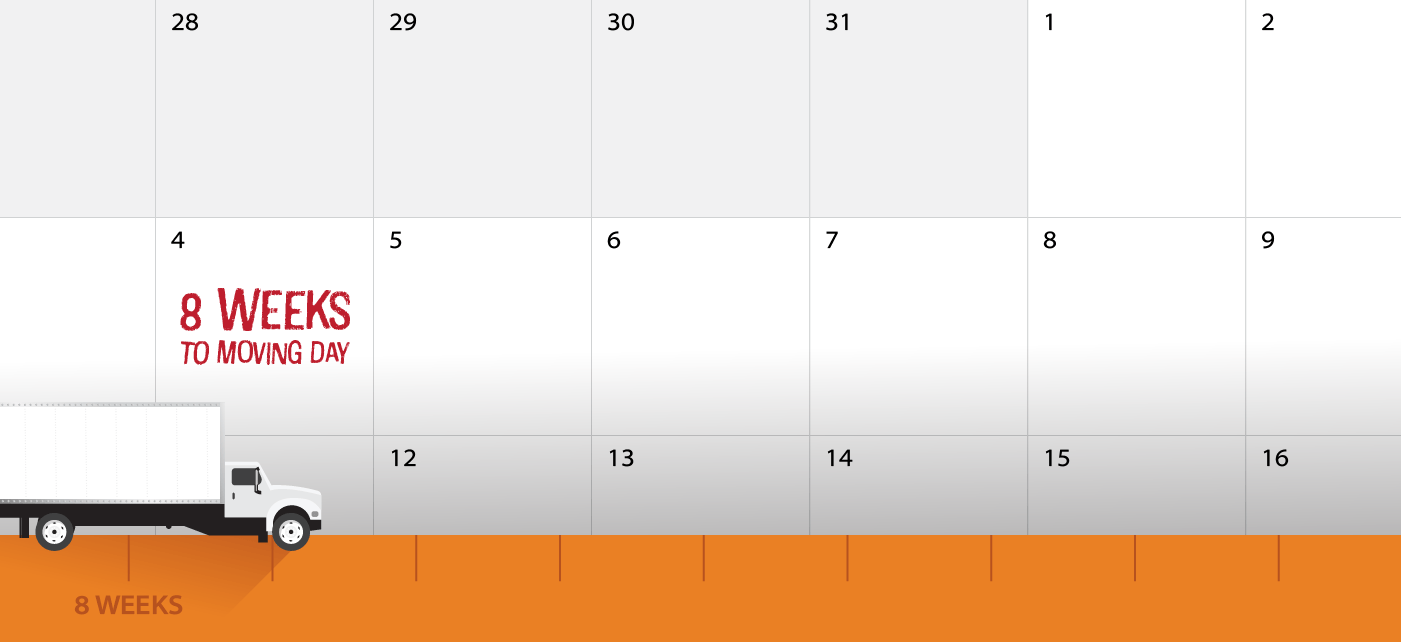 7 Weeks Before You Move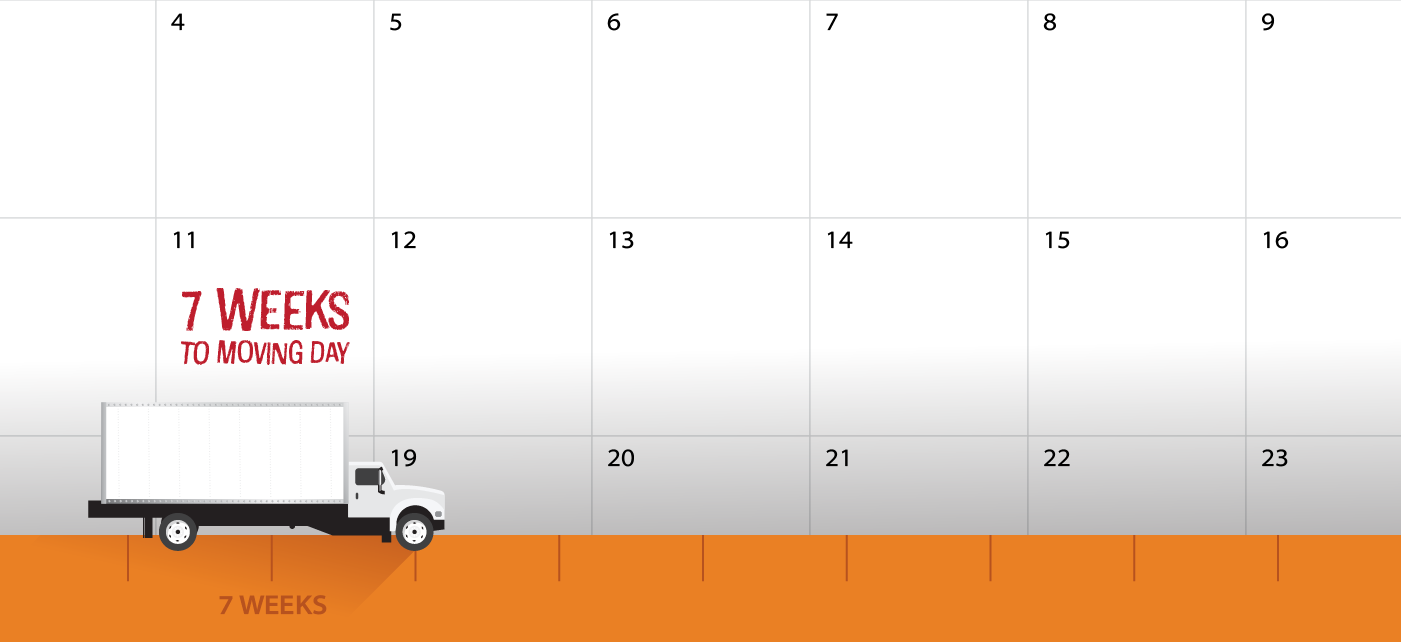 Get your moving supplies. It's a good idea to start gathering supplies early, and by giving yourself plenty of time, you can keep an eye out for people giving away free moving boxes and supplies to help cut down on your moving expenses. Packing supplies like boxes and tape will be important to have on-hand when you move.
Have a garage sale or start donating or disposing of items you aren't going to take with you when you move. Remember, the less stuff you have, the less it will cost to transport it all during your move.
And finally, gather up your important records. Request dental and medical records, as well as school records, if you have kids. If your records and important documents are digitized, get a printable version to keep with you. Add them to your moving folder or notebook, so they're ready to pass on to your new schools and providers once you reach your new home.
6 Weeks Before You Move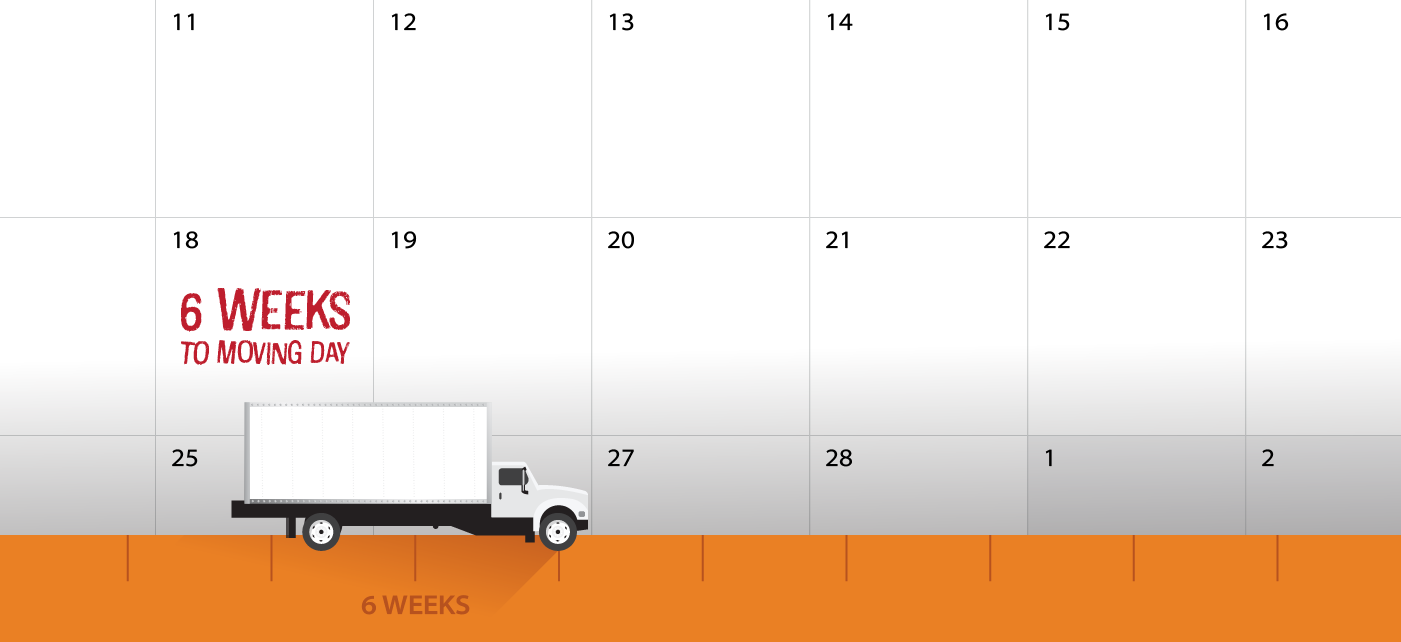 If you haven't booked your moving company yet, this is the time to do so.
If you have pets, take them to the vet for a complete check-up and to get up-to-date on any vaccinations they may be missing. Make sure to collect all their health records to add to your moving folder.
5 Weeks Before You Move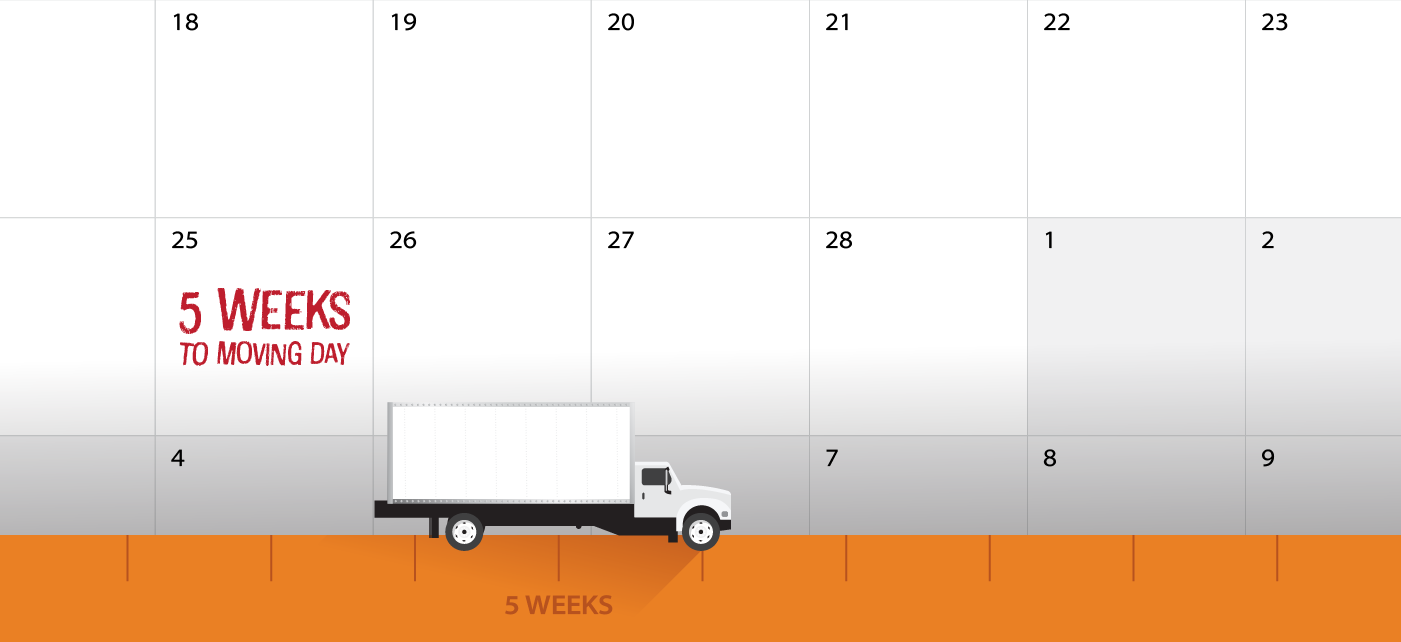 Finish donating and giving away items you aren't going to move with you. Packing begins next week, so take another look at all the belongings in your house (do a final walk-through to assess all your items) and make sure you actually want to take all of it with you to your new home.
If you've hired a moving company, they should have provided you with a list of non-allowables — items that can't be shipped because of their hazardous nature. Take a close look at that list and make plans to dispose of or transport any items you have that are on it, along with food items like perishables which may rot on the journey.
Take a deep breath. You're halfway there, but crunch time is about to begin. Don't worry — you're well prepared so far and definitely ready to tackle the last month before your move.
4 Weeks Before You Move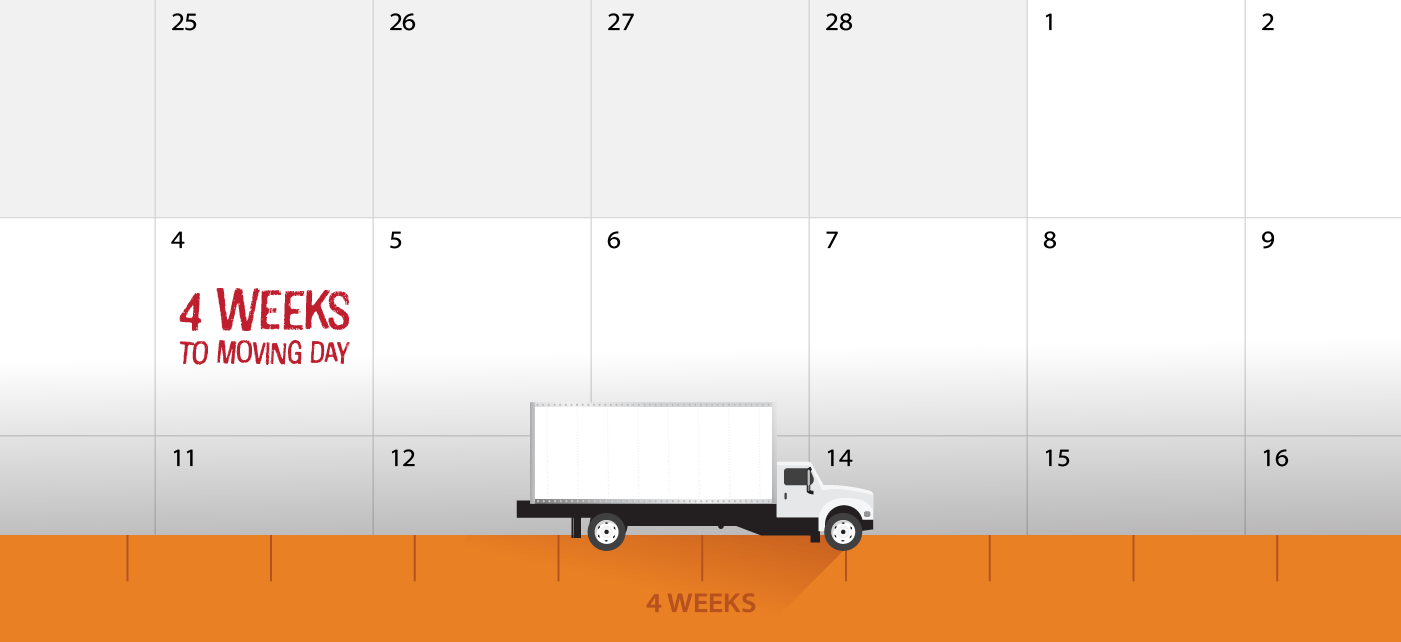 One month to go!
This is the perfect time to start packing. Begin to pack things that are non-essential — items you know you won't need or use in the next few weeks (like out-of-season clothing). Make sure to keep boxes organized by room and label everything so you'll be able to find things when they arrive at your new home. Make sure you have packing materials like bubble wrap and packing paper that you can use for your items, especially valuables that are more delicate and require extra attention.
While you're at it, start making plans for your open-first boxes. These will be the last boxes you pack and the first ones you open at the new house, because they'll contain the essential items you'll need during your unpacking process. Think about what needs to be in them and start making a list or gathering those items.
However you're planning to travel to your new home, now is the time to book arrangements for yourself. If you're flying, book your flight. If you're driving, plan your route and book hotels along the way if needed. Keep reservation information in your moving folder. In the event your phone or laptop dies, be sure to have a printable version of any and all confirmation numbers and forms.
Now is also the time to call all your utility companies and start the process of closing your accounts. Let them know your move date and your future address, so if there are any outstanding utility bills, you'll get them and you can pay them off.
And while you're making calls to cancel things, consider canceling any subscriptions or memberships you have at your old address. You don't want the new residents at your old home getting your magazines, do you? And you also don't want to keep paying for a gym membership in your old city, right? If you get any newspapers or magazines delivered, either change the address on your account or cancel them now.
And if you're moving out of a rental, give your landlord notice if you haven't already
3 Weeks Before You Move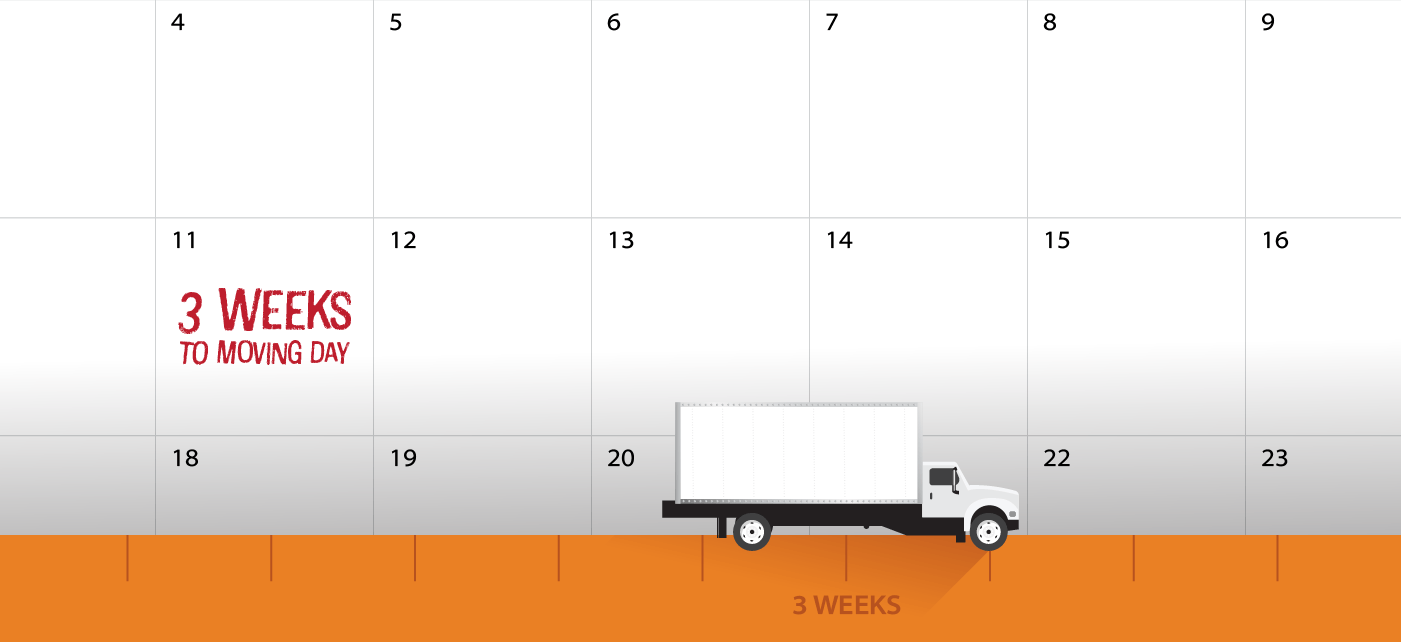 Keep packing! Packing is the most time-consuming part of your move. Keep at it.
Plan for how you'll use up leftover food. While you can pack pantry staples and move them with you, that's not as practical for anything that needs to stay refrigerated or frozen. Take stock of the fridge, and plan meals that will use perishable items up over the next three weeks.
It's also time to officially change your address. Head to the USPS website to complete their change-of-address form. You should be able to pick the date that your mail begins forwarding to your new address. You should also now contact your bank, homeowners or renters insurance provider, and any other legal or financial institutions to update your address.
2 Weeks Before You Move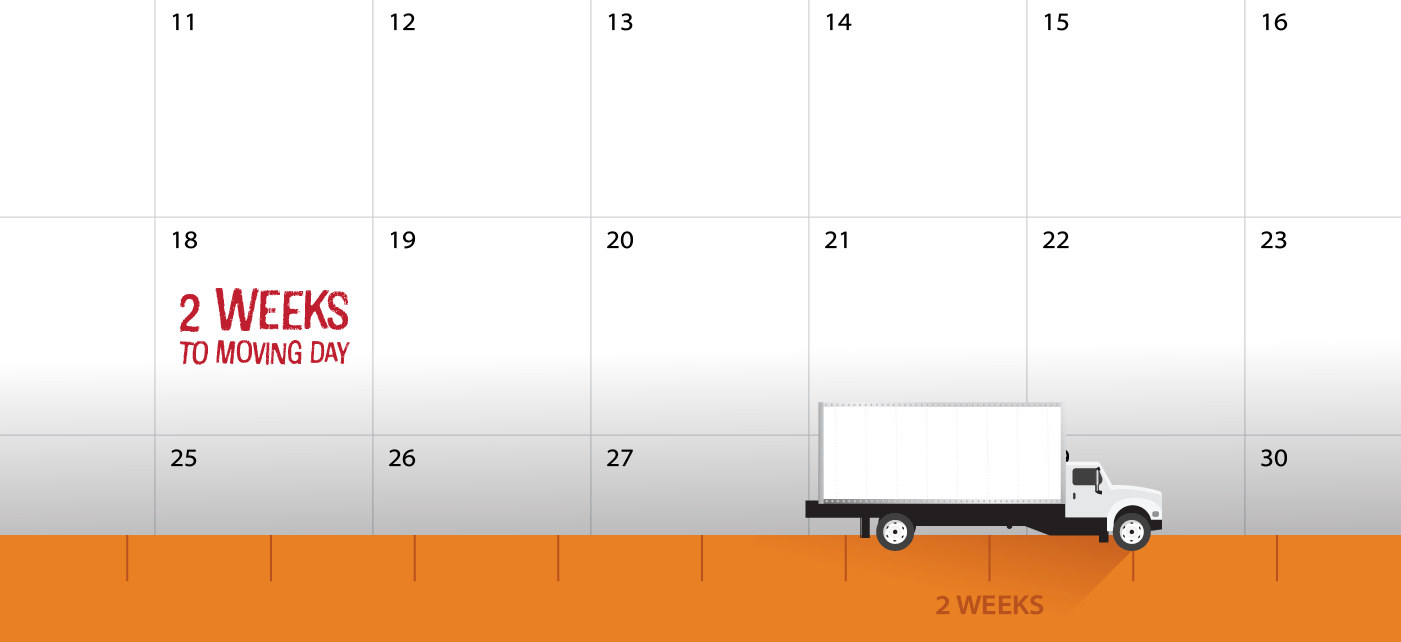 Moving day is right around the corner!
Even though this process has only gotten more and more stressful, this is a good time to start scheduling quality time with friends and family. Host a going away party if you can. Even though your schedule is busy, you'll be glad you made time for goodbyes.
Pack, pack, and pack some more. It's crunch time for packing. Anything non-essential should already be packed and ready by this point.
If you have any hazardous materials that can't be moved — think paint, propane, or some cleaning supplies — now is the time to properly dispose of those.
And finally, if you're driving to your new home, get your car serviced now. Make sure it's in tip-top shape for getting you safely through your move.
1 Week Before You Move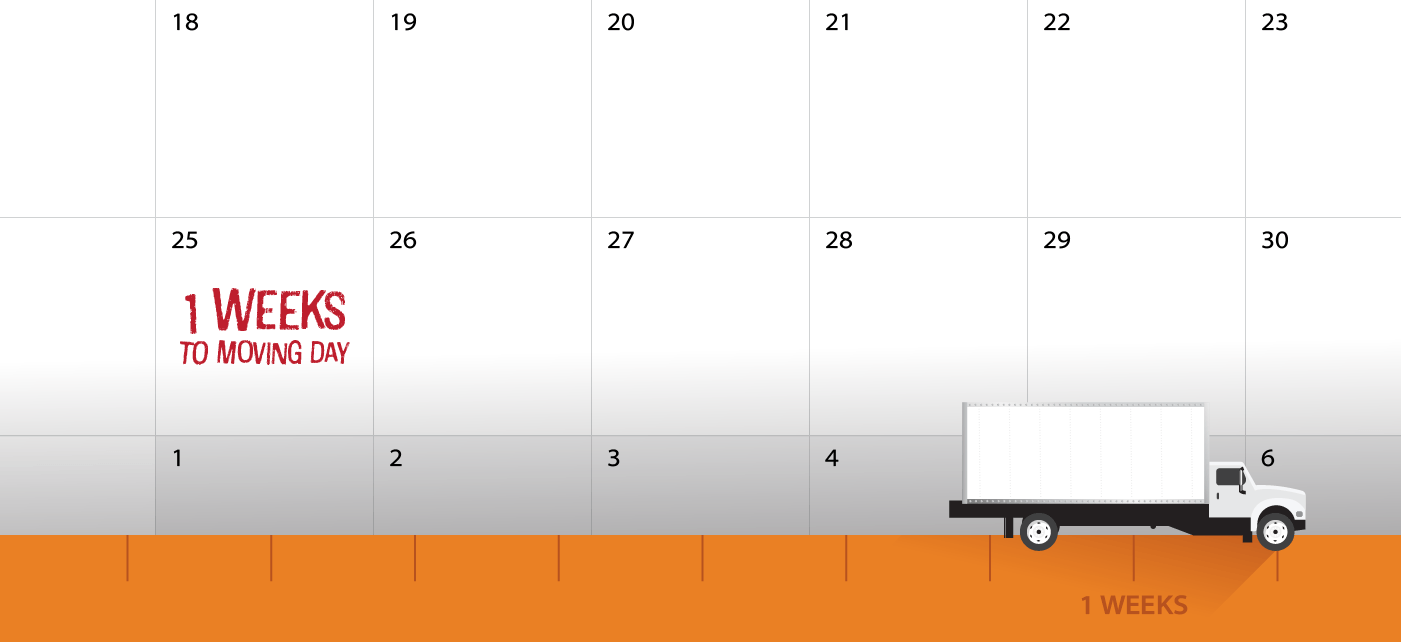 The countdown is now seriously on. Only seven days to go!
Finish packing. By the end of this week, everything needs to be packed and ready. Whatever is left at this point has got to get in a box. This includes your open-first boxes that will contain the essentials you'll need when you first arrive at your new place.
If you're behind on packing and feel like you're not going to be able to finish up within a week, save yourself a ton of stress by enlisting help right now. Either call up some friends or hire a moving company — whatever it takes to get the packing done in time. Pull out that credit card and secure your movers, or call up your most loyal friends and ask for their help.
Confirm with your moving company. Whether you're renting a truck, having containers delivered, or having a full-service company come to load up your belongings, call them now. Double-check and confirm that the planned date and time are still good to go.
If you're hiring a cleaning service for the house you're moving out of, schedule cleaning one week before the move.
In the final day or two before moving day, make sure everything is packed, clean out the cupboards, and clear and defrost the fridge and freezer. Also, if you're using a moving company, be sure to inform them of any major changes to your move inventory or any other details about your move.
The night before the move, go to bed early, charge your phone, and make a plan to pick up a hearty breakfast so you're prepared for the busy and chaotic day ahead.
Moving Day!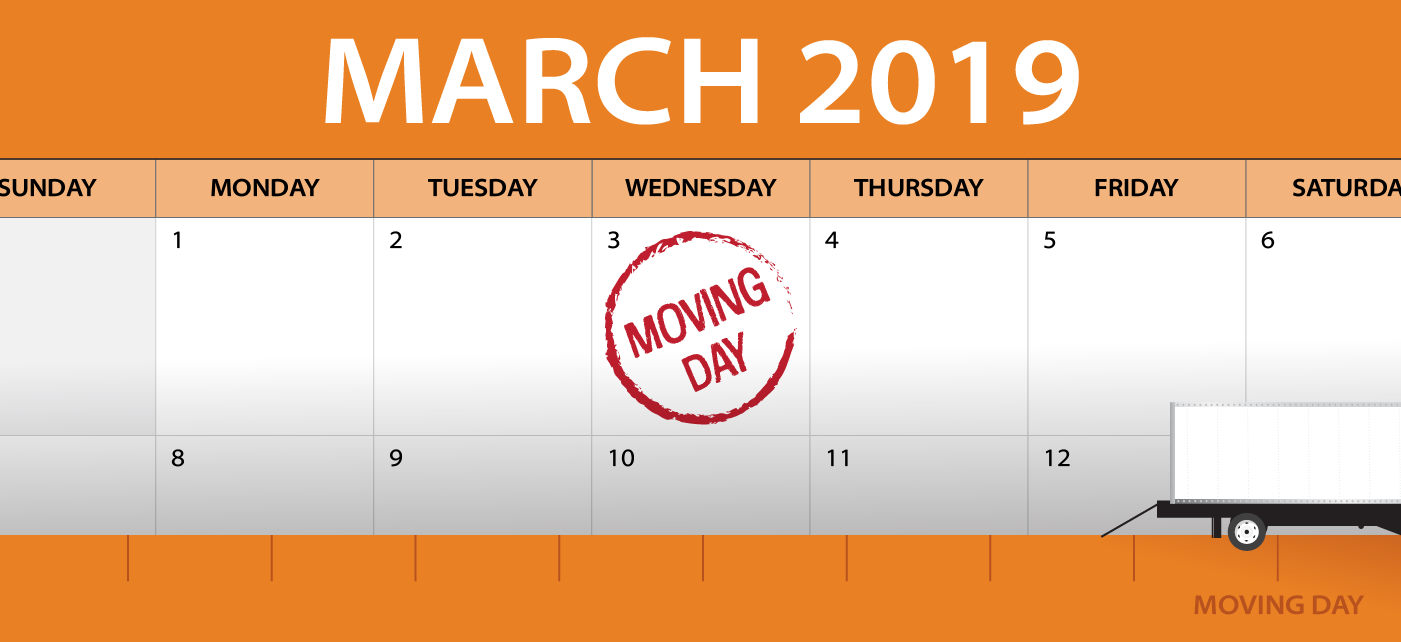 Congratulations! You made it! The big day is finally here, and you should be well prepared at this point, thanks to sticking to a moving timeline and moving checklist.
Get up early and do a last sweep of the house. Check for anything that might be left behind, like food or toiletries. Make sure you've picked up every last item.
Keep your moving folder with you. Add to it any important documents you're given on moving day (for example, a Bill of Lading). There's a lot of important information in there, and if you need any of it during the course of the move itself, you'll be glad you have it handy.
Pick up your moving truck or greet your movers, depending on what you booked for your move. Work with your moving company to make sure everything is in order. If you're loading a truck or shipping containers yourself, get to it!
Get yourself to your new home. Congratulate yourself. Crack a bottle of bubbly or have a nice first dinner in your new place. You made it!
After the Move
Once you arrive at your new home, unfortunately, the work isn't done yet. You still have to unpack.
If you moved to a new state, you need to register your car and get a new driver's license. You should check on mail and subscriptions over the next few weeks to make sure everything is getting to your new address. And get to know your new neighbors.
But the really hard work is over. Your move is over. So, take a deep breath, and spend some time getting settled. You've earned the break–you made it to your new home!
Not what you were looking for?
Check out other categories that can help you find the information you need!
See All
Hide All