How Much do York Movers Cost?
Quick Answer: Although costs fluctuate depending on the service and company, the typical cost for hiring movers in York, Pennsylvania, is $105 per hour. If you're moving locally within York, moving companies range from $495 to $3,572 on average. If you're moving out of Pennsylvania, the cost of York long distance movers really depends on where you're moving to.
Use our moving cost calculator below for a quick and personalized price estimate for your move out of Indianapolis, IN.
Average cost to hire a local moving company in York
Hiring a full-service York mover is definitely the most convenient option, but its convenience comes at a cost. Decide whether you want movers to do all the heavy lifting or if you want to save money by doing some of the work yourself.
Here's how much movers cost in York
| Home Size | Avg. Total Cost | Cost/hour | # of Movers | # Hours |
| --- | --- | --- | --- | --- |
| Studio | $495 | $147 | 2 movers | 3 hours |
| 1 Bedroom | $642 | $147 | 2 movers | 4 hours |
| 2 Bedroom | $966 | $206 | 3 movers | 5 hours |
| 3 Bedroom | $2,076 | $288 | 4 movers | 8 hours |
| 4 Bedroom | $2,364 | $288 | 4 movers | 9 hours |
| 5+ Bedroom | $3,572 | $403 | 5 movers | 10 hours |
Studio: The average cost to hire movers in York to move a studio apartment is $495. You'll need two movers for three hours at $147 per hour.
1 Bedroom: If you have a 1 bedroom, expect to pay around $642 for local York movers. You'll need two movers for four hours at $147 per hour.
2 Bedroom: The average cost to hire York movers to move a 2 bedroom is $966. You'll need three movers for five hours at $206 per hour.
3 Bedroom: For a 3 bedroom, expect to pay $2,076 for local York movers. A 3 bedroom typically requires four movers for eight hours at $288 per hour.
4 Bedroom: Moving a 4 bedroom house in York will cost on average $2,364. The cost to move a larger home can vary, but typically requires four movers for nine hours at $288 per hour.
5+ Bedroom: The cost of hiring York movers for a home with 5 or more bedrooms is $3,572. You'll need five movers for ten hours at $403 per hour.
It's worth noting the cost per hour for York movers remains the same for all home sizes, ranging from $147 per hour for two movers to $403 per hour for five movers. As the size of your home increases, the number of movers and hours required for the move also increases, resulting in a higher overall cost.
Overall, hiring local York movers is a convenient and stress-free way to move within the city.
By knowing the approximate cost for your home size, you can budget accordingly and make informed decisions for your upcoming move.
Best Moving Companies in York, PA
Our team of analysts has spent thousands of hours cross-referencing license data, insurance data, online reviews, and hundreds of other data points to find you the best local moving companies in York.
Visit our Best Movers in York page to see a complete list of moving companies, including hourly rates, services, and reviews. And if you're moving outside of York, consider one of York's top long-distance movers.
Ask your mover
Places like high-rises and managed apartments will often require a copy of your mover's insurance and elevator reservation on moving day.
Check ahead with any neighborhood, community, or HOA rules on moving to ensure a smooth move.
For decades movers In Pennsylvania were regulated by the Public Utility Commission (PUC). Each company was issued a PUC Number and was required to abide by a universal publicly published tariff that established the rates movers could charge for various services. Now, some sources claim that the PUC no longer regulates in-state movers, and it appears as though the PUC's website is no longer functioning. So if you're moving within Pennsylvania, you'll want to address these issues with your moving company representative and if possible, contact the state directly.
Released Value Protection is the most economical option because it doesn't cost anything. It is offered by movers at no additional charge, but the protection is minimal. Under this option, the mover is responsible for no more than 60 cents per pound per article. For example, if your mover lost or damaged a 50 inch TV weighing 25 pounds, you would only receive $15 (60 cents x 25 pounds). If you need for the full value of your items to be covered, please consult with the moving company you're hiring for other options or a third-party insurance provider.
Work with your movers to ensure all these items are taken care of before moving day.
Average cost to rent a moving truck in York
You'll definitely have to break a sweat, but moving truck rentals in York will absolutely be easier on your wallet.
Here's how the costs break down:
Base Cost: $19 - $39 per day
Mileage Fee: $0.69 - $0.79 per mile
Fuel Cost: Dependent on driving distance.
Truck Coverage: $20 - $55 based on coverage level
Parking Permit (if necessary):
Equipment Costs (optional): Dolly, straps, blankets
The total cost to rent a truck will depend on how far a distance you drive the truck, how many days you have the truck rented and a number of additional costs like insurance, parking, moving equipment rentals and more.
Average cost to rent a moving container in York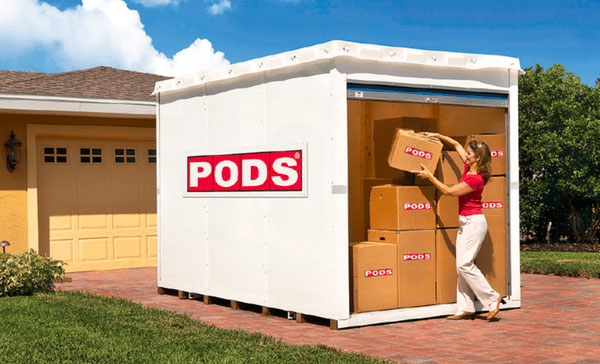 The containers are delivered, you load everything into them, the company picks it up, and it gets put in storage until you're ready for everything to be delivered to your new place.
Naturally, the advantage here is storage. These things will buy you time if you end up with a weird gap between leases.
Here's roughly what it's going to cost:
Storage Fee: $69.95 per 30 days
Initial Delivery: $70.0
Final Delivery Fee: $85.0
Damage Coverage: $10 - $350 based on coverage level
Parking Permit (if necessary):
Door Lock (if necessary): $10 - $15
Equipment Costs (if necessary): Dolly, straps, blankets (optional)
Storing everything in a one-bedroom will end up costing somewhere around $235 - $615 door to door. Still, you might want to factor in a little extra in case you end up paying for labor.
Each large container holds about 3 rooms until it's completely full. You might end up needing more containers, but keep in mind that your cost will essentially double with each container you add.
Where to rent a moving container in York, PA
Learn more about these types of companies at our best moving container companies page.
Not what you were looking for?
Check out other categories that can help you find the information you need!
See All
Hide All