Tips on Moving to Jacksonville, FL: Relocation Guide
St. Johns River, Jacksonville Jaguars, Hemming Plaza

If you're looking to live in a city passionate about its sports teams, full of green spaces, and where you'll always be near the water, then moving to Jacksonville is probably the right call.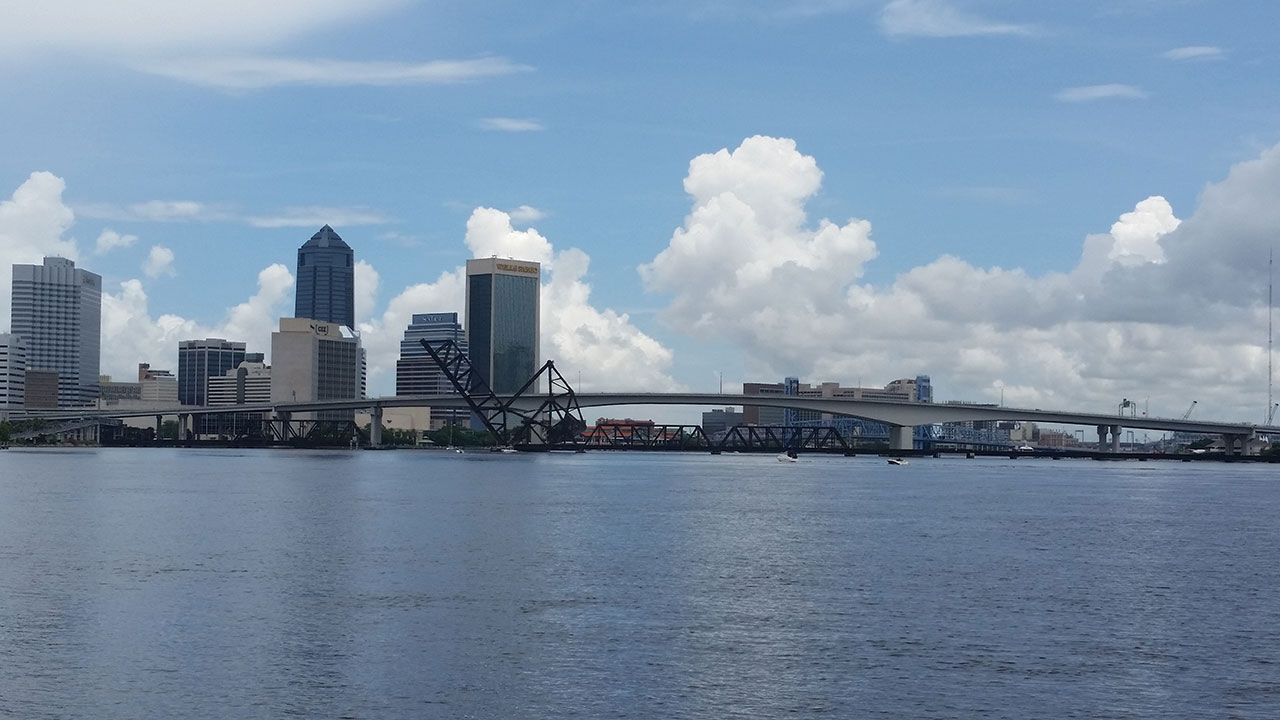 Photo Credit: Michel Curi
When it comes to major US cities, Jacksonville is a slightly more affordable option when compared to similarly sized cities like San Francisco or Austin.
This city is one of the best places for families and retirees who want the action of a big city at a slightly lower cost.
Jacksonville is a sprawling city in Northeast Florida with a lot happening––with Jax beach music festivals, golf courses, and year-round sunshine, there's a lot that draws people here. Because of this, moving here can be overwhelming for an outsider.
To help things go smoothly, we've collected all the essential facts about Jacksonville's neighborhoods, commute, rental options, and more to make sure you're as prepared as can be.

Everything about relocating to Jacksonville
And if you're looking for more info on moving to Jacksonville, check out our Jacksonville move cost guide.

Quick Jacksonville snapshot
Jacksonville has a population of 890,467, making it the 13th largest city in the United States.
As of early 2018, the average rent in Jacksonville was $1,381 which ranks as the 47th most expensive monthly rent in the US.
Jacksonville also has the 55th highest cost of living among all US cities.
Before we get too deep into things, have a look at this video showing off some of Jacksonville's unique scenery.
The many neighborhoods of Jacksonville
The city of Jacksonville has nearly 500 neighborhoods making there a lot to choose from. Luckily, they're broken up into a few general regions.
Although their borders tend to be somewhat vague, Jacksonville is typically divided into six sections:
1. Downtown, 2. Arlington, 3. Southside, 4.Westside, 5. Northside, and 6. Jacksonville Beaches.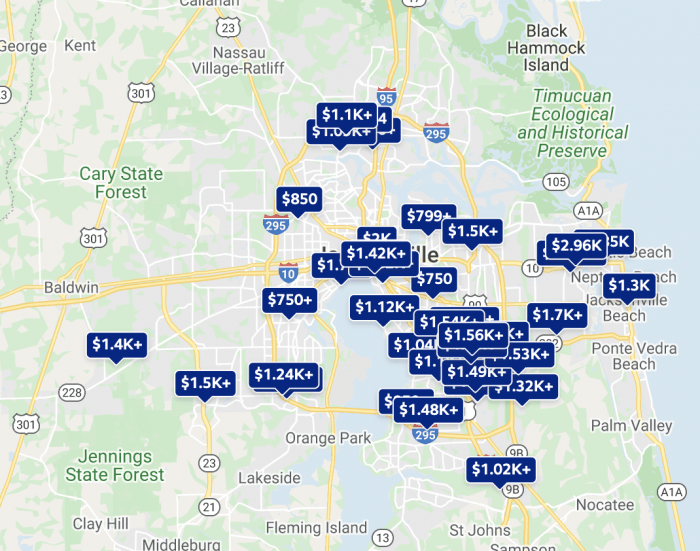 Costs can vary quite a bit between different areas of the city as you can see on the map.
Here's how the pricing breaks down:
On the lower end of the rent spectrum, you'll find places like Brierwood, Southpoint, Craven, and Hillcrest where average rents range from $950 to $1,150.
Duclay, Avondale, San Marco, and Empire Point's rents fall between $1150 to $1,300, placing them in the mid-range of Jacksonville's rental market.
And with average rents around $1,350 to $1,600, the pricier areas of Jacksonville include Riverside, Sandalwood, Brooklyn, Beach Haven, and Jacksonville Beach.
Figured out where you can afford to live? Now let's start looking into whether or not you'll actually like these areas.
Where are people like me living in Jacksonville?
No matter where you decide to live, it's a good idea to try to make sure you'll actually like your neighbors. Esri makes finding the right neighborhood a bit easier with their Zip Tapestry tool.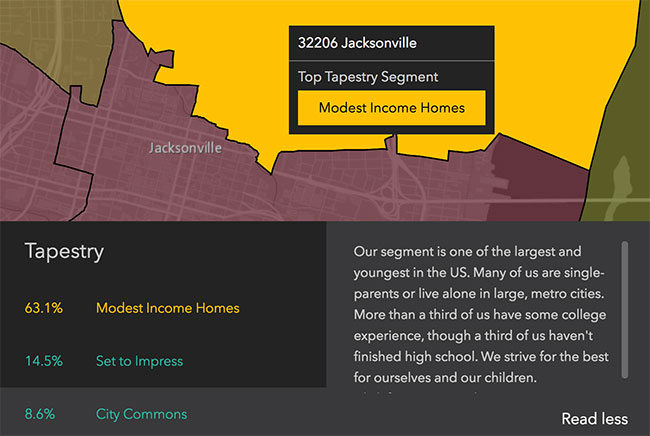 It's really easy to get a solid overview. Just plug in a Duval County zip code, like 32206, and Esri will display the three largest demographic subsets along with other useful information to pinpoint your target location.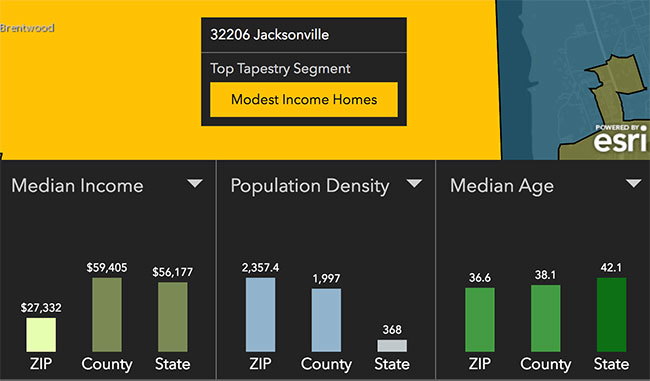 If you're looking for where to find college parties, we might also be able to help with that.
Get educated
Jacksonville is one of many major cities across the US with access to several higher education institutes. As a city with a relatively low unemployment rate and a steady job market, it doesn't hurt to tack on a nearby university to your resume should you need it.
The University of North Florida received a B+ from the school rating site, Niche. It's rated highly based on its affordability, campus life, and both its criminal justice and sports management programs. Just a stone's throw away from Ponte Vedra Beach, it's a pretty good choice.
Jacksonville University is situated alongside the St. Johns River in Arlington. JU wins points for its diversity, size, and its nursing program. It gets a B rating overall from Niche, and with its NCAA Division I Athletics, it's great for any college sports lover.
Florida State College at Jacksonville is your best option if you need to take a couple of classes to finish a degree. Its C- rating comes from its lack of campus life in general, but at a 100% admission rate and with multiple campuses around Jacksonville, you can't complain.
Now let's look at how you'll be getting around.
Commuting the Jacksonville sprawl
Jacksonville is a big city at about 875 square miles, which means morning commute times can vary drastically depending on where you live and work.
Generally, Jacksonville residents have an average commute of around 23.4 minutes to get to work. This doesn't really account for traffic though, which typically bumps it up to nearly 30 minutes. But compared to other Florida cities like Miami and Orlando, it's about 3 minutes faster on average.
The table above shows a breakdown of how many Jacksonville citizens endure various commute times, with the largest percentage falling in the 20-24 minute range.
If you're needing to get to Downtown Jacksonville, you'll need to know of a few routes–this guide might help you with that.
And if you're considering using public transportation, you might want to think again.
Jacksonville is fairly car-dependent
Jacksonville isn't a very walkable city and the public transportation and bike infrastructure isn't much better.

Non-drivers aren't exactly in luck, considering Jacksonville has a fairly low walk score of 26.
Due largely in part to the sprawling nature of Jacksonville's layout, it's going to be fairly difficult to get where you're going on foot.
On top of that, a recent study ranked Jacksonville as the 6th most dangerous pedestrian city in the United States.
Unfortunately, taking the bus isn't a much better option…
Jacksonville public transportation…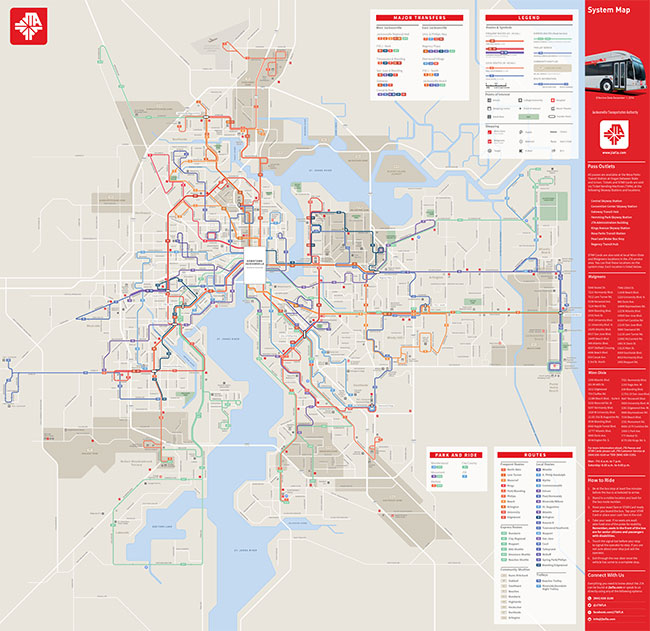 The primary public transportation provider in Jacksonville is the Jacksonville Transportation Authority which offers bus services, skyways, and ferries.
While the variety of services offered is fairly extensive, the systems aren't very well connected making it a challenge to navigate the city's sprawling borders entirely with public transport.
Overall, your best option might just be getting around on two wheels.
Cycling around Jacksonville
While Jacksonville's bike score is currently coasting at 43, the city has been adding infrastructure to improve the situation further.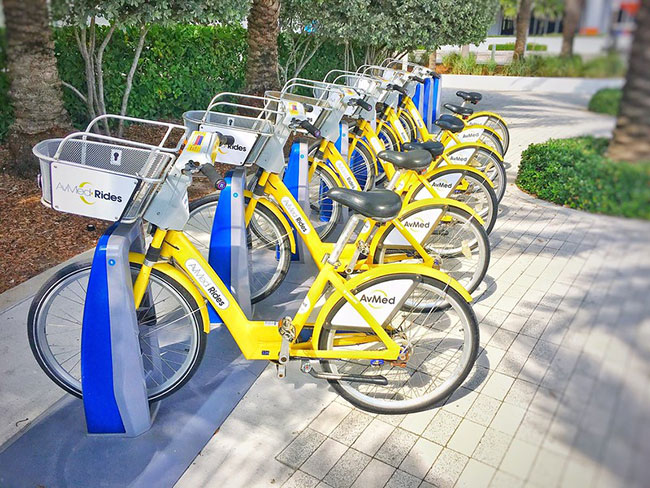 The recent Pedestrian and Bicycle Master Plan has taken steps to increase both the safety and accessibility of navigating the city by bike or foot.
On top of that, Jacksonville has also begun offering bike sharing in some areas with plans to expand to others. And the current bus system is designed to accommodate bikes as well.
Alright, now that you know how to get around, let's talk about the areas to avoid.
Jacksonville's crime rate
Inevitably, the issue of crime is going to come up whenever moving to a new city, so you'll definitely want to be as well informed as you can be.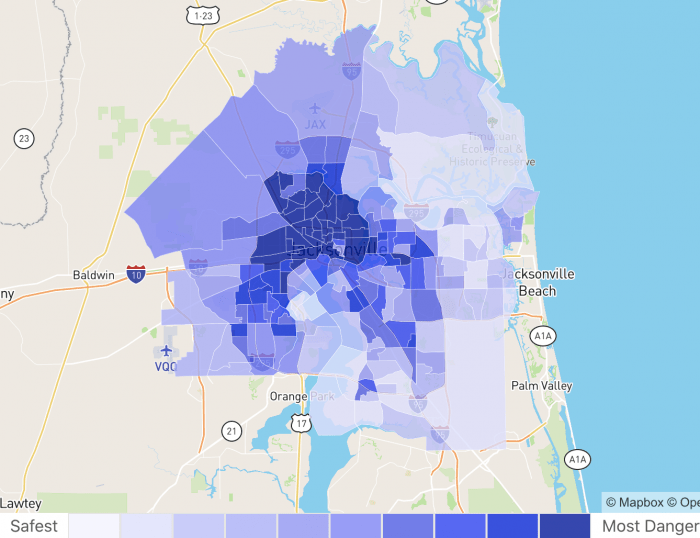 According to NeighborhoodScout Jacksonville has a pretty meager crime score of 8 out of 100 (100 represents the least amount of crime).
That doesn't exactly look great…
Still, just because an area is "high crime" doesn't make it "dangerous". Up in Georgia, you'll find that Atlanta has a much lower score of 3 with a smaller population. In Jacksonville, only 14% of total crime is violent, which means that crime rate should prompt more caution than fear.
One Reddit user had some decent general advice…
"The farther south and east you are from downtown, the safer you are. The farther north and west you are from downtown, the more dangerous it is. It eventually gets safer though" -KharakIsBurning
Most cities have some dangerous parts so just use your common sense when it comes to staying safe. And with that, let's find you a place to live!
Finding an apartment in Jacksonville
Your first step in finding an apartment will be determining what amenities you'll need.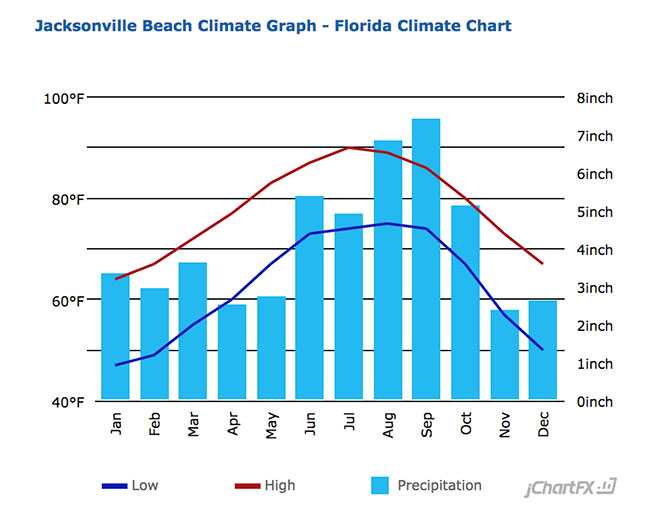 This being Florida, you can expect the summers to get pretty warm, but the winters will tend to be chilly at worst.
You'll certainly want a place with air conditioning, but heat is probably optional.
With so much A/C being used, you'll want to factor your average monthly power bill into your budget when apartment hunting.
Searching for Jacksonville apartments
Here are a few of our go-to resources for apartment hunting in and around the greater Jacksonville area.
The state of Jacksonville's rental market
The rental market in Jacksonville is actually in a pretty good place right now.
Since 2021, the average rent in Jacksonville sits at $1,381.
Along with that, the most recent vacancy rate data indicates that vacancy is up to 7.81% in Jacksonville, which is higher than the national average.
So yeah, this seems to be a decent time to rent in Jacksonville.
Florida rental law
No matter what the market's like, you should be as informed about your rights as a tenant as possible to avoid being scammed by a sketchy landlord.
Here are a few laws that renters should keep in mind:
And if you're looking to buy, Jacksonville has plenty of suburbs.
Buying a home in Jacksonville
Currently, the median home value in Jacksonville is somewhere around $249,048, having increased a staggering 21% over the last year.
Essentially, Jacksonville is very much a seller's market right now, which means home prices will be expensive, whether it's a new home or not.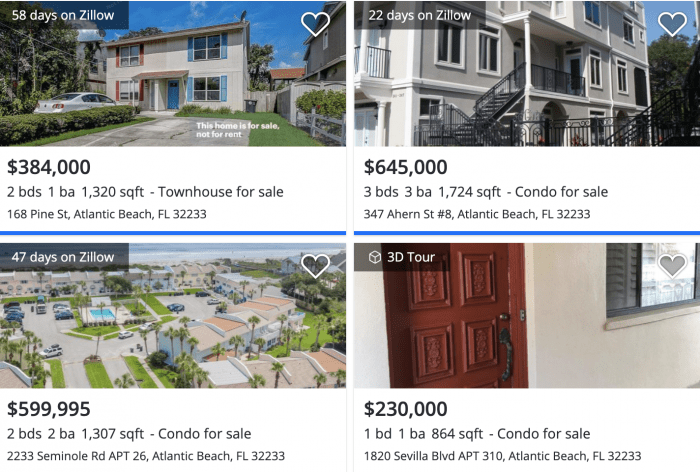 Atlantic Beach
The town of Atlantic Beach is a vibrant beachfront suburb with plenty to offer outdoor enthusiasts and fans of the arts. But, being near the ocean, homes here are definitely more expensive.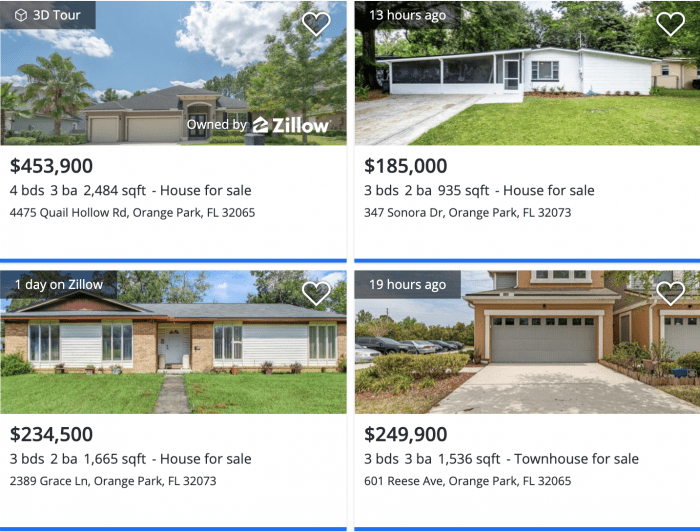 Orange Park
Meanwhile, for those looking for something more inland and with more moderately priced homes and good public schools, the Town of Orange Park has plenty of community events to keep residents busy along with a great farmer's market and a high population of young professionals.
We also recommend exploring the real estate around Neptune Beach and St. Augustine––both beach-lined cities with great access to amenities.
And once you've found a place to live, it's time to figure out how to get everything moved.
Now that you're ready to make the move to Jacksonville…
Use our moving cost calculator to estimate your moving costs to Jacksonville
Here's a quick look at some of our guides:
Also, if you are coming from out of state, be sure to have a look at our state-to-state moving guide for more info and tips.
Parking permits for moving vehicles in Jacksonville
It's always a good idea to check with the city before you move to make sure you can actually park a truck by your new place.
In Jacksonville, there's a chance you'll have to apply for a parking permit.
Putting the finishing touches on your Jacksonville move
You're in the home stretch! Just a few minor details left to iron out then you'll be a full-fledged resident of Jacksonville: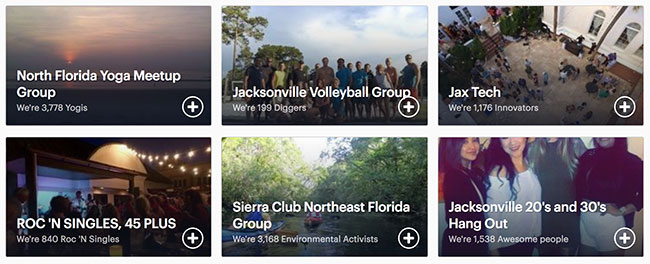 Finding things to do in Jacksonville

When trying to get a grasp on what a city has to offer, the best first step is typically their own tourism website. Visit Jacksonville has a pretty solid overview of the broad strokes of all things entertaining going on in the city.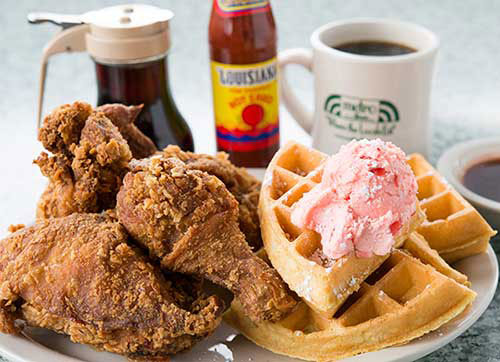 Between its state parks and proximity to the ocean, there's no shortage of outdoor activities in Jacksonville for nature lovers. The city has a ton of great parks and plenty of beaches (duh). If you're into kayaking, boating, and beaching, you've found your place.
Jacksonville also has a thriving culinary scene with plenty of great restaurants like Orsay and Metro Diner. There's also a bunch of really great bars and nightlife options like the beachside outdoor Lemon Bar and The Volstead with their wide selection of craft cocktails.
And don't miss out on the Jacksonville Zoo and Gardens, the Cummer Museum of Art and Gardens, and the unbeatable Jacksonville Jazz Festival.
Welcome to Jacksonville!
Not what you were looking for?
Check out other categories that can help you find the information you need!
See All
Hide All