What Is The Cost To Move in Portland, ME
When it comes to saving money on a move, comparing all the options is the best way to keep costs low.
Here are the 3 primary options when moving locally in Portland.
Below we lay out the cost for each of these local moving options.
If you're coming from outside the greater Portland area, check these popular routes for moving to Portland and use the long distance move calculator to estimate costs.
Average cost to hire a moving company in Portland, ME
Hiring a full-service moving company is definitely the most convenient option, but you should consider the cost to decide whether hiring a company to do all the heavy lifting is worth it or not.
So let's examine exactly how much the average Portland moving company is going to charge.
| Home Size | Avg. Total Cost | Cost/hour | # of Movers | # Hours |
| --- | --- | --- | --- | --- |
| Studio | $571 | $189 | 2 movers | 3 hours |
| 1 Bedroom | $760 | $189 | 2 movers | 4 hours |
| 2 Bedroom | $1,177 | $265 | 3 movers | 5 hours |
| 3 Bedroom | $2,602 | $370 | 4 movers | 8 hours |
| 4 Bedroom | $2,972 | $370 | 4 movers | 9 hours |
| 5+ Bedroom | $4,534 | $519 | 5 movers | 10 hours |
Remember, these are just averages meant to give you a general idea on move pricing. Rates can vary depending on the moving company you choose to hire and the specific needs of your move.
Best Moving Companies in Portland, ME
Our team of analysts has spent thousands of hours cross-referencing license data, insurance data, online reviews, and hundreds of other data points to find you the best local moving companies in Portland.
Visit our Best Movers in Portland page to see a complete list of moving companies, including hourly rates, services, and reviews.
Ask your mover
Places like high-rises and managed apartments will often require a copy of your mover's insurance and elevator reservation on moving day.
Check ahead with any neighborhood, community, or HOA rules on moving to ensure a smooth move.
Although a local license is not required in Maine, make sure the moving company you'll be hiring is registered with U.S. Department of Transportation (USDOT). To verify if you're dealing with a legal and licensed mover, you may ask them their USDOT registration number.
Released Value Protection is the most economical option because it doesn't cost anything. It is offered by movers at no additional charge, but the protection is minimal. Under this option, the mover is responsible for no more than 60 cents per pound per article. For example, if your mover lost or damaged a 50 inch TV weighing 25 pounds, you would only receive $15 (60 cents x 25 pounds). If you need for the full value of your items to be covered, please consult with the moving company you're hiring for other options or a third-party insurance provider.
Work with your movers to ensure all these items are taken care of before moving day.
Average cost to rent a moving truck in Portland, ME
You'll definitely have to break a sweat, but moving truck rentals in Portland will absolutely be easier on your wallet.
Here's how the costs break down:
Base Cost: $19 - $39 per day
Mileage Fee: $0.69 - $0.89 per mile
Fuel Cost: Dependent on driving distance.
Truck Coverage: $20 - $55 based on coverage level
Parking Permit (if necessary):
Equipment Costs (optional): Dolly, straps, blankets
The total cost to rent a truck will depend on how far a distance you drive the truck, how many days you have the truck rented and a number of additional costs like insurance, parking, moving equipment rentals and more.
Average cost to rent a moving container in Portland, ME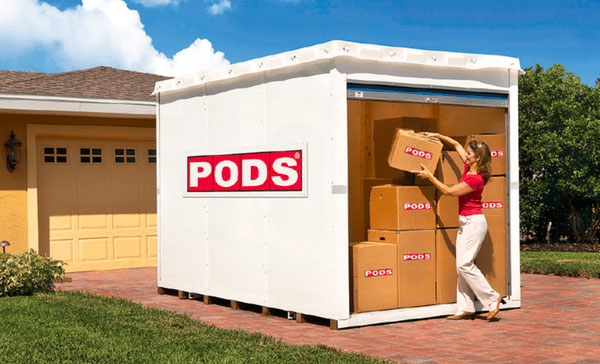 The containers are delivered, you load everything into them, the company picks it up, and it gets put in storage until you're ready for everything to be delivered to your new place.
Naturally, the advantage here is storage. These things will buy you time if you end up with a weird gap between leases.
Here's roughly what it's gonna cost:
Storage Fee: $99.95 per 30 days
Damage Coverage: $10 - $350 based on coverage level
Parking Permit (if necessary):
Door Lock (if necessary): $10 - $15
Equipment Costs (if necessary): Dolly, straps, blankets (optional)
So, storing everything in a one-bedroom will end up costing somewhere around $110 - $490 door to door. Still, you might want to factor in a little extra in case you end up paying for labor.
Each large container holds about 3 rooms until it's completely full. You might end up needing more containers, but keep in mind that your cost will essentially double with each container you add.
Where to rent a moving container in Portland, ME
Learn more about these types of companies at our best moving container companies page.
Not what you were looking for?
Check out other categories that can help you find the information you need!