What's The Cost To Move In Nashville?
Nashville ranks as the 33rd most expensive city in the US, so it's definitely not the cheapest place to live.
But don't worry, we can at least help you save some money on your moving costs.
First, ask yourself this – do I care more about saving money or saving myself a lot of work?
Essentially, you have three main options for moving locally within Nashville. The best choice will come down to your preference for cost vs. convenience.
Feel free to use the links below to skip to a specific moving option or scroll through to review each one.
And if you're moving from out of state, take a look at our moving to Nashville guide for all the important info and use the moving cost tool to estimate long distance moving costs.
Average cost of moving companies for hire in Nashville
Don't want to shoulder the burden of moving alone? Or much at all? Then hiring a moving company is probably the best choice for you.
Heads up, though. This can cost a lot. Let's look at prices below.
| Home Size | # of Movers | Base Cost (2hrs) | Cost/Hour | # Hours | Avg. Total |
| --- | --- | --- | --- | --- | --- |
| Studio | 2 movers | $280 | $80/hr | 3 hours | $360 |
| 1 Bedroom | 2 movers | $280 | $80/hr | 4 hours | $440 |
| 2 Bedroom | 3 movers | $350 | $102/hr | 6 hours | $760 |
| 3 Bedroom | 4 movers | $438 | $131/hr | 7 hours | $1,093 |
| 4 Bedroom | 4 movers | $438 | $131/hr | 9 hours | $1,355 |
| 5 Bedroom+ | 5 movers | $547 | $168/hr | 12 hours | $2,255 |
Remember, these prices are only averages and can change. Any special needs during the move or moving in the summer, AKA peak moving season can impact your rates.
A few other factors that might affect your move cost or ease are 1) bulky, difficult to move furniture, 2) older buildings with slow elevators, and 3) unexpected delays.
What kinds of delays can you have? For one thing, some apartment complexes require a copy of your moving company's insurance.
Racing to get proof of insurance on move day is not pretty or fun. Get your mover's insurance ahead of time.
What if you're a strong, independent person who's unafraid of moving their own boxes? Hiring movers might not be the best fit for you.
Instead, let's see what's behind door number 2: renting a moving truck.
Average cost of moving trucks for rent in Nashville
Our moving truck rental guide sheds some light on this great option.
Let's take a look at expected rental fees:
Base Cost: $19 – $65 per day
Mileage Fee: $0.49 – $1.10 per mile
Fuel Cost: Dependent on driving distance.
Truck Coverage: $15 – $55 based on coverage level
Parking Permit (if necessary): $10-$20
Equipment Costs (optional): Dolly, straps, blankets
So, a rough calculation for a typical one-bedroom apartment would be $40 – $58 using a rental truck.
However, larger apartments with 4-5 bedrooms can push the total closer to $145 – $165.
Where Do I Get a Rental Truck in Nashville?
Taking moving into your own hands saves money, but comes with responsibility. You have to drive the truck. But, you have a third option – moving containers.
Average cost of moving containers for rent in Nashville
Have you ever used a storage unit at a commercial facility before? Imagine taking your unit and having someone drive it to your new home for you.
That's the beauty of moving containers. Here's a visual for you: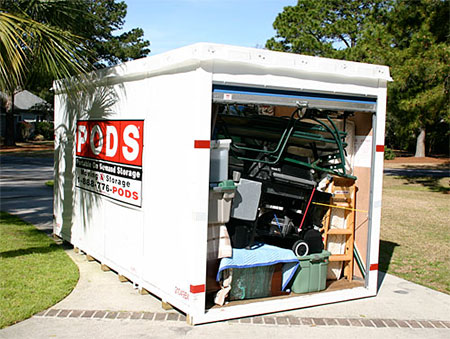 Having a moving container means you wash your hands of those driving duties. Instead, you pack your boxes and arrange them in your moving container.
Another bonus with moving containers – since they're essentially storage units, you can keep everything there if needed.
Want an idea of what this might cost? Look at our breakdown below.
Storage Fee: $55 – $320 per 30 days
Initial Delivery: $79 – $110
Final Delivery Fee: $79 – $160
Damage Coverage: $10 – $325 based on coverage level
Parking Permit (if necessary): $35 per day
Door Lock (if necessary): $0 – $15
Equipment Costs (if necessary: Dolly, straps, blankets (optional)
Prices vary, but a container sized for a one-bedroom apartment can cost around $260 for a month. Note this doesn't include labor costs.
Where Do I Rent a Moving Container in Nashville?
Have a look at our guide for storage containers to read more.
And if you want to avoid moving all together, learn how to downsize and simplify your move with minimalism.