How Much Will Fit in a 16 foot POD?
Too many people overestimate the size of a 16-foot pod and end up without a way to move their items. This article will help you know if it's the right size for you.
In the last few decades moving container companies like PODS or U-Pack have taken the moving and storage world by storm.
They've gobbled up big chunks of traditional movers' business by offering convenient and affordable services that are popular with do-it-yourselfers.
If you're unfamiliar with the term, PODS stands for 'Portable on Demand Storage.'
It's a unique system by which custom crane trucks deliver empty containers to your home or business.
Then when you've loaded them, they hoist them back onto their truck and deliver them to your new address, whether it's on the other side of town or across the country.
The idea took root in the late '90s and originally targeted storage customers, but services quickly expanded to include local and long-distance moving too.
In this article, we'll focus on what you can fit in a 16-foot container—the largest in PODS' lineup.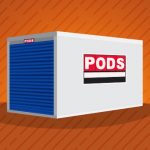 How much will fit in a 16 foot POD?
Although moving container companies may claim otherwise, realistically, a 16 foot POD is only large enough for a 3-bedroom apartment or a 2-bedroom house.
If you're interested in learning more about this moving option you may be interested in the following.
PODS' 16-foot containers measure 16 feet long, 8 high, and 8 wide.
But keep in mind, those are outside dimensions.
When the roof, walls, and floor are taken into account, the interior space comes in at just a tick over 850 cubic feet.
Compared to moving trucks the professionals use that's relatively small, but packed correctly you'll be surprised what fits inside.
List of best professional movers
Of course, bulky furniture like sofas, appliances, and entertainment centers eat up valuable space quickly.
To attain maximum density and get the most bang for your buck, you'll need to think and work like experienced movers.
Here we're talking about doing things like:
Standing sofas on their ends
Disassembling tables, beds, futons, and exercise equipment as much as possible
Filling the gaps around large items
Making sure your boxes and plastic bins are packed properly
According to their website, PODS' 16-foot containers have a maximum cargo capacity of 4,200 pounds.
It also states that they're suitable for 3-4 bedroom homes.
But there's a problem.
Most dwellings with 3-4 bedrooms have much more than 4,200 pounds of household goods.
In fact, moving company sales reps will tell you that they typically have between 2 and 4 times that amount.
More realistic rules of thumb are…
A 16-foot container may accommodate the contents of a moderately furnished 2 or 3 bedroom apartment
Or, most of the contents of a similarly furnished 2-3 bedroom home (excluding those with garages, attics, and basements)
In other words, use PODS' guidelines with skepticism.
Better yet, take advantage of free online inventory forms or download a phone app to help calculate the estimated weight and cubic feet of your items.
Inventorying your stuff can be fun, and it may save you a big headache down the road.
Though you'll want to pack your container the same way you would a regular moving van, the former has one big advantage over the latter.
It'll be sitting at ground level, so walking up and down a walk-board all day won't be an issue.
In the old days, many storage containers had plywood ceilings, walls, and floors that tended to snag upholstered items and make sliding heavy furniture difficult.
Now, most have steel interiors that make loading and unloading much easier.
In addition, moving containers are:
Cost-effective alternatives to full-service movers
Secure (you use your own lock and keep the key)
Flexible—the company adheres to your schedule, not the other way around
Weather-Resistant
Available in 3 different sizes—7, 12, and 16 feet
Great options for those who'd rather not drive a clunky rental truck
To ensure proper weight distribution, it's a good idea to spread your heaviest items out from front to back and side to side.
Imbalanced containers can be an issue if you've got excessively heavy furniture or a disproportionate number of book boxes.
Since loading and unloading often take longer than expected, it may be wise to give yourself two days for each.
Those who've never done a big move on their own often bite off more than they can chew—especially when friends and family bail at the last minute.
By leaving two days to load and unload you'll relieve yourself of needless pressure.
You'll also be less likely to damage items or hurt yourself because you won't feel rushed.
Remember to load the items you'll need first at the back of the container so you can get to them easily.
This way if your container shows up at your new residence in the afternoon and you don't have enough time to unload everything, you'll still have access to necessities like:
bedding
toiletries
toys and other children's items
fresh clothes
mattresses
refrigerator
pots, pans, dishes and silverware
As with full-service moves, plan on taking irreplaceable items like family heirloom jewelry, photos, passports, and birth certificates with you.
Channel Your Inner Minimalist
Economics often dictates taking your old furniture to your new home.
Though we'd all love to, most families can't afford to buy new sofas, dressers, rugs and appliances every time they move.
However, for those who've been considering downsizing and giving the 'minimalist' lifestyle a try, moving is the perfect time to do it.
Getting rid of old, out-of-style and rarely used items can be very freeing, but taking the plunge can be difficult.
If all of your things probably won't fit into a 16-foot PODS container, consider committing to take only what will.
It's a gutsy move to be sure, so you'll need to prioritize and load the most important things first.
Leave yourself some extra time after the move to haul the leftover items to donation centers or have them picked up.
Like you do when screening full-service movers, getting the best deal on container moving is usually easier when you get multiple estimates.
Compared to some competitors, PODS has reasonable prices, lots of equipment available, and a huge service area that covers most of the United States and some other countries as well.
If you're just getting the ball rolling on your container moving adventure, you're in luck.
We've done much of the legwork for you.
To get up to speed quickly, check out our picks for the Top Moving Container & Storage Companies.