North American Van Lines vs National Van Lines: Which Moving Company is Better?
Overall Opinion: Both of these organizations are well-established companies that offer full-service capabilities in the residential, commercial, and government markets.
National Van Lines is a privately-held organization established in 1929 that has been progressive in deploying technology in many key areas of operations.
The primary drawback is that they have several local domestic markets without a current local agent.
North American Van Lines (NAVL) is a massive corporate carrier first established in 1933 that now merged with Allied Van Lines. They have excellent real-time tracking tools and a very robust domestic agent network. The main drawback is that it seems that many of the local agents use movers that are somewhat indifferent as it relates to preventing damage to items being transported.
Compare North American and National to the moving companies on our list of best interstate moving companies and the best international movers.
North American Van Lines vs National Van Lines: Pros and Cons
North American Van Lines: Pros and Cons
What we love: Blue Express Program
The North American Blue Express program is designed for corporate employees that are relocating. The program has a total weight limitation of 4,000 pounds. Customers are provided with definite loading and unloading dates and packing services are included (unpacking is extra). Valuation protection coverage is included in the rate.
Here, a crew of professional movers will load a portable moving container and later unload it at the destination. These moving containers are similar to those offered by Pack-Rat, PODS, and the U-Haul U-Box program. This process is managed by a central Personal Move Representative
What we don't love: Some Local Agents Employ Careless Movers
Customer feedback suggests that some of NAVL's local agents have inconsistent quality employees. Online reviews indicated that many movers act carelessly and create damage to either home itself or the belongings that are being moved. This results in too many claims of property damage and disgruntled customers.
Pros
In 1999, NAVL acquired Allied Van Lines and the merger resulted in Allied Worldwide. This conglomerate of major carriers affords them a tremendous network of agents and resources nationally and internationally.
They have a moving calculator that easily allows customers to determine the necessary number of moving boxes, packaging supplies, etc.
In response to the coronavirus, NAVL implemented a Business Continuity Plan that was very detailed. They have established a good infrastructure for remote contact using video and employee protocols for quarantining and working from home.
NAVL has real-time online platforms for tracking shipments that are designed by SIRVA (see images below)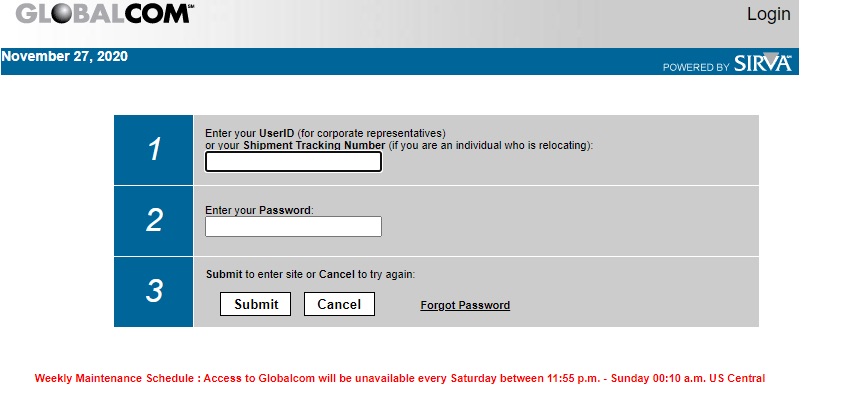 Cons
The quality of the moving staff is often inconsistent across the local agent network
Storage capabilities are not standardized at the corporate level; therefore, local agents may not have sufficient storage capabilities. This may include vehicle storage, self-storage, warehouse space for corporate clients, etc.
Sometimes the sales representatives fail to explain that valuation (property protection) coverage options
National Van Lines: Pros and Cons
What we love: The ReloQuote Virtual Survey System
The development of the ReloQuote system for "contactless" estimates is an excellent tool, particularly amid the COVID-19 pandemic.
Customers can use a smartphone or other recording device to capture a detailed inventory of items that are used to generate a quote. They also use FaceTime to successfully complete this process that is consistent with social distancing guidelines. The feedback online from those who have used these options is largely positive.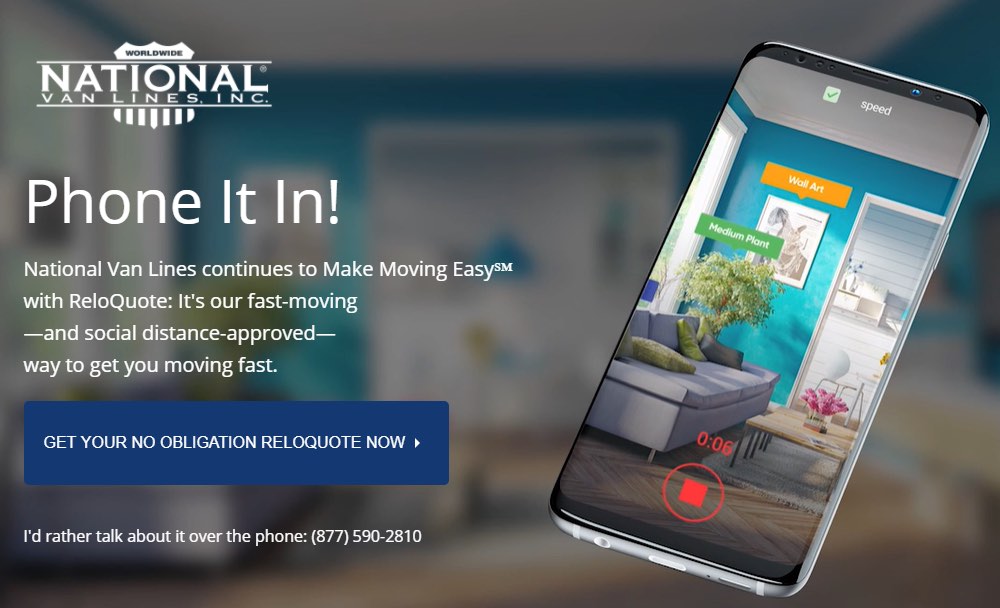 What we don't love: Service Area Limitations in the U.S.
We have found that National Van Lines has some significant parts of the country without a local agent. Some of the states without an agent included Arkansas, Louisiana, Mississippi, New Hampshire, Vermont, and Wisconsin. Major metropolitan areas with no local agent include Atlanta, Jacksonville, and Memphis.
This creates concerns when one of the locations is the origin or destination of a move. National will likely need to subcontract with a local moving company that has not been approved as an agent and may not adhere to the same quality standards. It should be noted that the company is still actively expanding its agent network according to reports on its website.
Pros
The organization is heavily involved in various types of charitable work such as providing support for the Special Olympics
Feedback from customers suggests that their local agents can often complete moving projects on short notice and welcome these requests
Press releases for 2020 indicate that the organization is aggressively expanding its local agent network with agreements recently complete in New York, New Jersey, Maine, Arizona, and others.
They do offer specialty moving services such as expensive collections, pool tables, pianos, etc.
The majority of domestic long-distance moving projects are completed in less than five days
Efforts are being made to further their international moving program, as they have recently obtained licensing with the Federal Maritime Commission and are now a Registered International Mover (RIM).
Cons
It isn't possible to obtain a "ballpark" or similar rough pricing estimate online without speaking with a salesperson. Often, those who are shopping around various companies become irritated by persistent phone calls, texts, emails, and other sales activities.
Some local agents have movers that hastily load customer belongings, which creates damage
Several customers indicated that the difference between a binding and non-binding estimate was not properly explained and they were caught off guard when prices were changed accordingly.
North American Van Lines vs National Van Lines: Service Offering Comparison
| | North American Van Lines | National Van Lines |
| --- | --- | --- |
| Local Moves (Intrastate) | Yes | Yes |
| Long Distance / Cross Country Moves | Yes | Yes |
| International Moves | Yes | Yes |
| Commercial / Corporate Moves | Yes | Yes |
| Military / Government Moves | Yes | Yes |
| Packing / Unpacking Services | Yes | Yes |
| Storage Services | Yes (limited) | Yes (limited) |
| Vehicle Transport | Yes | Yes |
| Moving / Packaging Supplies | Yes | Yes |
North American Van Lines vs National Van Lines: Service (Coverage) Area Comparison
Our opinion: Even
North American Van Lines seems to a local agent in the vast majority of major U.S. cities. We did identify several gaps within many U.S. states and major metropolitan areas where no local agent existed.
Pricing Comparison: North American Van Lines vs National Van Lines
Our opinion: North American
Neither organization provides online pricing and requires interaction with a customer representative. North American did post some estimated ranges. These include an average cost of $2,300 for local moves and interstate moves averaging between $4,300 and $4,800.
North American Van Lines vs National Van Lines: Available Discounts Comparison
Our opinion: N/A
Neither company offers any specific discounts currently; however, local agents may have promotional discounts and other incentives.
Summary: North American Van Lines vs National Van Lines
Our opinion: N/A.
Both of these companies are viable options for local, national, and international moving and relocation services. They share some similar areas of concern including that too many customers have items lost or damaged during the move or transport process. These companies are both high-volume operations that focus primarily on state-to-state and international moving projects.
At the local level, agents may have limited storage capabilities and employ inconsistent quality staff. Local moves are handled exclusively by the local independent agent but can still reflect poorly on the national corporate affiliate. Customers are encouraged to purchase the upgraded full-value or complete compensation protection plans that are insurance-type plans.
Not what you were looking for?
Check out other categories that can help you find the information you need!