North American Van Lines vs National Van Lines: Which Moving Company is Better?
The moving process can be stressful, which is why many people like to enlist the help of full-service van lines to streamline things. Two of the biggest names in this sector of the moving industry are North American Van Lines and National Van Lines—but which should you choose when moving to a new home?They're both well-established companies that offer full-service capabilities in the residential, commercial, and government markets, and either one could ultimately be a good option for your move.
National Van Lines (NVL) is a privately-held company established in 1929 that's led the charge in adopting tech-friendly moving services. Unfortunately, several of their domestic markets currently lack local agents, which is the primary drawback of working with them.
North American Van Lines (NAVL), on the other hand, is a massive corporate carrier established in 1933. They have excellent real-time tracking tools and a robust network of domestic agents. However, customer reviews indicate that some local agents use movers whose handling of household goods can be somewhat careless.
Read on to learn more about how these moving companies compare.
North American Van Lines vs National Van Lines: Pros and Cons
As a full-service moving company, North American Van Lines provides all the support you need for a local or cross-country move, from packing supplies to loading the truck. They even offer satellite tracking so you can check the exact location of your shipment at any time. Here are some more highlights of their offerings.
North American Van Lines: Pros and Cons
89% of users select this mover
What we love: Blue Express Program
NAVL's northAmerican BlueExpress program is designed specifically for corporate relocation. Employees are provided with designated loading/unloading dates and packing services (unpacking is extra). Full-value protection insurance coverage (a type of valuation coverage) is also included in the rate.
With this program, a crew of professional movers load a portable moving container and later unload it at the destination. The moving containers are similar to those offered by 1-800-PACK-RAT, PODS, and U-Haul U-Box. Moves are limited to 4,000 pounds or less. This process is managed by a Personal Move Representative to simplify the process for employers and their employees.
What we don't love: Some local agents employ careless movers
Some North American Van Lines reviews suggest inconsistent quality with certain local agents. Online reviews indicate that some movers act carelessly, risking damage to the household goods being moved or even the home itself. This can result in property damage and disgruntled customers.
Pros
In 1999, NAVL merged with Allied Van Lines, resulting in Allied Worldwide. This conglomerate of major carriers means they have a tremendous network of agents and plentiful national and international resources.
You're able to customize your move based on the services you need. You can choose self-packing to lower your costs or opt for full-service packing. Other add-on services include furniture assembly and disassembly, packing materials, fragile-only packing, and debris removal.
The NAVL moving calculator helps customers figure out what kinds of packing supplies and how many moving boxes they need.
Real-time online shipment tracking is available on the company's website through SIRVA Relocation, of which NAVL is a subsidiary (see images below).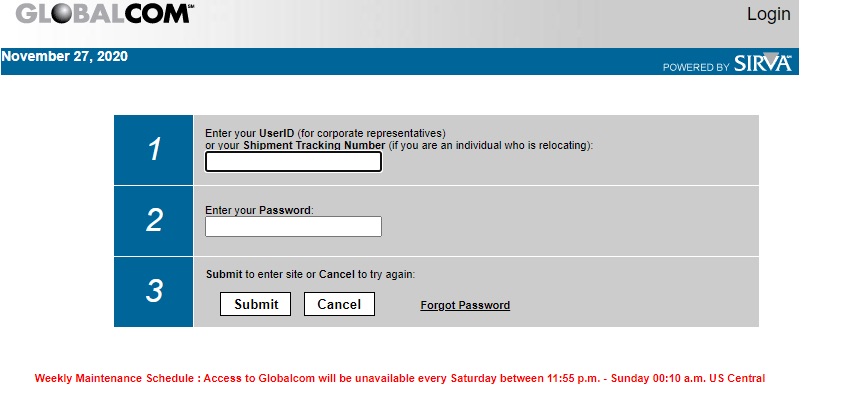 Cons
Moving staff quality can be inconsistent across the local agent network.
Storage options aren't standardized at the corporate level. As a result, local agents may not be able to provide sufficient storage services (vehicle storage, self-storage, long-term storage, etc.) for your needs.
Sales representatives sometimes fail to thoroughly explain valuation (property protection) coverage options.
National Van Lines: Pros and Cons
National Van Lines, Inc. is based in Broadview, Illinois (12 miles west of Chicago). Over the years, the company has expanded its offerings across the country and can now even assist with international moves.
What we love: ReloQuote
NVL'S state-of-the-art "contactless" estimating tool ReloQuote makes it much easier to obtain a free moving quote. With ReloQuote, customers simply use their smartphone to capture a detailed inventory of their items and generate a quote over a FaceTime call with an agent. The feedback from those who've taken advantage of this system is largely positive thanks to the convenience it affords.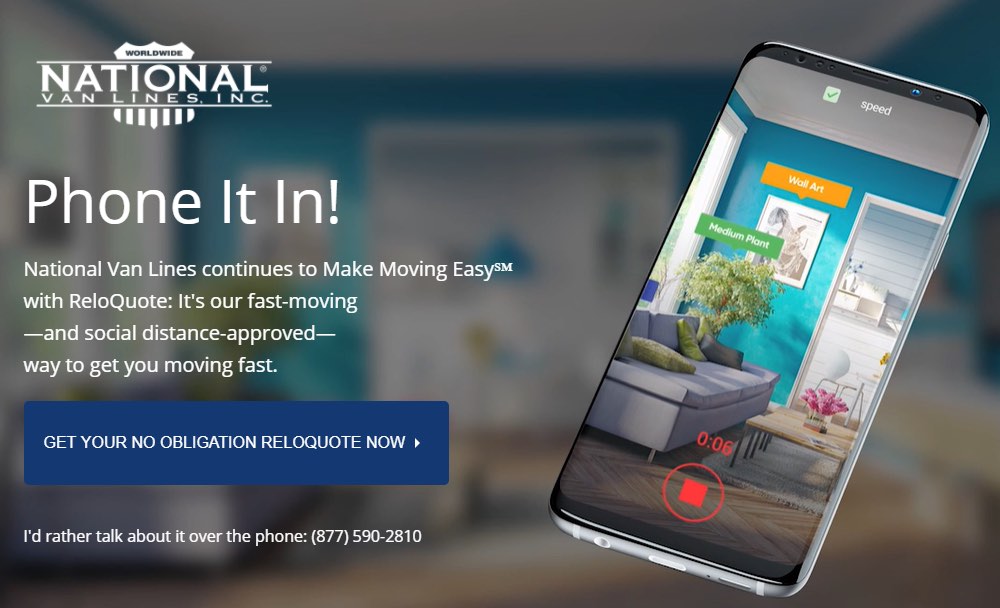 What we don't love: Service area limitations in the U.S.
National Van Lines lacks local agents in some significant parts of the country. Some of these states without agents include Arkansas, Louisiana, Mississippi, New Hampshire, Vermont, and Wisconsin. Major metropolitan areas with no local National Van Lines agent include Atlanta, Jacksonville, and Memphis.
This can become an issue if the origin or destination of your move falls into one of these "uncovered" locations. In that case, NVL would likely need to subcontract with a local moving company that hasn't been officially approved as an agent and may not adhere to the same quality standards. The company is still actively expanding its agent network, so this will hopefully improve in the future.
Pros
NVL offers specialty household goods relocation services for expensive collections, pool tables, pianos, etc.
Customer feedback suggests that local agents are often able to complete last-minute moving projects with very little notice.
They're working to expand their international moving program.
The majority of domestic long-distance moving projects are completed in less than five days.
NVL works to support charitable causes such as the Special Olympics.
Cons
It isn't possible to obtain a "ballpark" pricing estimate online without speaking to a salesperson.
National Van Lines reviews mention that some local agents use movers who may damage fragile items while loading or unloading.
Several customers have indicated that the difference between a binding and non-binding estimate wasn't properly explained, so they were caught off guard when their prices changed.
North American Van Lines vs National Van Lines: Service Offering Comparison
| | North American Van Lines | National Van Lines |
| --- | --- | --- |
| Local Moves (Intrastate) | Yes | Yes |
| Long Distance / Cross Country Moves | Yes | Yes |
| International Moves | Yes | Yes |
| Commercial / Corporate Moves | Yes | Yes |
| Military / Government Moves | Yes | Yes |
| Packing / Unpacking Services | Yes | Yes |
| Storage Services | Yes (limited) | Yes (limited) |
| Vehicle Transport | Yes | Yes |
| Moving / Packaging Supplies | Yes | Yes |
North American Van Lines vs National Van Lines: Service (Coverage) Area Comparison
Our opinion: It's a tie.
With more than 500 agents across the country, North American Van Lines seems to have local agents in the vast majority of major U.S. cities. In the case of National Van Lines, we identified areas without local agents in many U.S. states and major metropolitan areas.
However, contact information for local agents is readily available through the National Van Lines website, which can make it easier to find local support. This isn't an option with North American Van Lines.
Pricing Comparison: North American Van Lines vs National Van Lines
BEST FOR ACCURATE PRICING
Licensed
Insured
Price
rating
4.5 / 5
Check prices
(844) 950-2963
93% of users select this mover
Our opinion: North American Van Lines
Neither company provides online quotes, so you'll have to speak with a customer representative to get a quote no matter which one you choose. However, NAVL does supply some average costs to give you a better idea of what to expect, e.g., $2,300 for local moves and $4,300-$4,800 for interstate moves. Most importantly, both companies offer free quotes.
North American Van Lines vs National Van Lines: Available Discounts Comparison
Our opinion: It's a tie
Neither North American Van Lines nor National Van Lines offers any readily available discounts. However, local agents may have their own promotional discounts and/or other incentives.
North American Van Lines vs National Van Lines in Summary
North American Van Lines and National Van Lines are two of the best moving companies for local, national, and international moving and relocation services. They're widely available across the country and offer efficient moving services with good overall ratings.
However, local agents may employ staff of varying quality, and they may not be able to provide the storage solutions you require. Local moves are handled exclusively by local independent agents, but these bad moving experiences still reflect poorly on the company as a whole.
So which provider should you pick for your next move?
Bottom line: Get a quote from both companies so you know what your moving costs would be with each one, and check the customer satisfaction ratings for your local agents on Google or through the Better Business Bureau (BBB). By understanding the specific costs for your move and the quality of your specific local agents, you can make an educated decision so moving day goes off without a hitch.