United Regions Van Lines Review
Overall Opinion
United Regions Van Lines is a regional carrier headquartered in Ohio
The carrier specializes in long-distance interstate moves, including those to Alaska
The company is authorized by the GSA to move military personnel
Not recommended for: those looking for quick "ballpark" quotes
To see our recommended moving companies, check out our list of the top interstate moving companies of 2022
How does United Regions Van Lines compare to other professional movers?
| Company | Quote | Rating | Price |
| --- | --- | --- | --- |
| Best Overall Value | Get A Quote | | |
| Best industry reputation | Get A Quote | | |
| Best customer service | Get A Quote | | |
Jump to the United Regions Van Lines review section that you're looking for:
About United Regions Van Lines
United Regions Van Lines (U.S. DOT# 3749779) is a regional carrier headquartered in Columbus, Ohio. As an asset-based mover (not a broker), the company directly handles and transports its customer's belongings. The company has 25 years of moving experience and 16 registered fleet vehicles that logged more than 980,000 miles in 2021.
While the carrier handles local moves, it specializes in long-distance relocations, including those to Canada and Alaska.
The company also works closely with the government and military. With proper approval from the General Services Administration (GSA), United Regions Van Lines can relocate military personnel domestically and internationally. NOTE: Those planning a military move should confirm that their carrier has GSA approval.
The regional carrier sets industry standards with high expectations for its crews. Employees must have a minimum of 2 years of commercial moving experience and receive company certifications before working with United Regions Van Lines.  As such, the carrier offers "large company" services at local prices.
Pros & Cons
Local and long-distance moves
Moves to Canada and Alaska
GSA authorization to relocate military personnel
Free web quotes
Unclear where their home base is
No Google Business reviews
Unaccredited with the BBB
United Regions Van Lines offers a broad range of services
With more than two decades of industry experience, the company provides various moving services.
Local moves: United Regions Van Lines provides local moving services to residents of Columbus, Ohio, and those living in and around Westerville, New Albany, Pataskala, Pickerington, Canal Winchester, Lockbourne, Grove City, Galloway, and Amlin
Long-distance moves: The carrier offers long-distance services to customers across the country.  They can handle complicated moves across state lines as well as to Canada and Alaska
Military relocation: United Regions Van Lines has the General Services Administration (GSA) approval to handle government and military moves. They can relocate military personnel both domestically and internationally.  OTE: Those planning a military move should confirm that their carrier has the proper approval from the GSA to work with the government
Corporate relocation: The company has extensive experience facilitating companies transitioning their offices.  They offer traditional moving services and can help organize the logistics of keeping business running smoothly throughout the moving process.  The carrier can even relocate employees that are moving with the company
Packing and unpacking: United Regions Van Lines offers full-scale and customized packing options.  They provide the materials necessary to pack and deliver kitchen supplies, wardrobes, and unique or fragile items.  They can even sell packing supplies to customers looking to pack on their own
Short and long-term storage: The company has a variety of storage solutions available to residential and commercial customers.  They can facilitate storage on short notice and even have climate-controlled units for delicate items
How much does United Regions Van Lines charge?
Since no two moves are identical, "ballpark" pricing can be inaccurate.  Those interested in working with United Regions Van Lines should ask about a moving quote.
The carrier offers free estimates on its website.  Customers can fill out a form by providing their pick-up and drop-off locations, move size, and contact information.  They can also request a quote using the phone number, email, or contact form listed on the company's Contact Us page.
Check out our moving cost calculator to get a quote on your move and find the best movers in your area.
How is United Regions Van Lines' customer service?
The carrier is generally easy to contact.  United Regions Van Lines has extended business hours from 8:00 a.m. to 8:00 p.m. Monday through Friday and from 10:00 a.m. to 2:00 p.m. on Saturday.  The office is closed on Sunday.
Customers can ask about a free quote or book a moving appointment with a service representative using the phone number, email, or contact form listed on the company's Contact Us page.
The carrier does not promote pricing or on-time delivery guarantees.  Those needing their items delivered on short notice or on a specific date should work closely with a customer service representative and expect to pay extra fees.
Does United Regions Van Lines have a good online reputation?
While most customers appreciate the company's services, it is not an easy task to find reviews about this company.  When searched on Google Business, the company is not displayed.We get a better indication of their quality and size based on their performance on government and official databases.  United Regions Van Lines is unaccredited with the Better Business Bureau and maintains an A+ rating.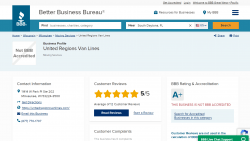 The shipping carrier has a 5 out of 5-star rating on the BBB with 12 customer reviews.  Customers regularly commend the company for its ability to accommodate the unique moving conditions of each job.
The company received no complaints in three years with the BBB or AI FMCSA. This is an impressive feat for any moving company, especially with the challenges presented to the industry in recent years.
United Regions Van Lines receives further accolades on the public review site Trustpilot.  They hold a 4.6 out of 5-star rating on the website with 32 reviews.  Customers are astounded by the professionalism of both moving crews and customer service representatives.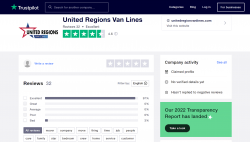 The company's website is clean and easy to navigate.  Customers will have no issues finding a list of services and contact information. They even provide insights into the company's history on their About page.
The carrier currently does not maintain a social media presence.
Is United Regions Van Lines licensed and insured?
The moving industry uses databases to collect information about various moving companies.  When assessing a moving business, we check four databases to see what information is registered and whether the company has claimed its profile.  These databases are compared alongside company websites, social media pages, and review sites (such as Yelp) to determine the moving business's credibility and transparency.
| | |
| --- | --- |
| Database | Listed (Y/N) |
| AI FMCSA? | Yes |
| SAFER FMCSA? | Yes |
| Licensing Insurance FMCSA? | Yes |
| Better Business Bureau (BBB) | Listed but unaccredited |
The services and information stated on United Regions' website are consistent with the information on these government databases.  The carrier is adequately licensed and insured and has 16 registered fleet vehicles.
However, customers may find it difficult to determine the location of the company's headquarters.  Some sites list an address in Wisconsin, others list one in Ohio, and the company lists both.
For more information on moving company regulations and why we choose to look at these databases, check out our post on how moving companies are regulated.
Should you consider United Regions Van Lines for a move?
United Regions Van Lines is a regional carrier located in Ohio. They offer a range of moving services, shipping people locally, across the country, and internationally. They provide services for residential, commercial, and military customers.
The company relies on its 25 years of industry experience to provide quality customer service. While they offer limited insights into their costs, their reputation makes up for it.  Customers can schedule an appointment or ask for a free quote using the company's website's phone number, email, or contact form.
Overall, customers looking for a quality, long-distance moving company can trust United Regions Van Lines with their belongings.  Their flexibility and attention to detail make them an excellent choice for those looking to ensure the pristine condition of their items.
For more help choosing the right moving company and getting free moving quotes, check our picks of the top-rated interstate moving companies.
Not what you were looking for?
Check out other categories that can help you find the information you need!