What is the cheapest way to move cross country?
Here's the deal with finding the cheapest way to move cross country. Most people either overpay for a cross country moving company or they do way more work than necessary just to save a few dollars.
The truth is…
There are a TON of different options for moving coast to coast.
The best option for your move depends on your budget, the requirements of your move, and how much work you're willing to do.
The cheapest way to move cross country is to rent a moving truck. However, this will mean you're responsible for driving the large truck across the country, as well as doing all of the packing, unpacking, loading, and unloading. There are other affordable options that you should consider for your cross country move, such as moving container companies.
In this guide, we'll look at the different options so your cross country move won't break the bank — or your back.
If you want to skip around, here's a quick reference to each section.
QUICK REFERENCE
Alright, let's dive in.
How much does it cost to move cross country?
The table below gives the average cost range for some of the most common cross country moving options. Keep in mind these moving estimates can vary from when you get a quote from a company.
| | 1 Bedroom | 2/3 Bedroom | 4/5 Bedroom+ |
| --- | --- | --- | --- |
| Rental Truck | $1,800-$3,000 | $2,400 – $3,500 | $3,700+ |
| Freight Trailer | $1,500 – $2,500 | $2,100 – $3,200 | $3,300 |
| Moving Container | $1,500 – $3,500 | $1,500 – $4,500 | $6,300+ |
| Moving Company | $1,500 – $4,500 | $4,000 – $7,300 | $8,200 |
Yeah, we know. Moving is expensive.
Understanding the variables that go into pricing your move can help you control costs.
Some major factors include:
Size of the move: The more stuff you move, the more it will cost. To ship the contents of a one bedroom apartment cross country you'll likely spend at least $1,500. Larger moves can cost significantly more.
Supply & demand: Moving to a popular city? Quotes will generally be higher in areas that experience more demand.
Access issues: If parking or pulling a large truck up to your residence is an issue, it may limit your moving options. Moving companies will typically charge more in these cases as well.
Time of year: Mid-May to early September is considered the busy season in the moving industry. Because of the increased demand, you can expect to pay 30-40% more for your move.
Bulky items: Hot tub? Pool table? Gun safe? These items are a pain to move and may result in extra fees when using a full-service moving company.
Region of the country: If you're moving to a rural region far from a major highway, it's likely to cost you a little more due to added transportation costs.
Move dates: The beginning and end of each month tend to be more expensive because they are in higher demand. Weekends also typically come at a premium price.
A moving cost calculator can give you a rough idea of what to expect based on the specifics of your move so you can set a budget. All you have to do is put in your moving origin, destination, dates, size, and we'll tell you how much your move should cost.
Below we'll compare the best long-distance moving options based on affordability, delivery time, storage options, insurance and convenience.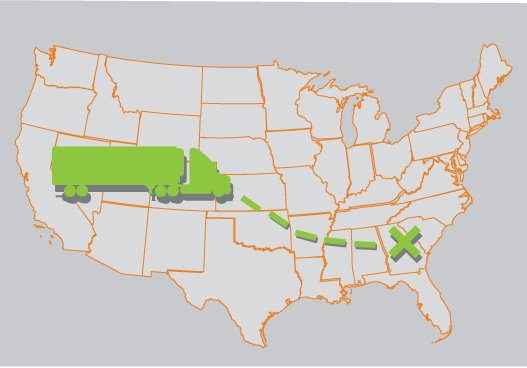 Preparing for a cross country move
Before you start getting moving quotes, take some time to think through the details of your move. Here are a few things you should consider for your moving checklist so you can better plan for your moving costs. Don't wait until the last minute to figure out your moving plan. Starting early will help you find the most cost-effective solution.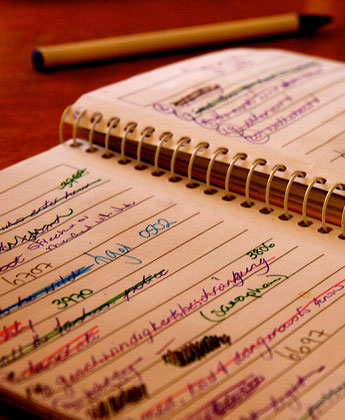 Put together a "move, trash, donate, sell" list — Create a list of everything you have and determine whether to move, donate, trash, or sell each item. Declutter so you have less stuff to move! A garage sale can also help pay for your moving expenses.
Nail down a move-out date — Do you need to move on a specific day? Can you move anytime within a week? Flexibility with your moving day can save you money. It's always a good idea to at least give yourself a one-day cushion. Moving mid-week or during the off-season (fall or winter) can also help you get a lower rate.
Pick a move-in date — How soon do you need everything? Unless you're driving everything yourself, most cross-country moves are going to take 10-14 days to get delivered. If you don't have a place to live already lined up, you'll want to consider storage options as well.
Know all your move-out/in policies — Does your apartment or homeowners association have specific moving requirements? This could include parking restrictions, elevator reservations, insurance requirements, or notification of your move-out date. Talk to your landlord or HOA board to confirm these details.
Ballpark the dollar value of everything being moved — To help you think through insurance options, you'll want to understand how much everything being moved is worth. Websites like EBay and Craigslist can help you determine the value of used items.
Don't forget about additional expenses — Travel expenses, housing expenses (cleaning services, security deposit), packing material expenses (boxes, tape, etc.), and any other move-related costs should also be included in your total move budget.
Moving cross country in a rental truck
Renting a moving truck from U-Haul, Penske, or another van line is the go-to choice for the "do-it-yourself" crowd, and it is usually the cheapest option. Of course, you'll be fully responsible for packing your household goods, loading and unloading the truck, and driving it cross country. The quality of your moving experience will ultimately depend on your own know how and your ability to manage a move solo.
Let's break it down:
Affordability — Renting a truck typically costs thousands of dollars less than alternatives, especially for moving a 2 bedroom home or larger. Most rental trucks charge a flat rate plus a per-mile fee. Of course, you'll also need to pay for gas, food, and hotels as you drive across the country.
Delivery time — Since you're responsible for driving, renting a truck is the most accurate and typically fastest way to ship goods cross country.
Storage options — Truck rental agencies will typically only rent the truck out for 9-12 days maximum. The only storage option when renting a truck is to rent a local storage unit and unload everything into it.
Insurance — Rental truck companies offer coverage options for accidents and catastrophic events like water damage. "In-transit" damage like a scratched dresser or crushed box is not covered.
Convenience — A rental truck is the truest DIY move, as you'll need to load and drive the truck, as well as obtain your own packing supplies. Unless you can find a friend to drive for you, driving a truck 2,000+ miles cross country can make a truck rental the most inconvenient option for moving. This is why many people prefer to only use rental trucks for local moves.
How to use freight shipping to move coast-to-coast

Using a freight trailer from a company like U-Pack to move cross country is similar to renting a truck — but with no driving involved. You load the trailer and the freight company will drive it door-to-door.
Let's break it down:
Affordability — For 1-2 bedroom apartments or homes, freight can often be a more affordable alternative to renting a truck. For moving a 2 bedroom home or larger property, freight is a good alternative to hiring an interstate moving company.
Delivery time — A major benefit of freight is fast and accurate shipping times. Expect 8-12 days to ship cross country.
Storage options — If you only need up to 3-4 months of storage, freight companies are a good option. Longer term storage is usually too costly or not available.
Insurance — Freight companies offer coverage options for accidents and catastrophic events like fire or flooding. Contents coverage for "in-transit" damage may be available, but it may not always cover damage caused by poor packing.
Convenience — If you're not comfortable with driving a rental truck across the country, freight offers a perfect balance between do-it-yourself and full-service moving.
Using a portable storage container to move cross country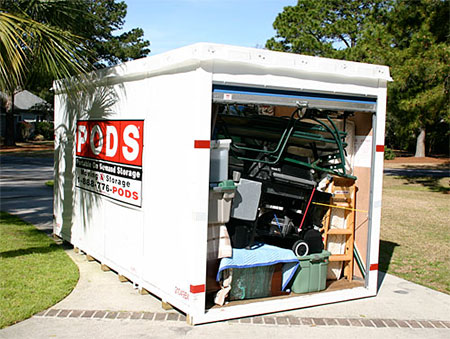 Portable storage containers such as PODS have become quite popular in recent years. Like freight shipping, they offer a great mix of DIY and full-service moves. The moving container company will drop off the container, giving you a few days to load it. They will pick up once you are ready, then transport it to your new home, where you can unload it yourself. If your move involves long-term storage, containers are a great option.
Let's break it down:
Affordability — Portable storage containers offer competitive pricing for small to midsize moves or moves that require long-term storage. Moving container companies become less affordable as the move gets larger and multiple container units are required.
Delivery time — Similar to freight, a major benefit of moving containers is fast and accurate shipping times. Expect 8-12 days to ship cross country.
Storage options — Containers are an excellent option for both short and long-term storage. Your items can be kept in the storage container until you are ready to have them delivered to your house for unloading.
Insurance — Container companies offer coverage options for accidents and catastrophic events like fire or flooding. Contents coverage for "in-transit" damage may be available, but it may not always cover the full value of your items.
Convenience — The ability to have all your goods shipped and stored multiple times in the same container is a big perk of containerized moving. The days of moving everything in and out of a storage facility are no more.
Hiring a professional moving company
Most of us would prefer to have someone else handle the pains of moving, and that's exactly where professional moving companies come in. Cross country movers will handle all the heavy lifting, furniture disassembly, and even pack your household goods if requested, taking a lot of the hassle out of moving.
However, the convenience of full-service movers comes at a higher price and with some disadvantages compared to other options.
Let's break it down: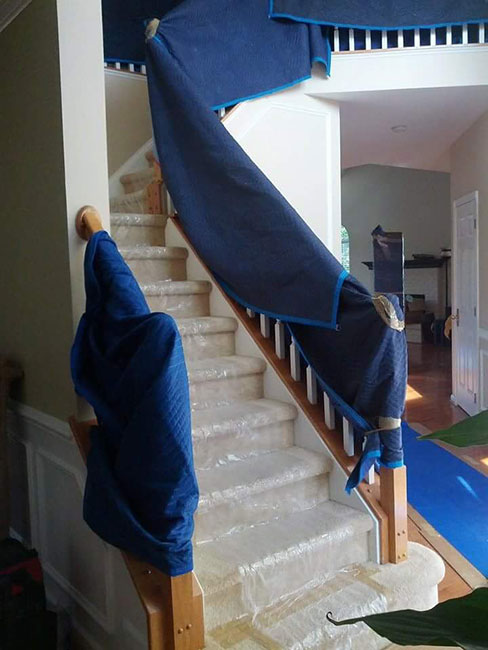 Affordability — Cross country moving companies are going to be your most expensive moving option in most cases because of all the work they provide (such as packing services, loading the truck, and so on).
Delivery time — Long-distance movers tend to be the least timely option when shipping long-distance. Delivery estimates can range from 3-21 business days.
Storage options — Storage will depend on the individual moving company, but most providers have some storage services available for an extra fee.
Insurance — Full-service moving companies will offer a variety of coverage levels and deductibles for you to choose from. The coverage is far from all-encompassing, but movers provide more coverage for lost or damaged items when compared to other moving options. Their years of experience also mean your stuff is less likely to get damaged while in transit.
Convenience — The only hard part about using a professional mover is finding a good cross country moving company. The research and booking process can take some work. But once you've booked a mover, you'll enjoy a stress-free process. Many moving teams even offer car shipping and other value-added service options to give you peace of mind.
Other cross country moving options
Finally, there are a few less common options for moving across the country. When trying to evaluate your potential costs, these choices may be worth considering as well.
Tow behind trailer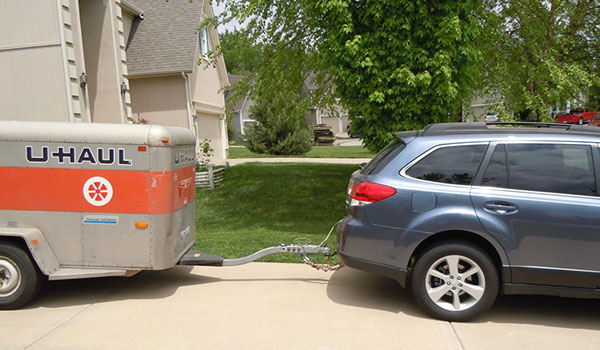 Many will say this is the cheapest way to move cross country. If you rent or buy a tow-behind trailer to hitch to your vehicle, you can save a lot of money on a long-distance move. However, tow-behind trailers are limited in size — most are typically only suitable for moving the contents of a studio apartment or 1-bedroom apartment.
If you're not careful, trailers can be dangerous, as they increase your turn radius and stopping distance. If you don't have experience hitching and driving with a trailer, do not try to learn on a 1,500+ mile moving adventure. Trailers are responsible for a lot of accidents. Make sure you understand how to safely drive with a trailer before using this option.
Moving labor services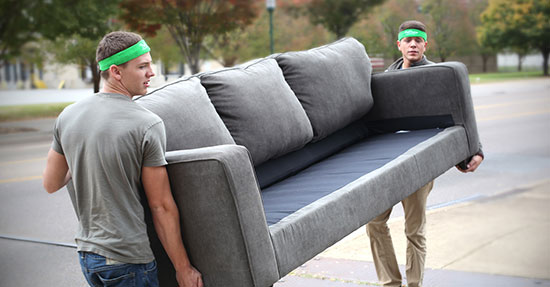 Need some help loading a rental truck or packing a moving container? HireaHelper is a marketplace where you can hire movers to help you on an hourly basis. Using moving labor services in conjunction with a truck, moving container, or freight trailer rental could be cheaper than paying for full-service movers.
However, these moving services aren't readily available in all areas — and they will still be more expensive than loading your truck yourself.
Finding the cheapest way to move cross country
One of the hardest parts of the moving process can be finding the cheapest way to move cross country. Depending on your needs, cheap ways aren't necessarily going to be the best for your needs. Cross country moving services from a professional long-distance moving company may be more expensive, but sometimes the added cost is worth the reduced hassle.
In reality, the total cost of your moving expenses will likely include more than just a moving truck or portable moving container rental. You'll generally need to budget for moving supplies like bubble wrap and other potential expenses like gas or airfare to your new location.
Even after you decide on how you want to move, it's a good idea to get free quotes from multiple cross country moving companies so you can compare your options. With careful planning, you'll be able to find the best and cheapest way to move cross country.

Not what you were looking for?
Check out other categories that can help you find the information you need!
See All
Hide All