Flee the Cold or Embrace It in One of These 20 Winter Getaway Cities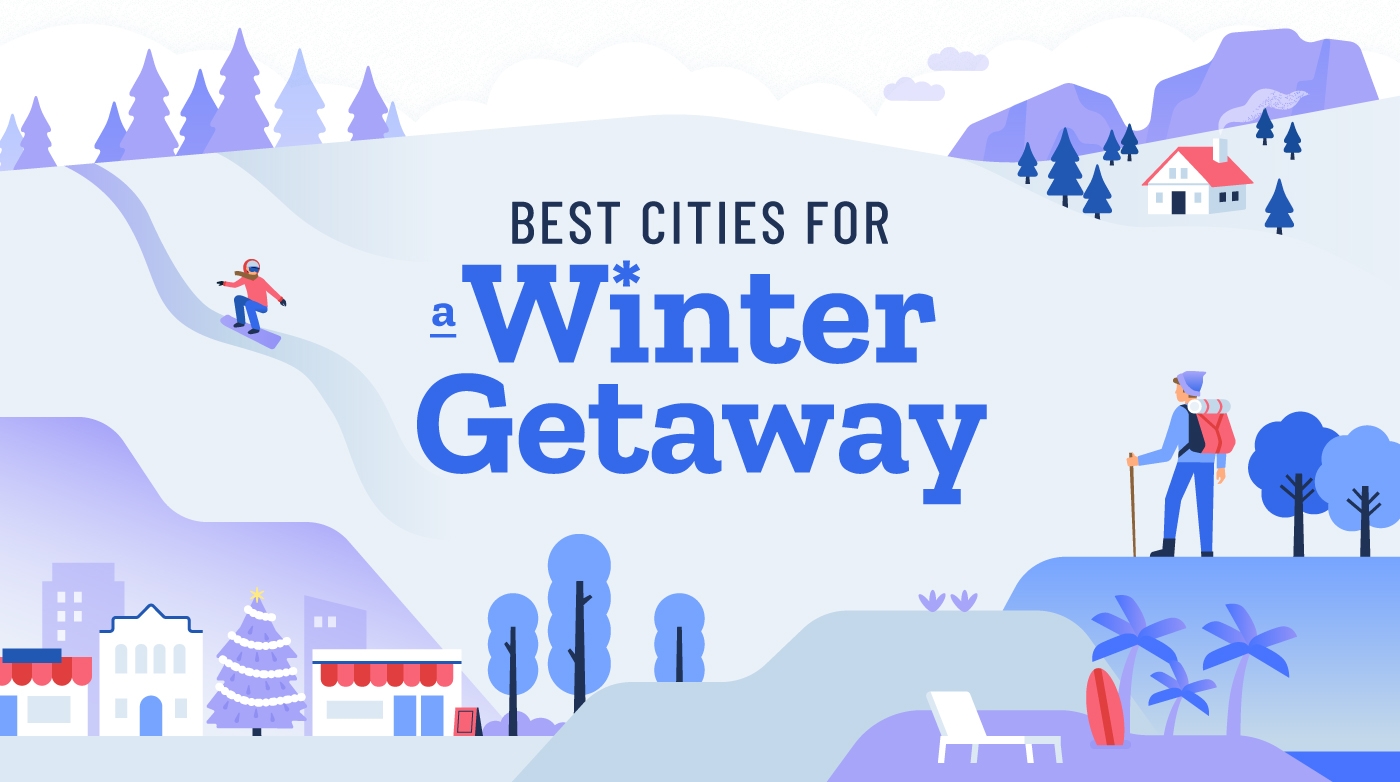 Whether you love or hate winter weather, we can all agree that the holidays are often hectic and stressful. If winter festivities (or maybe it's the food?) raise your blood pressure each year, retreating to a winter vacation home may be just what the doctor ordered.
For some, a winter getaway means getting as far away as possible from frighteningly chilly weather and heading somewhere warm and sunny. For others, no wintertime trip is complete without hitting the snowy slopes.
So, we looked at a variety of weather conditions and winter activities in American cities to find the best locations for holiday season vacation homes, regardless of your temperature and activity preferences. We've divided these into 4 distinct categories :
Snow & Slope
Sun & Sand
Cozy & Cuddly
Trails & Trekking
Here are the cities that stood out within each category in our ranking: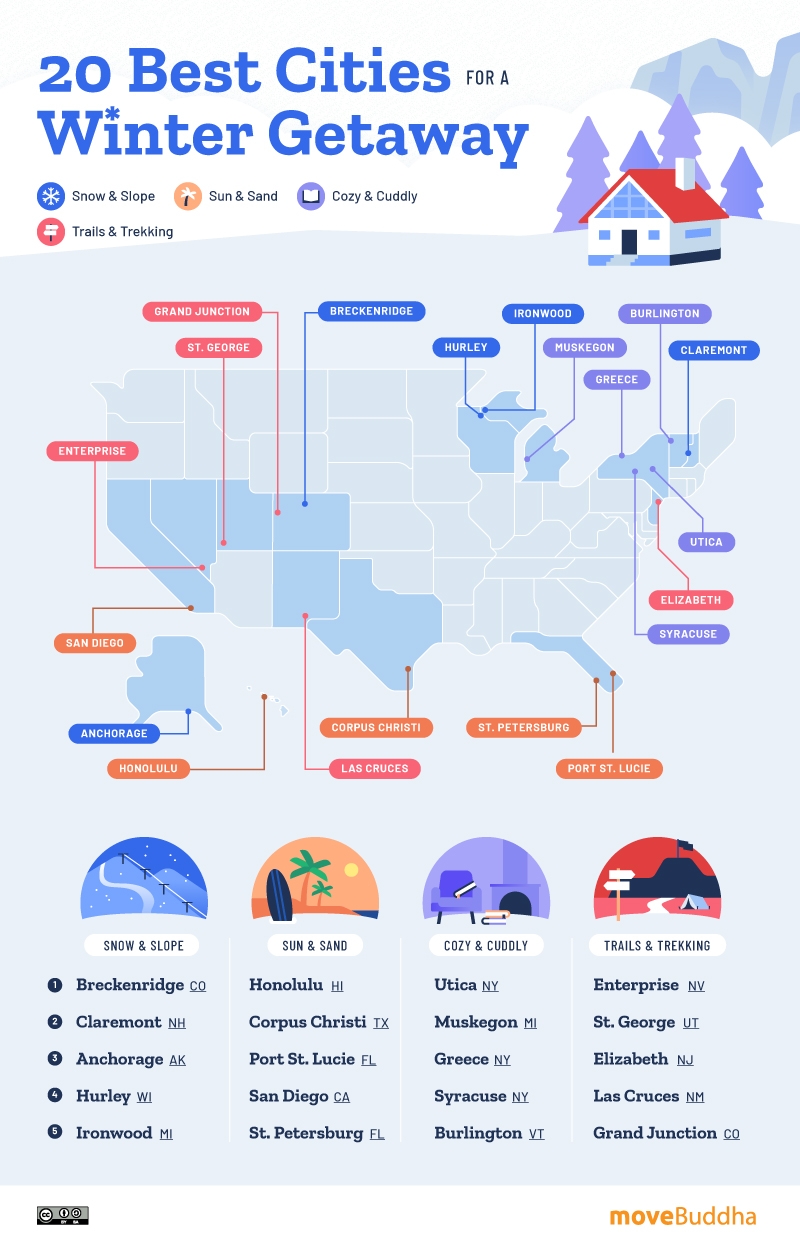 Click here to see our detailed Methodology.
Key findings
Depending on your budget, Breckenridge, CO and Ironwood, MI are the best cities for ski buffs to get away for the winter. Both locations get over 100 inches of snow per year and have winter temperatures that are ideal for skiing. But while the average home price in Breckenridge is $1.2 million, a home in Ironwood will only put you back $59k.
Is your idea of a winter getaway curling up by the fire with a mug of hot cocoa and a book after building a snowman? Upstate New York cities Utica, Syracuse, and Greece offer a comfy, cozy pace of life for those looking for the perfect place to hibernate this winter.
Want to flee the cold and catch some rays this winter? Those with bigger budgets can head to Honolulu, HI, whereas thriftier buyers will feel at home in Corpus Christi, TX. Neither city will be anywhere near freezing, so you can enjoy some long barefoot walks on the beach.
Want to be active this winter, but not a big fan of snow? Enterprise, NV is the ultimate location to enjoy warm and sunny winter weather by hitting the many nearby hiking trails.
If all you want for Christmas is your own winter vacation home…
For many Americans, the pandemic has brought attention to their need to escape from the stress and mundanity of day-to-day life. A vacation home can provide just that: a safe haven away from the stressful influences of the everyday.
These trends have contributed to a real estate market unlike anything the industry has seen before. According to Realtor.com, purchases of vacation homes rose 46% in the first quarter of 2021 compared with 2020. What's more, many people are paying for them in cash. CNN reports that this is the case for more than half of home purchases these days.
Your perfect winter vacation home will depend on several factors, from your temperature and activity preferences, and especially in the midst of such a competitive real estate market, your budget. If you are on the market for your own winter getaway property, here is the cash you should have on hand in our top ranking cities: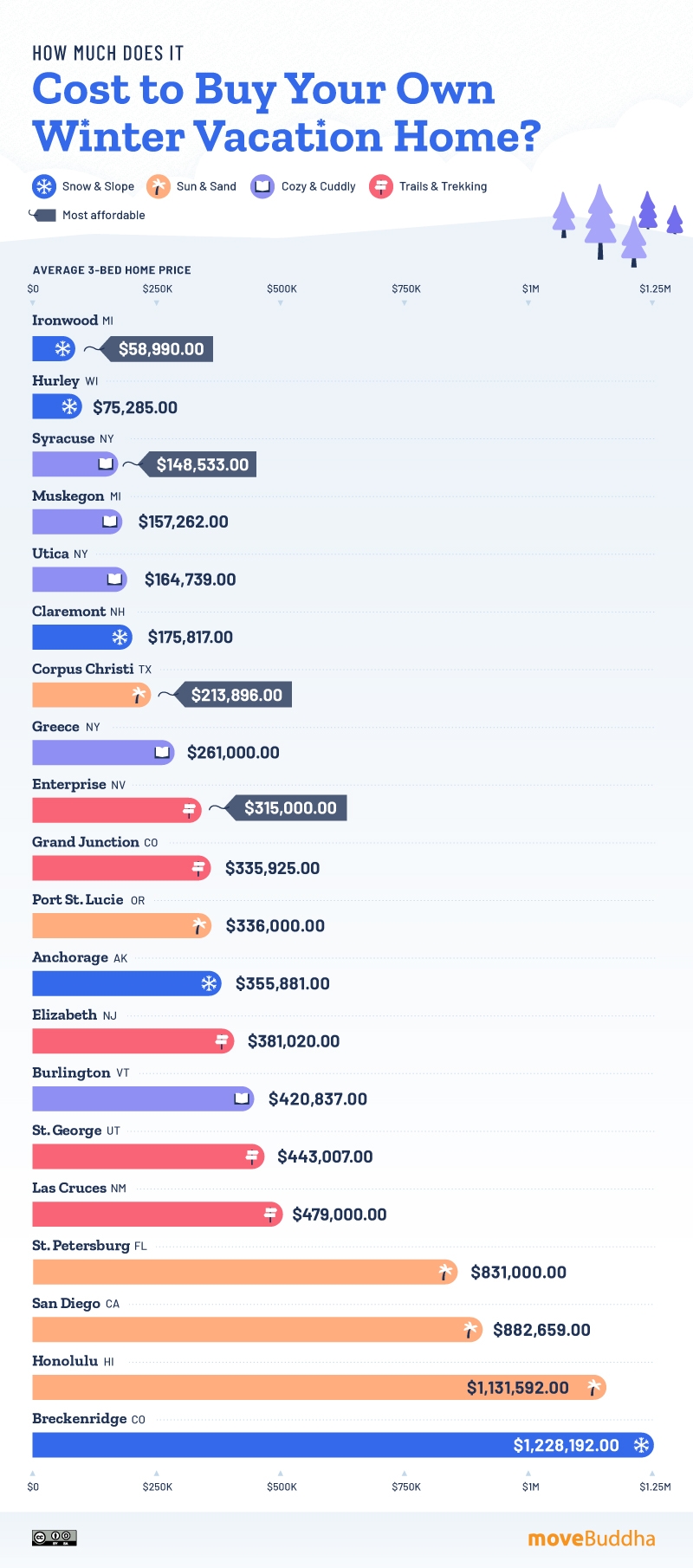 Snow & slopes: Best cities for ski buffs and snow bunnies
To find the best winter getaway cities for ski buffs, we looked at American cities with the ideal winter temperature range for skiing (20-30°F), the highest annual average snowfall, and the highest concentration of nearby ski resorts and ski lifts.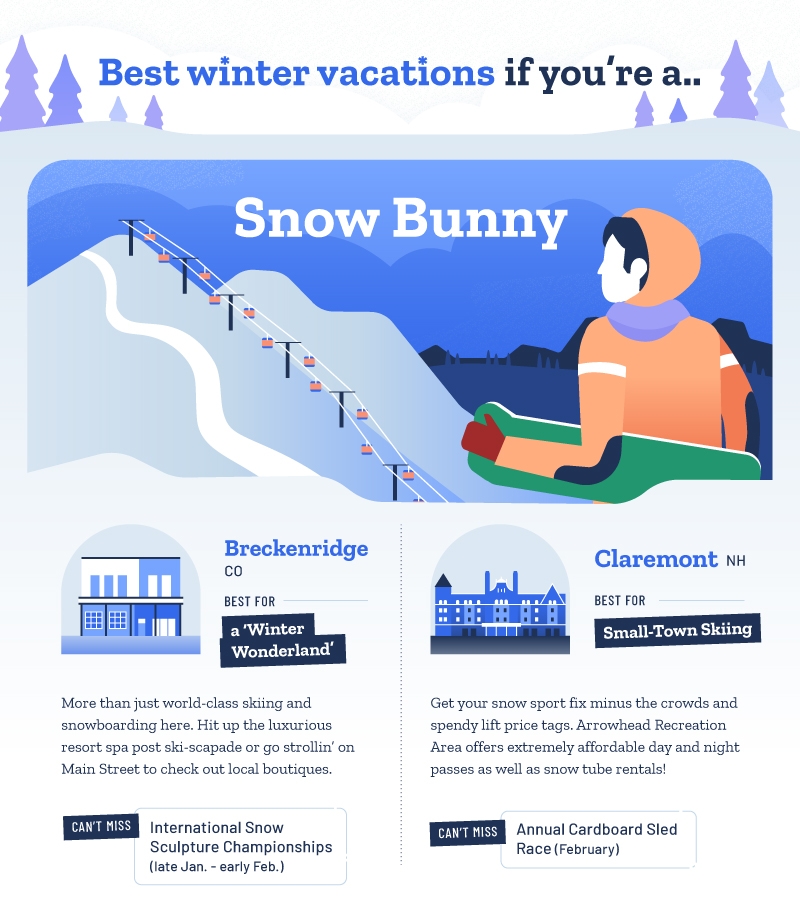 Want to be where the action is this winter? Our number 1 location, Breckenridge, CO is a veritable paradise for skiers. Among America's most beloved ski destinations, Breckenridge is located within 20 miles of four different highly-rated resorts. While only 4,600 residents live in Breckenridge year-round, the city truly comes alive during the winter, reaching a population of 36,000 during peak ski season.
But a winter home in one of the country's most famous ski towns will come with a hefty price tag. Homes in Breckenridge sell for an average of $1.2 million.
But cash-strapped ski buffs need not worry! The second and fifth locations on our list not only have perfect temperature conditions and over 100 inches of snowfall each year, but they also have especially inexpensive real estate markets The small midwestern cities Ironwood, MI and Hurley, WI are both located nearby four ski resorts a piece, and homes go for less than $100k.
In the middle price range are our third and fourth-ranked locations: Claremont, NH and Anchorage, AK. Both offer a more urban setting, nearby access to multiple ski resorts, and not to forget, ideal weather for perfect powdery slopes.
Sun & sand: Best for beach strollin' and warmer weather
Looking to warm your frostbitten toes in the sand of a sunny beach? To find the best winter home vacations for those who want to flee the cold, we looked at American cities with the warmest winter temperatures, dew point, and the greatest access to beaches.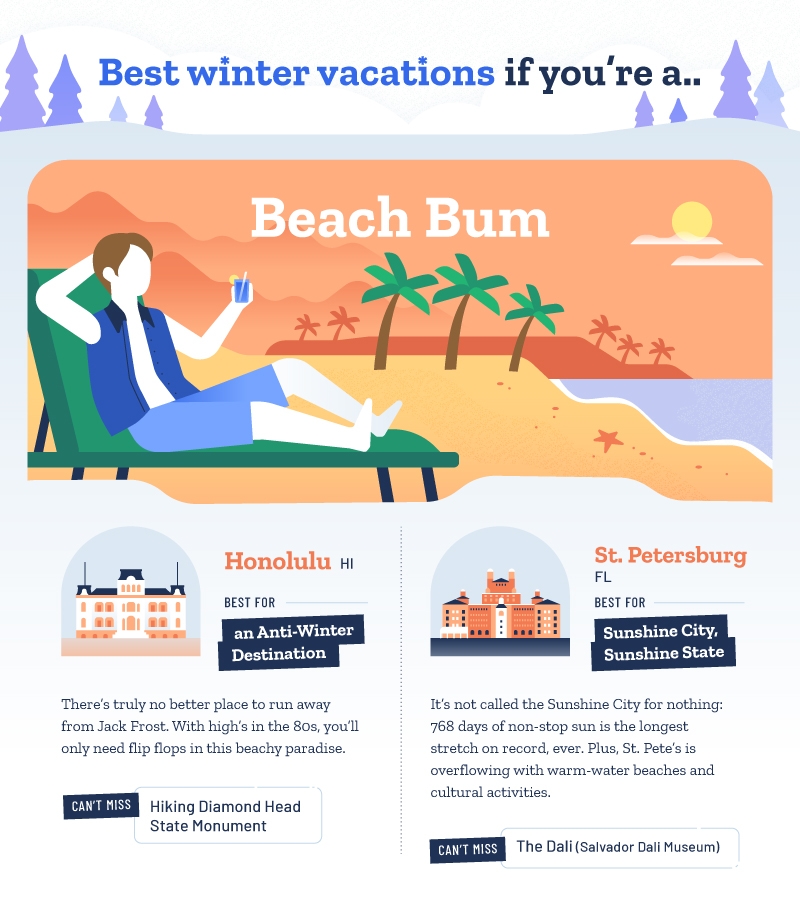 It doesn't get much more tropical than 81°F in Honolulu, HI. The top-ranked location on our list has 271 days of sunshine each year and a swimming season that extends from January 1st through December 31st. Plus, this island city has over 112 beaches – so you are never far from hearing the ocean waves.
But a winter home in one of America's most beloved year-round vacation destinations will cost you. In Honolulu, the average home sells for $1.1 million.
For a more affordable sunny winter vacation home, our second and third-ranked cities also offer warmth and oceanside views. In the mid-sized cities of Corpus Christi, TX and Port St. Lucie, FL, you can enjoy 70°F winter days and dozens of sandy beaches with average home prices of just $213k and $336k respectively. Those who love to swim will be more at home in Port St. Lucie, however, where the water temperature in winter doesn't dip below 73°F. At 64°F, the gulf waters in Corpus Christi may be a bit too chilly for a winter dip.
For balmy big city vibes, you can soak up the sun next winter in San Diego, CA or St. Petersburg, FL. Beaches abound in both, and homes in both locations sell in the mid-$800k range.
Cozy & cuddly: Best for bookworms and idyllic winter landscapes
Looking for a winter vacation home that perfectly embodies those famous words: ♫ Oh the weather outside is frightful, but the fire is so delightful ♫ ? For those who want to hibernate through the winter with a good book and a steaming cup of hot cocoa, we looked at American cities with the highest annual snowfall as well as high concentrations of book shops.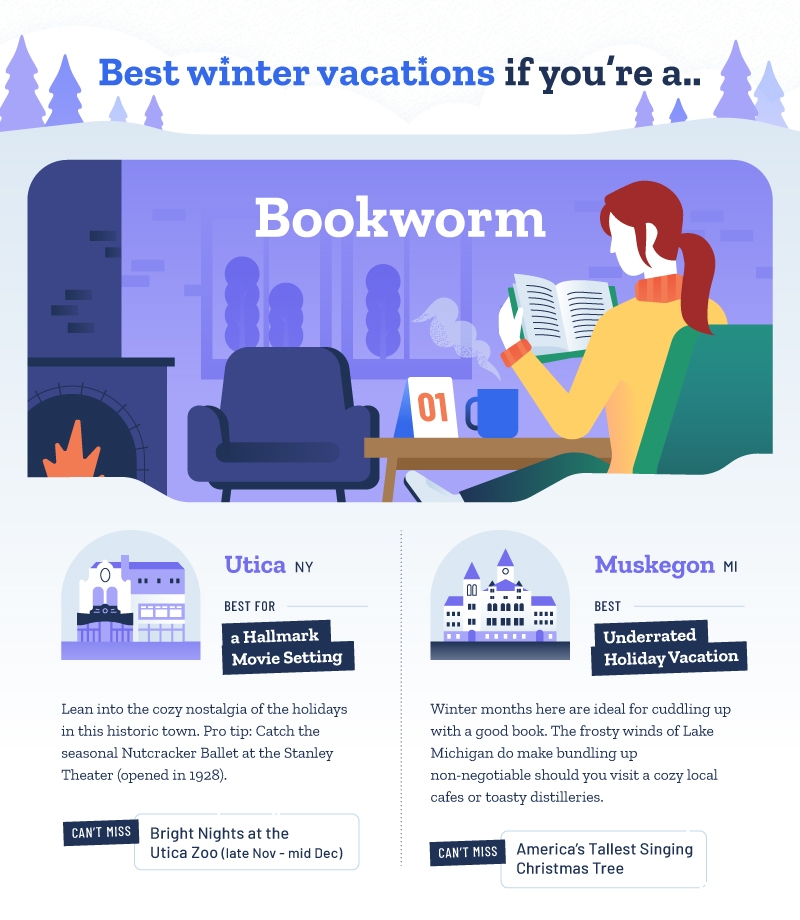 Upstate New York near Lake Ontario is the ultimate location for an ultra-cozy winter home. Our first, third, and fourth ranked cities are located here: Utica, Greece, and Syracuse. You'll have plenty of snow to build forts and snowmen with, as each of these cities are accustomed to accumulating over 100 inches of frozen precipitation each year.
Wintery bookworms will adore Muskegon, MI. Located on the banks of Lake Michigan, this mid-sized city has nearly 23 bookstores per 10k residents. Surely you'll find a compelling read or two to keep you occupied while buried under 86 inches of annual snowfall.
The fifth location on our list is the idyllic Burlington, VT. Vermont's largest city is the coldest of our top 5 locations for a cozy winter vacation home, with average low temperatures in the winter dipping to 27.7°F. But between all the delicious cideries and beautiful New England architecture, you'll find plenty of holiday joy to keep you warm.
Trails & trekking: Best for active vacationers and hiking enthusiasts
Want to stay active through the winter? We hear you. Also not a big fan of winter sports? We also hear you. To find the best winter vacation homes for those who prioritize excellent hiking opportunities, we analyzed cities for comparatively warm winter weather, low snowfall, and high rates of hiking trails and golf courses.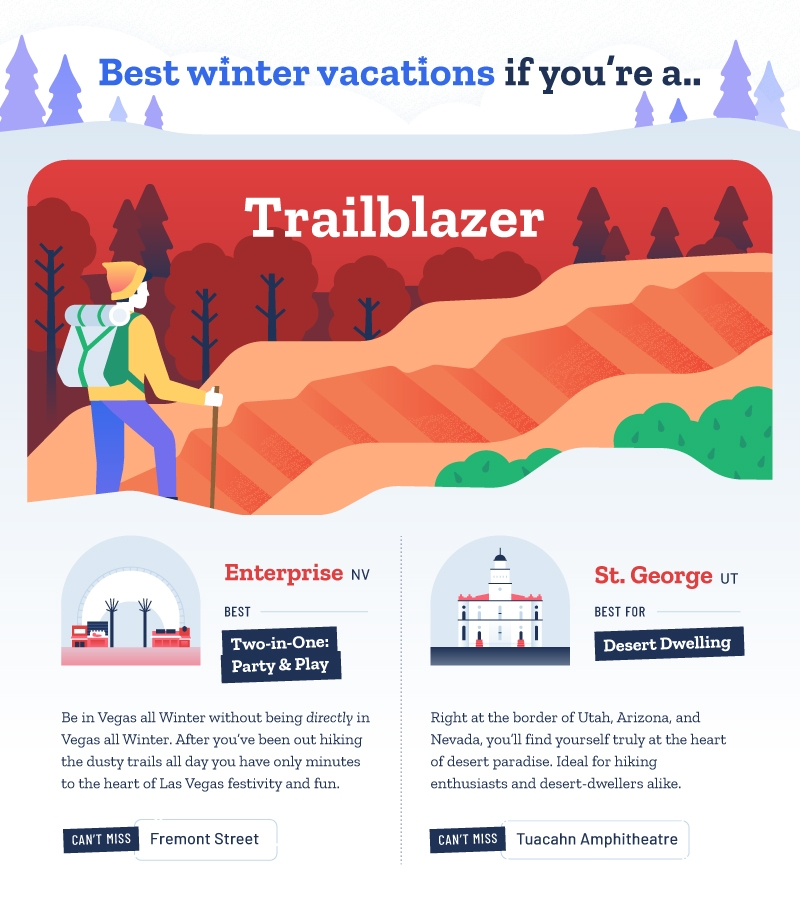 Sunshine-loving, outdoorsy folks should head to the Mountain West and Southwest. Four of our top five ranked cities are located here.
Our top-ranked city for a trail- and trekking-friendly winter home is Enterprise, NV. Located southwest of Las Vegas, Enterprise has easy access to Vegas's plentiful golf courses and also some of Nevada's most striking parks, including Red Rock and Sloan Canyons. Plus, with 292 days of sunshine per year and a famously affordable regional real estate market, there are certainly worse places to spend the winter.
Our second city, Saint George, UT, is a hiker's paradise. Located at the convergence of three distinct geological areas (the Mojave Desert, Colorado Plateau, and Great Basin), Saint George is also nearby both Zion and Grand Canyon National Parks. Plus, snow hardly ever falls in Saint George, with the annual average sitting at just 1.5 inches per year.
Elizabeth, NJ may seem like an outlier on this list. But while our third-ranked city may be right on par with the national average in terms of snowfall, days of sunshine, and winter temperatures, it is also located in one of the greenest, most hikeable regions of the country. The only New Jersey city to be named one of "America's Greenest Cities" by Popular Science, Elizabeth offers easy access to as many as 114 urban and scenic hiking trails that are accessible in the winter, too.
Desert mountaineers will feel right at home in our fourth and fifth-ranked cities: Las Cruces, NM and Grand Junction, CO. Though winter nights in the desert can easily dip below freezing, these locales make up for it with mountainous views and plentiful sunshine. Las Cruces residents have access to three different mountain ranges, while Grand Junction is located nearby the picturesque canyons and mesas of the Colorado National Monument.
Method and sources
For each factor, a relative weight of 0-10 was assigned.
Snow & Slope
Factors –
Final ranking –
Included all cities with ski resorts within vicinity regardless of size (cities as small as 1000K population included)
Cities were grouped by county
Only the highest scoring city per county ranked
Sun & Sand
Factors –
Average high temperature for Nov-Feb (full points awarded to all locations with average temps exceeding 70°F) [Best Places]
# nearby beaches [S. EPA]
Final ranking –
Cities ranked with double weight for beach access
Cozy & Cuddly
Factors –
High temperature average for Nov-Feb (lower temp = higher score) [Best Places]
Low temperature average for Nov-Feb (lower temp = higher score) [Best Places]
Average annual snowfall [Best Places]
Dew point temperature average for Nov-Feb (higher dew point = higher score) [Best Places]
Bookstore density by population [Google Places API]
Final ranking –
All scores averaged with equal weight.
Trails & Trekking
Factors –
Low temperature average for Nov-Feb (higher temp = higher score; full points were awarded to all cities with temperatures exceeding 40°F) [Best Places]
Dew point temperature average for Nov-Feb (higher dew point = higher score) [Best Places]
# of hiking trails [All Trails]
Final ranking –
The temperature factor was double-weighted; all remaining factors were normal weight.
Cities were grouped by county
Only the highest-scoring city per county ranked
Not what you were looking for?
Check out other categories that can help you find the information you need!
See All
Hide All