Which type of moving estimate is the best?
Long distance moving company estimates can be confusing.
From weights and cubes to binding and Not-to-Exceed, there's a daunting amount of jargon.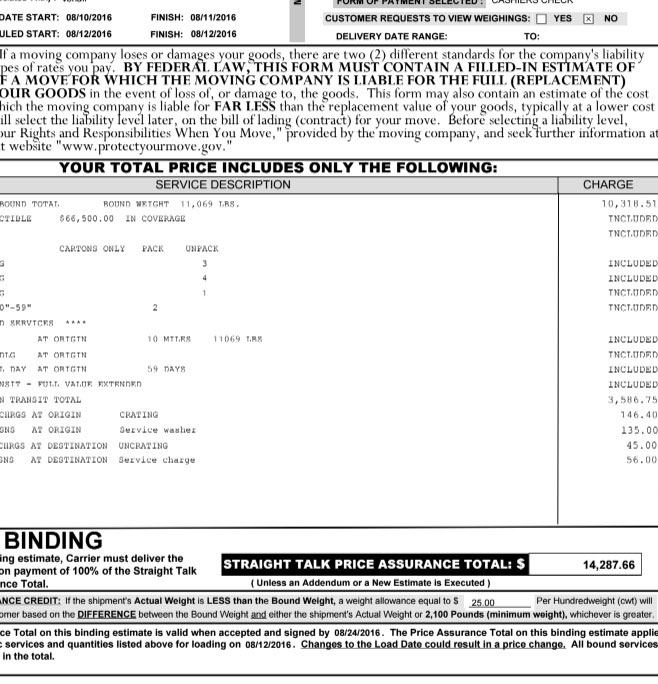 So, which type of estimate is the best for your move?
This question comes up a lot and it's the wrong question.
Here's the deal:
The terms of the estimate don't actually matter that much.
Say what?
Don't get me wrong, you should understand how your moving estimate is set up, but your first priority should be finding a quality moving company.
Let me explain.
Good moving companies don't like surprises.
They try to be as accurate and detailed as possible with their quotes.
A good mover will help guide you on which estimate type is the best for your specific move and let you know ahead of time about any potential for additional costs.
Good moving companies sell on service and attention to detail.
Bad moving companies will focus on the contract terms and guaranteed pricing.
Bad movers will rush the estimate but reassure you the price is binding.
It says it on the paperwork!
The truth is, pretty much any mover can wiggle their way out of a guaranteed price regardless of how ironclad the paperwork may look.
So your top priority should be finding a honest moving company.
And yes, we made a list of the best moving companies.
Once you've found a great mover, you should still know how the estimates work.
The best way to understand moving estimates is to look at how each type of estimate plays out when you hire a good moving company versus a bad moving company.
Let's get started.
moveBuddha says:
The one who seeks the lowest price will get the lowest service.
In-home vs Video vs Phone Moving Estimates
The first thing to consider is how was the estimate done? Let's look at how good and bad movers will perform their estimates.
Good Moving Company
Good movers will come out to your house and do a walk through inventorying every item. Some of the more forward-thinking companies may request to do a video estimate with you over Facetime or Skype.
Both in-home and video estimates are two accurate ways to get a moving estimate.
Some movers to consider:
| Company | Quote | Rating | Price |
| --- | --- | --- | --- |
| Best Overall Value | Get A Quote | | |
| Best industry reputation | Get A Quote | | |
| Best customer service | Get A Quote | | |
Bad Moving Company
Bad movers will do everything over the phone. While you can usually get a decent inventory of furniture over the phone, it's very difficult to estimate how many boxes your move will require without seeing your stuff.
Estimates over the phone tend to be much less accurate and detailed which can lead to problems on moving day.
In rare cases, for very small moves (just a few items) or last-minute situations, the mover may have to do a phone estimate. For these situations a phone estimate is understandable. Otherwise, you should always require a visual estimate be done before quoting.
Once the mover has an accurate inventory of what you're moving, next they'll set you up with one of three types of moving estimates.
moveBuddha says:
If it can't be seen, it can't be quoted.
Non-binding Moving Estimates
For non-binding estimates, the total price you pay is based on the final weight of your move. Huh?
Many people get confused by this. How does the moving company weigh a 3 bedroom house worth of furniture crammed into a truck?
It's actually pretty simple. They weigh the entire truck empty, prior to loading. And then weigh it again after everything is loaded. The difference is the total weight of the shipment.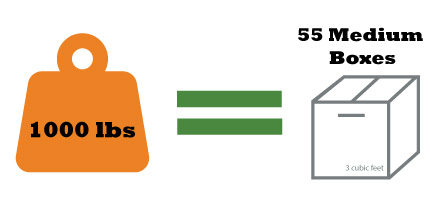 Movers will typically opt to give a non-binding estimate if they don't have enough details about the move to guarantee a price.
For example, if nobody will be at the house until moving day or everything is in a big storage unit where inventorying the items is difficult, a mover may opt to give a non-binding quote.
Generally, non-binding quotes should be avoided. But, just in case you do need a non-binding estimate, let's look at how good and bad movers handle this type quote.
Good Moving Company
Good movers will do their best to guesstimate the weight of the move beforehand to give you an approximate cost and rate per pound.
They'll weigh the truck before and immediately after everything is loaded and provide you with both weight tickets certified by the Department of Transportation.
Your final bill is adjusted up or down based on the total weight. If your move is overweight, the mover will require you to pay 10% of the overage cost at delivery and the rest within 30 days. If the move is underweight, the mover will reduce the overall cost accordingly.
Bad Moving Company
Non-binding quotes are a field day for shady moving companies.
Common tricks include…
Filling up the gas tank right before they weigh your shipment to increase the weight.
Picking up other moves before they weigh your move to increase the weight.
And worst of all, forging weight tickets.
And bad movers will almost always ask for full payment in cash or certified check before they start unloading your items at delivery.
If you need a non-binding estimate, picking a good mover is extremely important.
Binding Moving Estimates

Binding estimates are a fixed price regardless of the final weight of the move. If the final weight is higher or lower you pay the same price.
Most customers prefer binding estimates because it gives them certainty on what their move will cost.
But, as usual, binding quotes are only as good as the company behind them.
Good Moving Company
Good moving companies will stick to the agreed upon, binding price.
However, there are still a number of legitimate reasons why your moving qoute can increase.
Adding items on move day, adding additional pick-up stops, or not being properly packed are common reasons why binding moving quotes can increase on move day.
So, be sure to plan well and communicate all requirements to your mover ahead of time.
Bad Moving Company
Binding quotes are a favorite of shady moving companies because they can reassure customers without really committing to anything.
You'll often hear their sales reps say, "Don't worry about that, the price is guaranteed on the paperwork."
The reality is a binding quote is only binding based on what's on the paperwork. So if any details are missing then the mover has the right to break the quote.
And there are always details missing on the paperwork when working with a bad moving company.
Before you know it, the quote you thought was binding is suddenly double on move day.
moveBuddha says:
A guarantee is only as good as the company behind it.
Binding Not-to-Exceed Estimates
Not all moving companies offer Binding Not-to-Exceed estimates but they are the most customer-friendly moving estimate.
Not-to-Exceed estimates set a maximum price but also allow for your price to be reduced if the move ends up being underweight.
For example, let's say you get a quote for 8,000lbs at $1 per pound. Your Binding Not-to-Exceed price is $8,000. If the move is 10,000lbs you'll still pay $8,000. But if the move is only 7,000lbs your price will be reduced by $1,000 saving you a lot of money.
Moving companies don't always offer Not-to-Exceed estimates right away so be sure to ask your mover about them.
And similar to binding estimates, bad movers will use the same tactics to get around Not-to-Exceed estimates and charge you more money.
So, if you take nothing else from this article, please choose a good moving company!
Not what you were looking for?
Check out other categories that can help you find the information you need!