How Does Shyft Moving Work?
Shyft Moving was founded in 2015 in the San Francisco Bay Area by Erik Christensen, Max Terry, Daniela, and Alex Alpert.
Now headquartered in Miami, Florida, Shyft Moving is a "fintech-powered marketplace for the global moving industry."
Specializing in local, long-distance, and international relocation services, the company's online marketplace facilitates interactions between customers, administrators, human resource professionals, and vendors (like movers).
Shyft claims to have successfully "automated and redefined the end-to-end moving process."
The question is, have they?
Before reading on, take a moment to check out these helpful pre-move resources –
Best interstate movers

– With so much at stake, hiring a top-rated long-distance mover with verified customer reviews is imperative

Best moving container companies

– It's simple. You load and unload, they drive, and you save big bucks
Moving cost calculator – Enter your move dates, origin and destination cities, and the estimated size of your move, and the magic algorithms will do the rest
How Shyft works
Shyft was founded to transform the moving industry, and they seem to be off to a great start. 
On the downside, the moving business has always been plagued by spotty service, inaccurate estimates, and an overall lack of transparency.
Shyft claims to have addressed these and other persistent issues by –
Leveraging state-of-the-art technology
Offering superior customer service (each transferee has a move coach)
Creating efficient solutions for generating and managing leads
It's worth noting that these talking points are used by nearly all movers and brokers, so they should be taken with a grain of salt.
Shyft gets plenty of positive reviews
Shyft has racked up nearly 20,000 perfect reviews in just a few years. 
Unsurprisingly, customers consistently give Shyft high marks for their fixed-priced estimates, service-minded movers, and 24/7 support.
In addition, Shyft claims that –
Their customer's shipments have traveled approximately 18 million miles
They've saved customers more than $1 million
Shyft isn't a traditional moving company
Shyft has partnered with more than 300 professional moving companies in nearly 70 countries.
However, Shyft is a broker, not an asset-based moving company.
Many of the nation's largest and most well-respected van lines are brokers too, so this isn't necessarily a deal-breaker.
Nevertheless, the broker model has several inherent flaws.
It's far from a complete list, but the pitfalls of using a broker include –
A lack of direct communication between customers and movers
Contractors, not company employees, provide moving services
Not knowing which company will show up on move day (lack of transparency)
Inaccurate pricing (unintentional and, in some cases, intentional)
Perhaps Shyft has addressed these common issues, but it's worth proceeding with caution.
Accessing Shyft's relocation services is a breeze
Shyft offers local, long-distance, and international relocation services to corporate transferees and the general public.
Using Shyft's handy app, the process works like this –
Step 1 – do a virtual walkthrough with Benji, the AI dog
For customers who hate stress, paperwork, and awkward houseguests (don't we all), Shyft's virtual walk-through process may seem like a dream come true.
Shyft's software generates detailed inventories and estimates featuring proven accuracy, so prices don't change mid-move.
Step 2 – get quotes from multiple providers
Next, Shyft will search its extensive provider network to find the best moving options.
Then, they'll provide the customer with multiple guaranteed quotes.
Pricing stays competitive, because vetted service providers bid on each move.
Step 3 – move now, pay later
With Shyft, paying for moving and other services doesn't generally require forking out big bucks up front.
In addition, Shyft staff manages nearly every facet of moving, so customers can focus on more important things like work and family.
Shyft's benefits and corporate relocation services at a glance
For both traditional and remote workers, Shyft's app gives employers the "freedom to connect to employees in ways that are meaningful."
Benefits are as crucial as salaries in regard to attracting and retaining employees, but this statement is particularly vague.
Nonetheless, the company has streamlined the process by issuing Shyft Cards, which it likens to passports to a "World of Benefits."
Shyft Cards allow employees to connect with vendors that offer discounted rates on the following services –
Moving
Travel
Banking and financial
Health and wellbeing
Office set up
Getting settled into a new home or apartment
These easily accessible services reduce downtime and minimize errors, while allowing workers to receive benefits instantly.
Shyft Moving – the verdict
It appears as though Shyft has developed entirely new approaches to moving and the way employees receive benefits.
In addition, the following screenshot shows that the company maintains an A+ rating with the Better Business Bureau.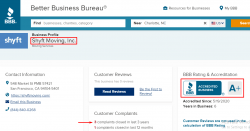 On the downside –
The website isn't as informative as it could be
Shyft is a broker, not a traditional moving company
Shyft only offers virtual walk-throughs, not in-home estimates
Instead of instant access to relevant information, web visitors must enter personal data (phone number and email) and book a demo to learn about some of the company's services
We've said it a million times; moving is among life's most stressful experiences.
Shyft claims that its service providers are thoroughly vetted, but nearly all online marketplaces have trouble weeding out bad players.
Where Shyft shines is in its ability to offer employees tons of discounted services and valuable benefits, all with the click of a button.
Frequently asked questions (faqs)
What companies does Shyft partner with?
Shift partners with dozens of companies like Lugless, TaskRabbit, Helix, and the Moving Home Warehouse.
Do Shyft's moving partners offer packing and storage services?
Yes, most vendors provide both packing and storage services.
How is Shyft different from traditional moving companies?
Since Shyft is a moving broker, the company doesn't own any trucks, warehouses, or moving equipment. All work is carried out by contractors.
Who should use Shyft's moving services?
Like most relocation management companies, Shyft offers domestic and international relocations to private and corporate customers. Due to its heavy reliance on technology, Shyft is probably most well-suited to younger customers who don't have the time to deal with traditional moving companies.
Are there any other online moving marketplaces besides Shyft?
Though they don't offer identical services, iMoving and Unpakt are online marketplaces where customers can connect with moving companies.
Not what you were looking for?
Check out other categories that can help you find the information you need!